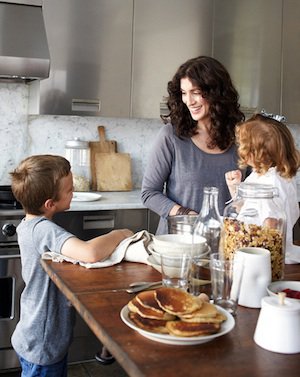 Aran with Jon and Miren, photographed by Marcus Nilsson.
Parents Who Cook is a Q&A series in which I ask my guests about how their cooking has changed after kids entered the picture, and pick their brains on their best strategies to cook with little ones underfoot.
Aran Goyoaga is the talented baker, stylist, photographer, and writer behind the gorgeous blog Cannelle & Vanille. She was born and raised in the Spanish Basque country, and now lives in Florida with her husband and two children.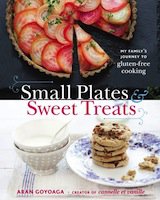 She and I have been in touch for years, and I was delighted to finally meet her in person over lunch when she came to Paris last year, on her way home from teaching one of her workshops in Dordogne.
Aran has recently released her first cookbook, Small Plates and Sweet Treats, an inspired collection of seasonal, gluten-free recipes, and it is a pleasure to have her as a guest in the Parents Who Cook series.
Can you tell us a few words about your children? Ages, names, temperaments?
I am the mother of a boy, Jon, and a girl, Miren.
Jon, 6, is very emotional, kind, thoughtful, inquisitive (he is a Cancer) and Miren, 3, is spontaneous, independent, and social (she is a Scorpio). They are both very creative as well and love spending time together.
Did having children change the way you cook?
I am sure in a way it made me adapt certain recipes to accommodate their preferences and the textures they were eating at different times in their lives, but overall I would say that the way I cook hasn't changed much.
Do you remember what it was like to cook with a newborn? Any tips or saving grace for new parents going through that phase?
I am not sure I should reveal this, but when Jon was a newborn, I used to carry him in a sling everywhere. It was the only way he liked to be held (and sleep). So I kept him in the sling while I cooked. I have to admit those first weeks of his life are a bit hazy in my mind today, but I remember cooking very simply.
Once he began eating solids (I waited until he was about 8 months), then I cooked things that I could also feed him. Maybe a soup that I could puree or vegetables I could mash. When Miren was born, I was able to better manage the cooking part and being a mom. Maybe because Jon entertained Miren and she was not a very needy baby.
This might sound like a cliché, but I really think it's about being organized and also, very important, to ask for help. As a new mom, you feel tired and depleted oftentimes. You don't want to entertain crowds or cook fancy dinners, but if you have some good staples, you can continue to prepare meals for the family like frittatas or soups… Simple things that are nourishing.
Over time, have you developed staple dishes or strategies that make it possible to prepare a meal and keep the kids happy at the same time?
It has always been my goal to only cook one meal for the whole family and not cater to every single person or I would go insane. I never push food on the children, but I think it is good for them to be exposed to different foods even if they are not going to eat them that day. My goal is that in the long term they will have an understanding about different ingredients, flavors and textures.
Having said that, it is true that certain dishes have become staples in our home mainly because Jon and Miren like them. Lentil soup with chorizo, root vegetables and kale is a weekly staple, as well as tortilla de patatas. They also love fresh baked fish that is coated in buttermilk and gluten-free breadcrumbs that I serve with steamed vegetables.
Have you found ways to involve your children in the cooking process? If so, can you tell us when that started, how you approached it, what works and what doesn't?
My children always want to participate in the cooking process. The kitchen is definitely where we spend most of our time when we are home. I feel lucky that I never had to force them and I think that is because I am always in the kitchen and they have an innate curiosity. I think most children like to be involved in cooking.
Jon is actually pretty confident with knives these days. Under my supervision, he helps me chop fruits and vegetables, even weighing ingredients (he loves maths). Miren likes to whisk and crack eggs so she is more involved in the baking side of things.
As someone who's passionate about food, can you talk about the joys and challenges of feeding your kids, and how you go about teaching them to be happy, adventurous eaters?
Before Jon was born, I remember thinking and saying proudly, "My kids will eat everything." Was I wrong…! Even though Jon is now a good eater, it wasn't always easy. Until he turned three, he ate anything I put in front of him. I mean, anything. Then suddenly, he found his independence and his voice and that was it. He would only eat lentils (puréed), yogurt, spaghetti with tomatoes, and broccoli. He always had a thing for textures and was very specific about what he wanted and would not give in. When we asked him to try new things he refused and would cry. I didn't want to push him too far because I knew that could have a reverse effect in the long term. I didn't want to traumatize him with food. So I just kept trying and trying.
About six months ago, when he turned six, things started to change. He stopped complaining and suddenly began eating everything on his plate: lettuce and salad greens, vegetable stews with lots of texture (he only ate puréed soups before), braised meats… So I think we have to let children voice their preferences but never give up on encouraging them to try new things.
And as it turns out, my mother says I was very picky eater as a child. I do have this memory of her sitting in front of me patiently waiting until I finished my lentils, which I love today, but despised then. Perhaps that gave me hope.
Inspired and hungry for more? Read on for more Parents Who Cook.