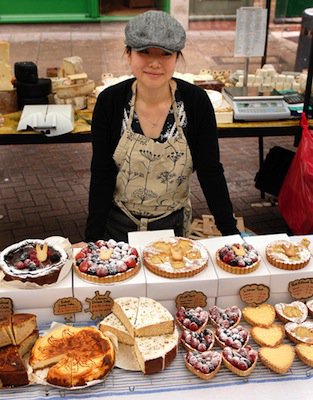 Tamami Haga, photographed by Andy Andrews.
Tamami Haga is a Japanese Londoner and passionate baker who sells her handmade chocolates and pastries from a stall at Broadway Market in Hackney, East London. She also writes the lovely blog Coco & Me, which I've been following for years and years, and mixes her experiences as a stall-keepers with inspiring — and precisely written — recipes. I love her Luxury Brownies in particular. She is currently working on her own cookbook.
Tamami is the mother of two children, and I am very happy to have her as a guest for the Parents Who Cook interview series. Please welcome Tamami!
Can you tell us a few words about your children? Ages, names, temperaments?
My son Issei is nine and my daughter Sakura is four. Issei is a kind, sensitive kid who might tut if there's rubbish on the pavement and would pick it up, then put it in the bin nearby. He is also very clever.
Sakura is a very funny girl and loves to come up with her own lyrics to famous tunes. She is very skillful with her drawing. And being Japanese, she says "Aww, cu~te!" and "Kawaii~!" rather a lot.
Did having children change the way you cook?
Yes, it's totally changed! When I was single I couldn't care less about the "five veggies/fruits a day" stuff. I never bothered with eating breakfast for example. Imagine a twenty-something, going for a pint or three in a pub after work… that was me!
But now, it can't be "eat anything at anytime," obviously. I try all the time to notch up square meals for the family. But you know, I don't find it tiresome or a bore to cook anyway — I keep it interesting for me by trying new ingredients, new skills and new recipes. Just last weekend, I cooked ox cheeks for the first time! I slow-cooked them for two hours and the result was meltingly soft.
The food might turn out wrong at times though, and the children may turn up their noses. But they critique it with me and will always tell me, "Well done mummy for trying." And with that, I think, "Well, at least I tried" and at least they see that I like a challenge. Hopefully that approach to challenging things and also to keep on trying will rub off on them.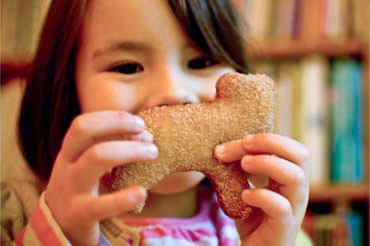 Tamami's 4-year-old daughter, Sakura (with homemade bear cub doughtnut)
Over time, have you developed staple dishes or strategies that make it possible to prepare a meal and keep the kids happy at the same time?
My strategy number one is to use the freezer to my best advantage.
When food shopping, I buy in bulk, especially when it's on offer. (It's cost-effective and will mean fewer trips to the shops, which, as a result, will create more time for myself.)
And then once at home I freeze some of the freezer-friendly foods straight away. It's actually better than keeping it in the fridge as the vitamins won't deplete over time like it would otherwise. And obviously it lasts longer and you're less likely to have wastage from it going off so quickly, as you'd only take out what you need to cook with. I mean, it's difficult to use a whole 500-gram bag of spinach in one dinner, right? Now that I freeze, there's no more unused, leftover spinach looking sorry in the fridge.
I find that the best way to freeze is by stocking them super-duper thin and flat in a ziplock bag. Not only is it a space-saver when you stack them up, but the best thing about it is that it is thin. You can easily break it off as you need it. It will freeze quicker and defrost in no time too: it melts ten times quicker than an ice cube! And as a way to save extra time and energy, some of the ingredients I freeze are pre-sliced.
For example, miso soup can be made in seconds (well, not really in seconds, more like a minute, but you know what I mean) by getting dashi stock, chopped spring onion, sliced shiitake mushroom and spinach from the freezer, heat and then mix in some miso paste and… voilà! That's done already y'see!
It's weird to think now, but I used to consider freezing to be second-best. But actually, so long as you know what freezes well and what doesn't, that it is properly wrapped and quickly frozen, it's totally advantageous. For instance, if you freeze shiitake mushrooms, the guanylic acid (a chemical compound that is the source of umami) becomes 1.9 time more.
Anyway, that's how I save huge amount of time on cooking and concentrate on having special times with the kids instead.
Pictured below is my super thin frozen palette of meat, chopped vegetables, salmon filling for onigiri rice balls, various stocks and sauces. In addition, I sometimes cook double batches of dinner like lasagne so that I can freeze away half of it.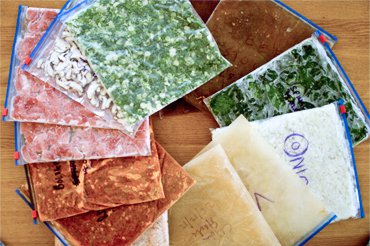 Tamami's freezer palette
Have you found ways to involve your children in the cooking/baking process?
To get them involved in the kitchen, it sounds silly I know, but I sometimes pretend to be inadequate at doing things. It really makes them believe that they are not only helpful, but essential. And other times, in a playful way, I treat them like apprentices, with "do this and that" orders: they enjoy it tremendously and seem to really rise to the challenge.
As well as setting the table, I always ask them to take the dirty dishes back to the kitchen because food is not just about cooking and eating right? It's also about manners. And I want them to understand how much effort is involved, appreciate having hot food on the table every day.
Of course, the best way to keep them involved like this is by praising them in abundance so that they want to do it again. I also make a point of telling daddy how amazing they've been if he missed the action.
As someone who's passionate about food, can you talk about the joys and challenges of feeding your kids, and how you go about teaching them to be happy, adventurous eaters?
Currently, as a family we are going on an adventure with fruit!
Almost every evening after dinner, I bring out a fruit, quite often a fruit that they have not seen or tasted before, and cut it for them at the table for dessert. They get to feel the spiky skin of the lychee, hear the wonderful sound when tapping out the pomegranate, and smell the heady aroma of a ripe nectarine. The bonus is that my son can now beautifully cut a mango like a hedgehog after watching me do it numerous times.
Last week we had papaya. The sticker on it said it came from Brazil. "Brazil? Where's that?" "It's almost on the other side of Earth to us!" "Wow, it travelled from so far away!" From there, we sometimes open a world map or watch a YouTube video about the fruit. Critiquing the taste and the texture together is really good fun, and sharing the experience brings the family together.
And, as well as learning a bit of geography, my hope is for the kids to get a sense of food miles. Somehow I want to then go on to tell them about water footprint (virtual water) too, but that hasn't happened yet!
PS: Thank you for reading C&Z readers, and thank you Clotilde for featuring me!
Tamami xx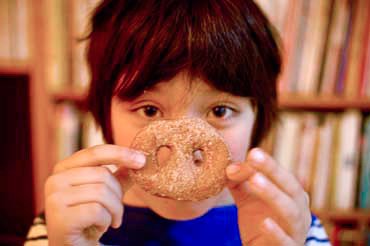 Tamami's 9-year-old son, Issei (with homemade snout doughnut)