Travel season is upon us, and I want to make sure you see and taste the best France has to offer! When it comes to Paris I've got you covered, but there are many other cities with exciting and delicious things for you to experience. So I've asked a team of French bloggers from different cities to share their favorite spots, and I am offering them to you in this new series.
In Aix-en-Provence, Clara recommends…

To explore Aix, we will be following Clara Onuki's footsteps ! Clara is a private chef and culinary instructor. She previously worked as a chef at hotels and restaurants before switching to freelance work. She specializes in healthy cooking and Japanese fusion, and is all about high-quality ingredients from small producers. Check out her site to know more about her services.
Aix-en-Provence, Clara says, is a lovely city where life is good. It has retained its old-world charm, with tiny cobblestoned streets, multiple greenmarkets, historical buildings, and the many fountains it is known for.
Aix denizens are true epicureans, often found on terraces (thanks to the Provençal sun!) sipping a happy hour drink, or biking around to run their errands in the small food shops.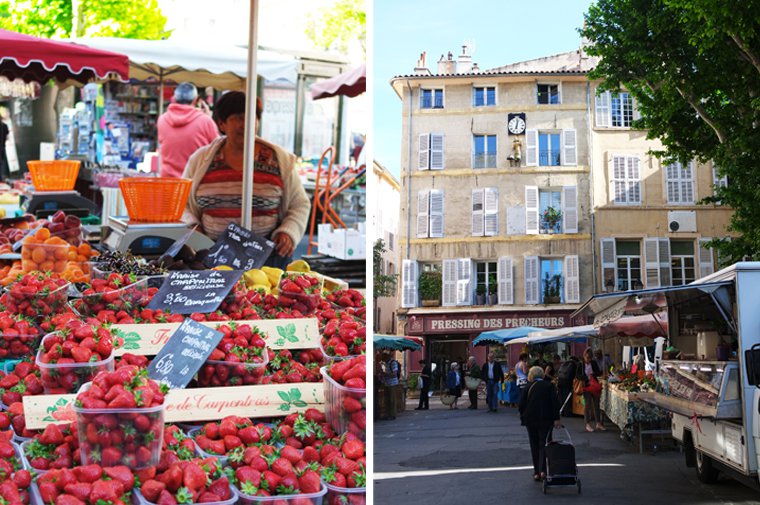 I could never live somewhere that didn't have a greenmarket, since fresh produce is the base for all of my cooking. Here, I am spoiled: there are no less than six greenmarkets in Aix's city center! I particularly like the Marché des Prêcheurs (opposite the Madeleine church) where you'll find everything you need for a successful meal: local and organic fruits and vegetables, spices, and lots of terroir products!
Bonus tip: You can buy a handmade basket to do your shopping.
Where to go for sweet eats: Farinoman Fou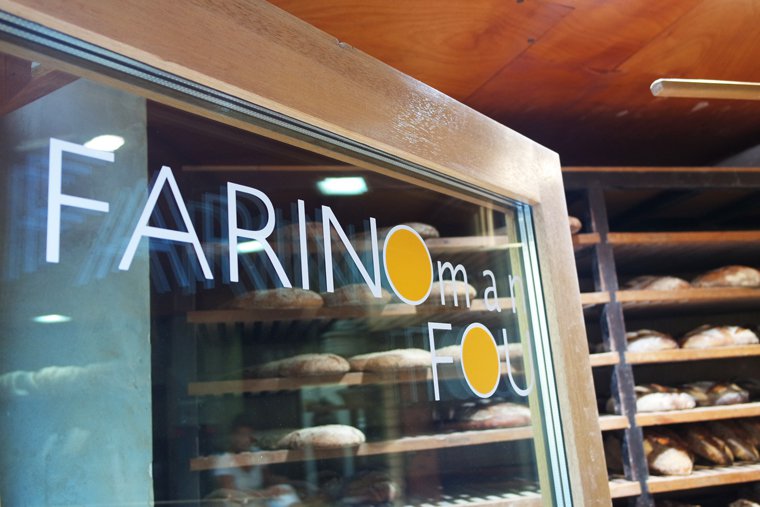 Although I am passionate about Japanese cuisine, I also love real bread! This exceptional breadmaker is only steps away from Place des Prêcheurs (in truth, Aix is such a small city that nothing is ever very far apart). The "Crazy Flourman" elevates bread to an artform, with original creations like "Les Boutons" ("The Buttons," made with heritage wheat flour, saffron, rosemary, pine nuts, olive purée) or "Chair d'Aphrodite et puissance d'Eros" ("Aphrodite's flesh and Eros' power," made with wheat flour, candied ginger, apple, fig, and fairy dust). These breads are so good you can simply eat them on their own as you walk away from the boulangerie — my favorite moment of the day!
Bonus tip: the matcha baguette on Fridays is a real treat, especially with almond butter.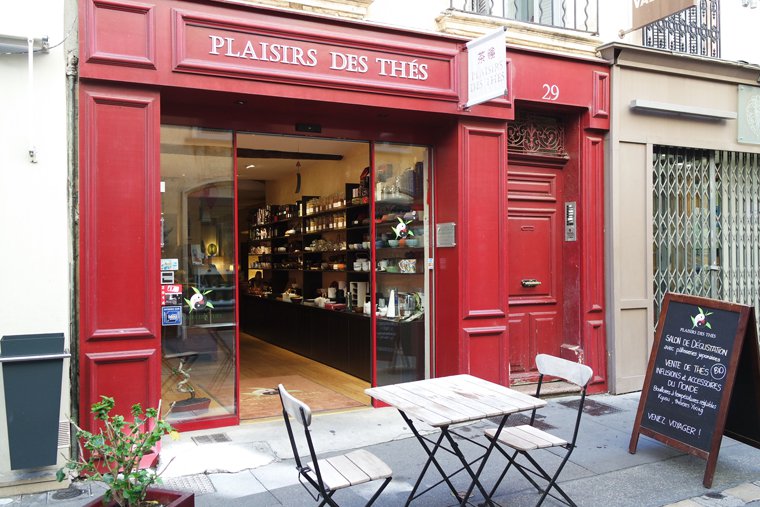 Plaisirs des Thés is a traditional tea house: the owners, Guillaume and Cécilia, personally source high-quality teas from small producers in China and Japan. The range features almost 250 teas (as well as rooibos, infusions, and herbal teas) to drink or to buy.
You can also sit down at one of the small tables and drink your tea with a pastry (mochis, matcha financiers). This tea shop has earned my complete trust, and they supply the teas I need for my classes and demonstrations.
Bonus tip: I particularly appreciate the customer service here: They take the time to give kind and professional advice. And tea geeks will be pleased to know that the infusion times and water temperatures are perfectly respected.
A fun restaurant for dinner with friends: La Tradizionale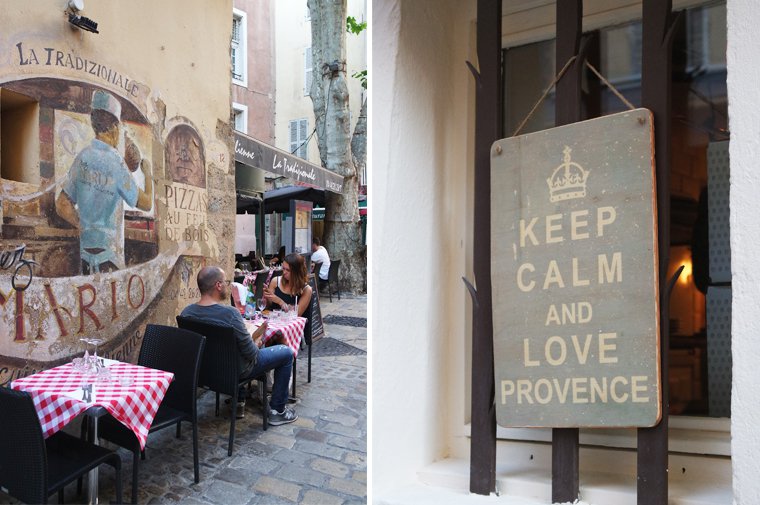 What could be better than a glass of wine and a plate of Italian food for a nice evening with friends? Nestled on a pretty side street, La Tradizionale serves an authentic and delicious Italian fare. Here you will find well-crafted, traditional dishes made with super fresh ingredients.
I recommend their flavorful risotto, creamy but not too heavy. I also like their thin-crust pizza garnished with roasted vegetables and housemade pesto. Beyond those, the seasonal recommendations are always spot-on.
Bonus tip: you can make a reservation for a group, to celebrate a birthday for example. You will still receive impeccable service.
Lunch with co-workers: Le Môme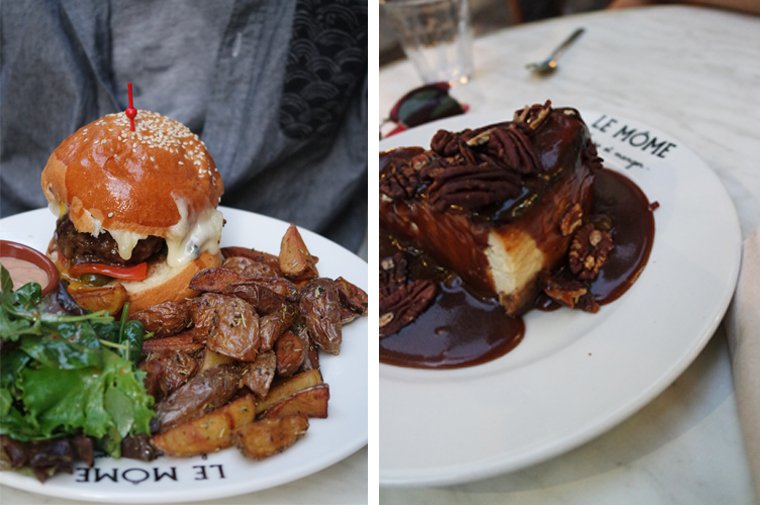 Also located on Place Ramus, Le Mome is perfect for an al fresco lunch or an after-work drink. The short menu features a generous Mediterranean and Corsican cuisine, and you're sure to eat well there.
Meat lovers should consider a cheese and charcuterie plate from Corsica, or the signature Corsican burger — brioche bun, ground beef, mountain cheese, fig jam, caramelized onions, fried egg, and tomato — with a glass of red wine. Otherwise, don't miss the beautiful burrata salad with arugula, pine nuts, artichoke, and honey.
Bonus tip: everything is homemade, and it shows. I will also give a quick shout-out to the excellent pecan cheesecake, smooth and not too sweet.
Where to go for an intimate dinner with a date: Drole d'endroit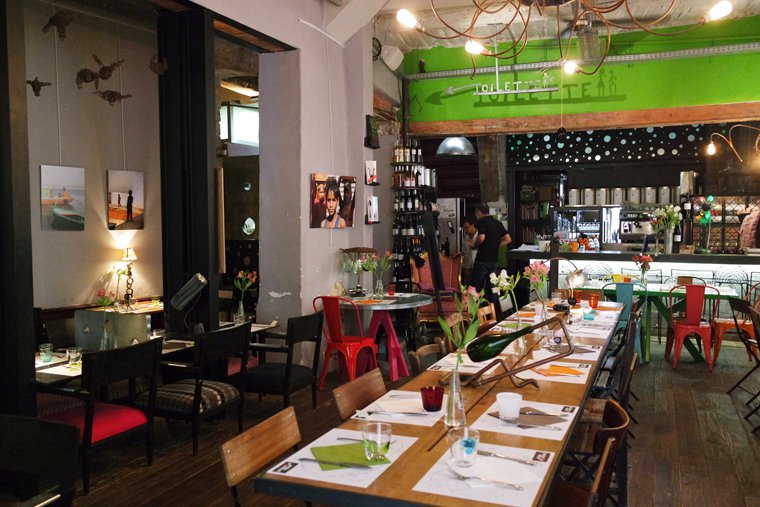 Hidden on a charming side street, this pretty restaurant is a must-visit. The ambiance is quiet yet vibrant, the daily menu features high-quality ingredients, and… the chef is a woman, which is pretty cool. The restaurant regularly displays the work of photographers, so you'll also benefit from an art exhibition along with your meal.
For a date, I recommend you go on a weeknight and avoid Thursdays and Saturdays; reservations are a must on any day. Their vegetarian plate is a real treat, but all of their dishes are good, and the kind staff will be happy to make recommendations.
Bonus tip: there is live music on Thursday nights, and an open-mike night every month.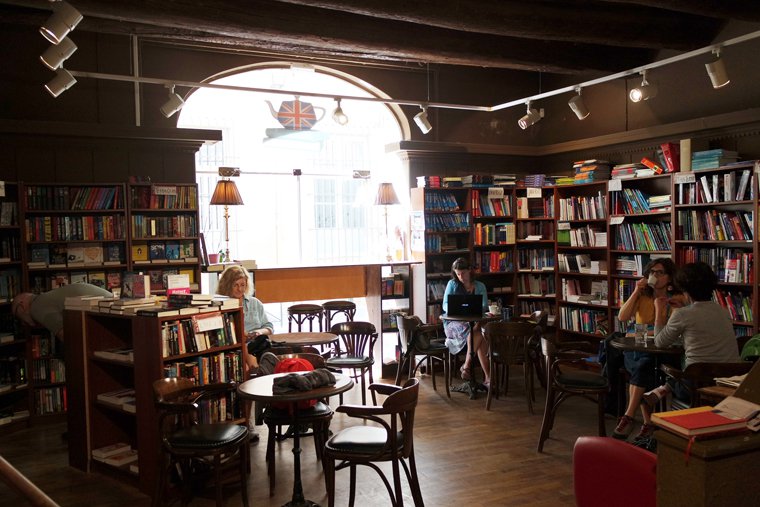 If there are two things I'm passionate about, it's food and books. I grew up surrounded with books, and they hold a very special place in my life. I adore this spot, and bilingual readers will too, as Book in Bar is an international café and bookstore.
Located right in front of the newly opened Caumont Art Center, and mere steps from Cours Mirabeau, Book in Bar is a true gem with a charming, one-of-a-kind vibe. It's the perfect place to work in peace, with a ginger lemon tea and a homemade scone by your side (the pastries are made by Laetitia, who runs House Cookies & Co., also in Aix).
Thank you so much for sharing, Clara!
You'll find all of Clara's recommendations mapped out below:
Do you have
your own favorite spots in Aix-en-Provence
? We want to hear about them in the comments below. And if there is a particular city or area you'd like featured in this series in the future, please speak up!
Photo credit: Clara Onuki.