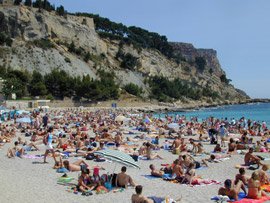 [Continued from Part I]
Later in the afternoon, we accidently drove to Aix-en-Provence. Accidently? Um, yes. We were in fact headed someplace else, took the wrong highway, and found ourselves driving in the direction of the Capital of Calissons. Unfazed and quick to see the finger of Someone Above in this, we said okay, let's go! In Aix-en-Provence, I could have bought some Calissons of course, but that was really just too obvious, so I bought myself a pair of sexy shoes instead. Not edible, I know, but pretty.
On our way back to Marseille, we stopped at l'Estaque, a quiet little harbor that sprawls up onto a hillside. We took a walk up the steep meandering streets overlooking the port — me trying hard not to trip in my new shoes — and enjoyed the view out onto the sea in the declining light. On the beachfront were several street vendors in small white vans, selling chichis and panisses. Chichis are long and rectangular donuts, fried in the van, rolled in sugar and handed to you in a paper wrapping, while panisses are fried slices of chickpea flour polenta. We had a dinner reservation a bit later at 10 so chichis were not an option (how to spoil your appetite in one easy step) but wouldn't the panisses make a great amuse-bouche? We bought a half-dozen and got more like ten, in a little paper cone, with a smile on top of that. We sat on a bench by the beach and munched with delight on our salty disks of softly fried dough.
We then headed towards the restaurant Chez Jeannot, which came recommended by a friend as a great place for seafood. Chez Jeannot is located off the Corniche, that long, winding road which runs along the cliff Marseille is built on. More precisely, it is hidden underneath that road, snugly nested at the bottom of the Vallon-des-Auffes, a crevice-like little valley ending in a tiny harbor. To get to it, one has to park the car anywhere one vaguely can — in an improbable and forbidden spot behind a church in a supposedly two-way street that's barely wide enough for two donkeys to pass each other — then walk down steep convoluted stairs into the vallon : a dimly-lit jumble of anchored boats, little houses and restaurants, loud with the chatter and clatter of diners, and little kids running everywhere, playing tag in the night. I'd never seen a place quite like this : walking down and taking in the mysterious, warm atmosphere, we both suddenly felt like we were stepping into some kind of hidden pirate's lair (Pirates of the Caribbean, anyone?).
Chez Jeannot is an unpretentious and busy restaurant, with dozens of tables laid out inside, outside and on a covered deck upstairs, where we were seated. We ordered a half-bottle of white wine, a Blanc de Blancs from the nearby city of Cassis, and a large seafood platter. And that's how we spent the rest of the evening, gleefully enjoying the view and the fresh breeze, working our way through an assortment of oisters, crabs, prawns, crayfish, winkles, clams, sea almonds and even a couple of violets, this alien shellfish I discovered recently at La Table de Lucullus.
Also called biju or, rather cutely, patate de mer (sea potato), violets have a soft and deeply wrinkled shell, that looks like a rock covered with seaweed. They have two tiny breathing holes, which are in fact siphons through which they suck in the water, then filter in the suspended nutrients. If you press a violet with an expert hand, seawater will spritz out in two tiny spurts — a fun practical joke to play on the bewildered guests you're serving these babies to. Violets have to be cut open in halves with a sharp knife : inside, you will find its flesh, bright yellow like an undercooked omelet, holding on to the shell by a little foot and easily scraped out with a fork. It has an oister-like texture and a very iodized, delicious taste.
There's something especially enjoyable about a seafood platter : the set of tools you get (forks of different shapes and sizes, various little picks, a shell cracker) that you may or may not know how to use, the soft little loaves of bread to butter, and this big plate covered with fruits of the sea * — some familiar, some unknown, some easily palatable, others more startling to the tastebuds. But more than that, it's all in the picking, the sharing (no, no, please, have that last crab claw, I saved it for you), and the leisurely eating pace all that cracking and splitting and scraping implies.
Not to mention the tiny paper rince-doigts to wipe your hands when you're done, damp and powerfully lemony in their little foil wrapper.
* A literal translation of fruits de mer, shellfish in French.