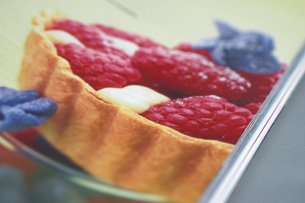 [Raspberry and Violet Tartlets]
As promised, here is the recipe for the dessert in the flower menu I created for the French edition of ELLE (issue #3154, June 12, 2006). My thanks to Catherine Roig for allowing me to reproduce the recipes here. The picture above is a shot of the magazine page: the food styling is by Valérie Lhomme, the photography by Edouard Sicot.
Where does one find violet syrup and candied violets? In France, they can be purchased at gourmet shops. In Paris, you will find the violet syrup at Izrael (30 rue François-Miron in the 4th) or Le Comptoir Colonial (22 rue Lepic in the 18th) and the candied violets at La Mère de Famille (35 rue du Faubourg-Montmartre in the 9th) for instance. Elsewhere, try your luck at gourmet and specialty food shops.

If you can't find violet syrup, substitute another kind of quality fruit or flower syrup, or use 1 teaspoon vanilla extract plus 2 tablespoons sugar instead. As for the candied violets, you can substitute sugar sprinkles, or omit them altogether.
For the rest of the menu, see:
~ Zucchini poppy carpaccio,
~ Lavender-crusted duck magret.
Framboise et Violette en Tartelette
8 ounces puff pastry or short pastry (homemade or store-bought)
1 egg
75 milliliters (5 tablespoons) violet syrup
2 tablespoons corn starch
1/2 cup milk
150 grams (5 ounces) fresh raspberries
4 candied violets
Serves 4.
Preheat the oven to 180° C (350° F). Roll out the dough on a lightly floured surface, and use an upturned bowl to cut out 4 disks of dough, about 15 centimeters (6 inches) in diameter. Line four 10-centimeter (4-inch) tartlet molds with the dough, prick all over with a fork, and slip into the oven to bake for 12 to 15 minutes, until golden. Let cool.
Beat the egg, violet syrup, and corn starch in a medium mixing-bowl. Heat the milk in a small saucepan. As soon as the milk simmers, whisk it into the egg mixture. Pour back into the saucepan, and return over medium-low heat for 30 to 40 seconds, whisking continuously as the mixture thickens. Pour into the prepared tartlet shells, smooth out the surface with a spatula, and chill for 30 minutes.
Cover with raspberries in a circular pattern starting from the center, garnish with candied violets, and serve.
What do I do with the rest of the violet syrup? Make a "diabolo violette" by adding a little syrup to a glass of carbonated lemonade, use the syrup in a fresh pineapple salad, or use it to flavor butter cookies.
What do I do with the rest of the candied violets? Eat them as is, or serve them with coffee.