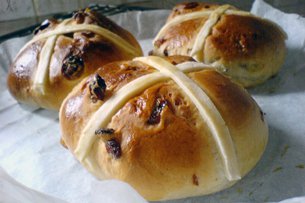 If you have a book to write, I recommend hiding out for a few days in the comfort of a mountain house, preferably in a region where spring is a bit tardy, so the weather will make it easy for you to stay in and type. For fresh air, throw in a few healthy walks to spot the first daffodils (the mist will also make your hair nice and wavy) and a few morning visits to the market. For distraction, a daytrip to Munster and Colmar, and lots of reading.
For nourishment and in no particular order, some nice knepfle (an Alsacian pasta made with fresh eggs, a bit larger than spätzle), an excellent choucroute, a tarte flambée (a thin disk of bread dough topped with cream, onions, and smoked lardoons, baked in a wood-fire oven), smoked pork meat and roïgabrageldi (a dish of potatoes slowly cooked with onions and smoked lard, called töffel in the Vosgian dialect), some Munster cheese infused with elderberry flowers, and an outstanding sheep's milk Barikaas, a mountain cheese most commonly made with cow's milk. (All of this in moderation of course, and with a salad on the side so you'll get your daily intake of greens.)
A bit of baking is also quite welcome, especially if it is Easter and you feel like making hot cross buns. This year, my mother and I decided to try the recipe that Pascale had featured on her blog, adapted from a Delia Smith book. We made them by hand (I had wisely left the race car at home) but with just ten minutes of kneading, it is hardly strenuous.
I was much more confident this time than the last, and I am now quite convinced that yeast is sensitive to that: the buns rose and baked beautifully, and they were a delightful treat for tea, spread with a bit of butter, my mother's wild raspberry jam, or some mountain honey. The only thing we didn't love were the crosses on top of each bun: they were simply made of flour and water, and of course this baked into something bland and crispy, which didn't add much aside from decoration. The buns would merit something softer and sweeter, perhaps strips of a more supple dough or a thick frosting (all suggestions are very welcome).
Hot Cross Buns
[Slightly adapted from Pascale's recipe, itself adapted from a Delia Smith recipe.]
For the buns
– 450 g (3 1/2 cups) flour
– 1 teaspoon salt
– 1 teaspoon French four-spice mix (ginger, nutmeg, cinnamon, cloves)
– 1/2 teaspoon ground cinnamon
– 1/2 teaspoon ground ginger
– 2 envelopes (12 g) active dry yeast (I use the SAF brand)
– 50 g (1/4 cup) sugar
– 100 g (3.5 ounces) raisins
– 150 mL (1/2 cup plus 2 tablespoons) lukewarm milk
– 50 mL (3 tablespoons plus 1 teaspoon) lukewarm water
– 1 egg, lightly beaten
– 50 g (1/4 cup) softened butter
For the crosses and glaze
– 3 tablespoons flour
– 1 to 2 tablespoons water
– 1 egg yolk, lightly beaten with 1 tablespoon water
Makes 12 buns.
Notes:
– I don't recommend the flour/water mix for the crosses (see above) but I am writing out the method anyway, in case you want to try it.
– We halved the recipe to make six buns, and used the remaining half of the egg for the glaze.
– In addition to or in place of raisins, you can use candied orange rind, diced. We would have liked that, but didn't have any on hand. A bit of lemon or orange peel would be lovely too.
– Instead of the spices listed, we used a spice mix called épices à gâteaux purchased in Gérardmer.
Combine the flour, salt, spices, yeast, sugar, and raisins in a large mixing-bowl. Form a well in the center, and pour in the milk and water. Stir with a wooden spoon in small circular movements from the center, to gradually incorporate the liquids into the dry ingredients. When the liquids are just incorporated, add in the butter, and keep stirring until the dough has swallowed it up. Gather the dough into a ball, add a little flour if it feels sticky, a little water if it feels dry.
Knead the dough (inside the mixing-bowl or on a lightly floured surface) for ten minutes — after a minute or two, the dough will start to get stickier than it was at first, but it will become smooth and elastic again as you keep kneading.
Lightly sprinkle the mixing bowl with flour, put the dough in, cover with a kitchen towel, and let rise in a warm spot for an hour — it should double in volume. Punch the dough down, divide it into twelve squarish buns, and arrange the buns on two parchment-lined baking sheets, leaving about 5 centimeters (two inches) of space between them. Cover with kitchen towels, and let rise again in the same warm spot for 30 minutes to an hour.
In the meantime, prepare the crosses: combine 3 tablespoons flour with enough water to form a ball of dough (start with one tablespoon, and add just a little more water to reach the desired consistency). Spread it out thinly on a lightly floured surface, and cut 24 thin strips, about 15 centimeters (6 inches) in length. Pour two tablespoons water into a shallow plate, and set aside.
Preheat the oven to 200° C (400° F). When the buns have completed their second rise, top each one with two strips of dough, lightly dipped in the prepared plate of water, and arranged crosswise. Brush with the eggwash, and slip into the oven for 15 to 18 minutes, until browned and beautiful (they should make a hollow sound if you tap the bottom lightly with the back of a spoon). Let cool, slice horizontally, toast, and eat with butter and jam.