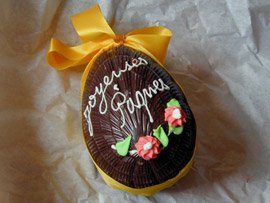 In my family, we don't celebrate Easter in a religious way. Unless, of course, you consider a strong taste for chocolate to be a religion of sorts. Which I do.
My sister and I have received chocolate gifts from our parents for Easter every year since we were little. The traditional gift in France is a hollow chocolate shell, shaped like an egg, hen, duck, rabbit or bell, and filled with other confections : small pieces of chocolate shaped like fish and called friture (friture literally means something fried, but it is also the name of the tiny fried fish they serve in the South of France and which those little chocolates are meant to represent), praline-filled eggs, tiny eggs filled with liquor, chocolate-covered pieces of nougatine… This all comes in a characteristic cardboard box with a handle, decorated with Easter-themed illustrations, and which a little girl can recycle in a thousand ways.
We also organize an egg hunt on that occasion: my sister and I will get out of the way while our parents hide little eggs wrapped in colorful foil, in the living-room of our appartment or in the garden if there's one at hand. Then we'll come out and look for the eggs with cries of joy, under the amused gaze of our parents, who try hard to remember where on Earth they might have hidden the last ones. Those are sometimes found a few months later, but the loot that is recovered is then split equally between the participants.
We show so much enthusiasm and playful joy at this little ritual – even now that we're um… 24 and 26 – that the tradition lives on. This year the four of us are spending the week-end in the family vacation house in the Vosges, a mountain range in the East of France. The chocolate eggs come from the local pâtisserie, and we will be conducting the egg hunt ritual in the daffodil-filled garden later this afternoon. Wish me luck!