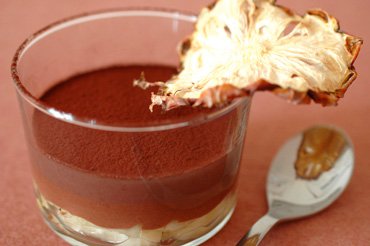 [Chocolate Jelly with Pineapple and Violet]
This is the dessert I served to close my recent spring lamb dinner: it was a few days before Easter so chocolate was definitely in order, but since lamb shoulder is a rather rich cut (though I must note that French lambs seem to be much leaner than their American cousins; French Lambs Don't Get Fat), I wanted to chase it with a weightless dessert.
Inspiration came in the form of a recipe card I'd clipped from ELLE. It was called Variation Poire-Chocolat, and it was one of Anne-Sophie Pic's recettes cultes (staple recipes): a milk-based chocolate jelly made with very little sugar, held together by the power of gelatin, and topped with slivers of vanilla-poached pear and crumbled sablés bretons — butter cookies from Brittany.
And somehow, as it moved through the folds and creases of my brain, her idea morphed into this one: pineapple instead of pears (it is the tail end of the pear season, and I'd found delicious small pineapples aptly named pains de sucre — sugarloaves), violet instead of vanilla (pineapple and violet have been best friends in my mind ever since I tried this bread roll), agar-agar instead of gelatin, and dried slices of pineapple (a riff on my dried pears) for crunch, instead of cookie crumbs.
It turned out that the recipe, as printed, didn't make nearly enough gelée for four servings: I don't know what Anne-Sophie feeds her guests before dessert (though I'd love to know), but mine need a little more than three spoonfuls each. So once I'd filled the glasses with a ridiculously thin layer of chocolate jelly, I realized I had to make a second batch. I was out of the 70% chocolate I'd used for the first, so I used a 55% for the second, and this produced a subtle, entirely serendipitous chromatic variation.
The end result was lovely, light and floral, the jelly offering just the right compromise between gelled and creamy. I can picture endless variations on that theme, using different seasonal fruits and flavoring or infusing the jelly with spices to match. But the real discovery here was the dried pineapple, crisp and chewy and sweet as honey. I had made more than I needed for this dessert — I wanted to make sure I had four attractive slices to sit prettily on the rims of the glasses — and we gobbled up the leftovers like candy the next day.
Gelée de Chocolat, Ananas et Violette
160g (1/2 cup) diced pineapple
100 grams (3 1/2 ounces) dark chocolate, chopped (see note below)
300 ml (1 1/4 cup) milk
2 teaspoons sugar
2 grams (1 teaspoon) powdered agar-agar
3 drops violet extract (optional, substitute 1/4 teaspoon pure vanilla essence)
Unsweetened cocoa powder for dusting
4 slices dried pineapple (see below)
Serves 4.
Divide the pineapple among four glasses or ramekins, arranging it in a single layer at the bottom.
Combine the chocolate, milk, sugar, agar-agar, and violet extract in a small saucepan. Cook over medium heat, stirring regularly until the chocolate is melted. Bring to a simmer and remove from heat. Let cool for a minute and pour carefully into the prepared glasses. Refrigerate for about two hours, or until set.
Dust the surface of the gelées with cocoa powder (put a tablespoon of cocoa powder in a fine-mesh sieve and shake over the glasses) and decorate each glass with a slice of dried pineapple. (I also placed a candied violet in each spoon.)
Note: If you want the chocolate jelly to form two layers as it does in the picture, prepare the jelly in two batches, using dark chocolate for one and milk chocolate for the other. Let the first layer of jelly set before preparing the second.
Ananas Séché
One smallish ripe pineapple
Preheat the oven to 100°C (200°F) and grease an oven rack with vegetable oil.
Scrub and dry the pineapple*. Cut it in very thin slices using a sharp serrated knife. Arrange the slices on the prepared rack in a single layer (it's okay if the slices touch, but they shouldn't overlap) and bake for 3 hours, flipping the slices every hour or so, until dry. Let cool completely (they will turn crisp as they cool) and keep in a tin box at room temperature.
* Once dried, the skin and core of the pineapple are not unpleasant to eat, but if you think they wil bother you, you can peel and core the pineapple before you slice it.