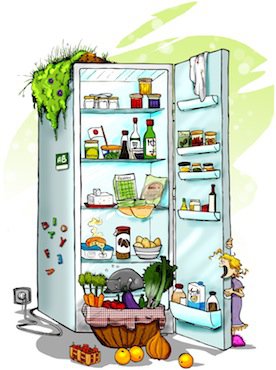 Illustration by Olivier Valentin. Click to enlarge.
For this new installment of our Draw Me A Fridge series (read about it here), Alexia spoke with food writer Claire Chapoutot.
Claire Chapoutot is better known as Clea, of Clea Cuisine-fame, a food blog in which she's been presenting her mostly vegetarian recipes (she describes herself as a flexitarian) since 2005. Claire has two new cookbooks out: Recevoir en bio and Solo et bio (La Plage editions).
Although her blog and recipe books are only available in French (for now), her recipes are so delicious they are worth brushing up on your high school French, or registering to your local Alliance Française.
But as a bonus for non-French-speaking readers, Claire has kindly allowed me to translate her pain d'épices recipe, one of Alexia's personal favorites (see bottom of post).
AC: What are your fridge staples?
CC: Each shelf is dedicated to a specific category of products: on the top shelf are my homemade yogurts (with cow's milk for my daughter, and vanilla soy milk for my boyfriend and myself). The shelf below is for jams — all prepared by my mom! Then on the shelf below, I store all sorts of condiments and mustards, umeboshi prune paste, marinated artichokes and other stuff.
The next shelf is for fresh products. Right now I have ham, tofu and ravioles in there. I also have a big Tupperware-like box, in which I store cheeses. And a bowl with eggs right next to it — I find they keep longer in the fridge.
In the crisper, I have vegetables that don't do well in the open air, as well as fresh ginger and bags of prunes once they're open, to keep then nice and moist.
Then you have the door… also very well organized! I have my more exotic condiments in there, such as tandoori and curry pastes, wasabi, ginger and preserved lemon paste by Le Voyage de Mamabé, tomato concentrate, small bottles of lemon and lime juices (which I use when a recipe calls for only a little bit), bottles of all sorts of non dairy milks and, when we have them, fruit juices.
I also store the more fragile vinegars in the door, such as a pomegranate-flavored one, and bouillon cubes that I find less gritty when kept cold. I almost forgot: you will also find my matcha tea, agar-agar and the more "alive" of organic flours, such as chestnut flour.
AC: Do you handle the grocery shopping for your household yourself?
CC: Well… yes. My boyfriend sometimes does it, armed with a super detailed list, but there are always mishaps. I only buy organic and conveniently, there is this great organic shop, Satoriz, halfway between my office and my house. I shop weekly, with a list based on the new recipes I want to test that week. It's a great way to avoid both impulsive purchases and an overstuffed fridge — which I absolutely hate.
This month, I also used Amazon a fair bit for Pyrex bowls, which I somehow kept breaking but are very much needed for my homemade yogurts!
AC: What is the most surprising thing that you keep in your fridge at home — or the most surprising thing about your fridge?
CC: Apart from the fact that it is so well organized it makes me look like a total neat freak?! I keep my ground coffee in there, which always seems to puzzle my friends when they see me walking towards the fridge door as I offer them a cup of coffee!
AC: Any "science experiment" or cooking disaster that you would like to share?
CC: I've had so many! I was recently working on a vegetable terrine with agar-agar, eggplant, red peppers and goat cheese. It looked absolutely stunning with layers of colors. I took it out of the fridge and put it on top of it while giving the finishing touches to my dinner preparations. When I reached for the terrine on the fridge to bring it to the table, I ended up with a three-colored shower all over me! Probably not enough agar-agar…
Also, a few years ago, I was experimenting with essential oils in cooking recipes. I had prepared a lavender crème brûlée for a family get-together that turned out to be absolutely inedible. It tasted like laundry detergent! Yet another dosage issue.
AC: Do you keep anything non-edible in there?
CC: Oh yes. I have an aloe vera gel that we use on little cuts and burns. I also have CitroBiotic (grapefruit seed extract), which is great for winter's little colds — but not so great in a salad dressing. In the summertime, I prepare body lotion ice cubes that I keep in a tray in the freezer. It was absolute bliss in August when we got hit by the heat wave! On a far less glamorous level, we also have Doliprane suppositories for my 3-year-old daughter. They are in the fridge's door, by the stock cubes. Well, not right next to them, but close.
AC: Any recipe you could suggest to our readers for when there's hardly anything left in the fridge?
CC: When I have vegetables that are starting to look a bit blah, I like to roast them and serve them with a nice dressing. For example, if I have a lonely-looking carrot, some cauliflower and sweet potatoes, I will peel and slice them, put them in a dish, add sesame seeds, fresh herbs and oil and put the whole thing in the oven to roast for 25 minutes. In the meantime, I will cook rice and prepare a dressing with sesame paste.
Clea's Pain d'épice
Claire calls this recipe ideal: the resulting pain d'épices is sweet but not too sweet, spiced to perfection, and goes splendidly with a hot cup of rooibos tea (red tea). Also, she wants you to remember it is one of the best treats out there if you're trying to keep your cholesterol in check: not an ounce of fat in there!
– 330 ml (1 1/3 cups) oat milk (or any milk of your choice)
– 120 grams (1/2 cup + 2 tablespoons) brown sugar
– 80 grams (1/4 cup) liquid honey
– 140 grams (1 cup + 1 tablespoon) all-purpose flour (French T65)
– 200 grams (1 1/2 cups) light whole wheat flour (French T80)
– 125 grams (1/2 cup) soy yogurt (or yogurt of your choice)
– 2 teaspoons gingerbread spices (usually a mix of cinnamon, ginger, cloves, and nutmeg)
– 2 teaspoons baking soda, dissolved in 2 tablespoons warm water
Makes one loaf.
Grease a 23-by-23-cm (9-by-5-inch) loaf pan with oil and preheat the oven to 160°C (320°F).
In a medium pan, whisk together the milk, sugar, and honey. Place over low heat, stirring often, until the sugar and honey are dissolved.
In a mixing bowl, combine the flour and spices. Add the milk mixture, yogurt, and dissolved baking soda. Mix well and pour into the prepared pan. Bake for 25 minutes at 160°C (320°F), then for 25 minutes at 200°C (400°F).
Let cool completely before turning out and slicing. Don't give in to temptation — even if the delicious smell is sheer torture, you will end up with a pile of crumbs if it's not well cooled!