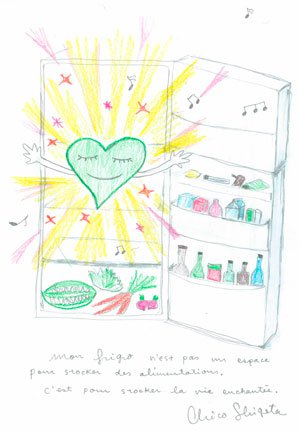 For this new installment of our Draw Me A Fridge series (read about it here), Alexia met with naturopath Chico Shigeta. The caption on her drawing (click here to enlarge) translates to, "My fridge isn't a space for storing foods, it's for storing the enchanted life."
A naturopath, aromatherapist, and shiatsu specialist, this super kawaii Japanese-but-French-at-heart woman launched her Coaching Vitalité method, inspired by universal wellness techniques, in 2003. This method is based, among other things, on food, with seasonal fruits and veggies taking the prime spot.
Her expertise has made her a favorite in the celebrity and business worlds, while her Shigeta care line (face and body cosmetics, essential oils, floral waters and herbal teas) is quickly expanding. Chico shares her tips for a delicious detox full of vitality in her book Détox 100% Vitalité (in French).
AC: What are your fridge staples?
CS: Right now I keep delicious seaweed from Japan which my aunt, who lives on the coast, gets from a place that she keeps secret. Their taste is unlike any other. I always have soy sauce available, even though I don't use very much of it, as well as wasabi. I have fresh ginger and yuzu kosho, a Japanese condiment made with yuzu citrus zest and Japanese chili. I also store capers and green peppercorns. In my fridge you'll also find excellent fruit vinegars (currently raspberry and mango) that have to be kept chilled because they are so rich in fruits.
I make sure I always have chives and flat parsley, carrots (for their juice), and salad leaves. I actually keep fruits and veggies at room temperature and I buy fish on the same day I cook it, so my fridge is more of a storage unit than anything else. And I buy milk maybe once a year if I really need it for a recipe.
AC: Do you handle the grocery shopping for your house yourself?
CS: Oh yes — my husband prefers to stay out of the kitchen! I go to the farmers' market on rue Gros in the 16th near my appartment, where you can find Joël Thielbault's produce. If I haven't had time to go to the greenmarket, I'll buy my fruits and veggies at the specialty shops. And if I'm really in a pickle — like when I come back from a business trip or from holidays — I'll stop by the Epicerie du Bon Marché, which is conveniently close to my office.
AC: What is the most surprising thing that you keep in your fridge at home — or the most surprising thing about your fridge?
CS: Nothing really surprising there, but I can cook for an army! My parents owned a traditional beauty salon in Japan, and the house chores were split between my sister and me: she was in charge of the cleaning and I was in charge of grocery shopping and cooking. So everyday I would shop, peel, chop and cook for fifteen people at least, family and staff. I loved it! To this day, I have no problems peeling potatoes or daikon for thirty people! What was weird was actually to learn how to cook for two!
AC: Any "Science experiment" — or cooking disaster — that you would like to share?
CS: As I was telling you earlier, I don't stock much or for very long in my fridge. One day, I came home with some fresh grapefruit juice with pulp. After two days in my fridge the juice box was completely bloated and about to burst — and not cold at all. I had to finally acknowledge the obvious: my fridge was broken and was not refrigerating at all! I had noticed for a while that it wasn't very cold in there, but I had chosen to ignore it, since it was doing a brilliant job as a pantry!
AC: Do you keep anything non-edible in there?
CS: These days I keep some facial masks that I am testing for our range of cosmetics.
AC: Any recipe you could suggest to our readers for when there's hardly anything left in the fridge?
CS: I prepare a mix of seasonal vegetables and herbs. In the meantime I'll cook some pink lentils with preserved lemon and some fresh grated ginger. I then serve the veggies over the lentils. This is actually my go-to warm dish!
Chico shares one of her famous smoothie recipes: in a blender, mix a banana (a small one per person), cantaloupe (about a quarter per person), a touch of coconut milk, some fresh ginger (to taste) and a bit of lemon juice. An excellent breakfast to take you through your vacation (or your day at the office)!