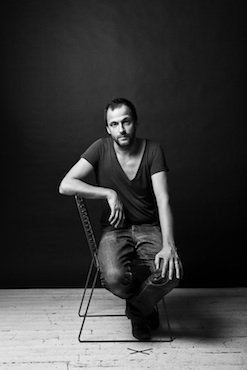 Photography by Dustin Aksland.
For this new installment of our Draw Me A Fridge series (read about it here), Alexia spoke with Alexandre Cammas. (Interview conducted in French and translated by us.)
Food writer Alexandre Cammas is the creator of Le Fooding, a guide that helps you find the latest restaurants to get a great meal anywhere in France, and also organizes events in France and beyond. The Fooding 2013 guide can be ordered on the website.
What are your fridge staples?
Yogurts, eggs, compotes, cheeses, cured meats from Italy, Spain and Aveyron*, and plenty of leftovers for an impromptu meal.
In the freezer, I store good bread (in case I run out of fresh) and frozen pizzas from Enzo Pizza, a dodgy-looking pizzeria in my neighborhood that sells excellent homemade frozen pizzas. (I got the tip from Bertrand, the chef of bistro Les Papilles.) I also keep frozen homemade tomato sauce for an easy pasta dinner, ice cubes and olives for a summer Ricard, and bottles of San Pellegrino throughout the year.
Do you handle the grocery shopping yourself? How often and where do you go?
I go shopping on the weekend in my neighborhood with my family, mostly around rue Daguerre**. I buy meat from Hugo Desnoyer every now and then (it's expensive!) and bread from the former Moisan bakery. There is also a fine cheese shop, an Italian deli (the lasagna is especially tasty) and a good fishmonger on the same street.
What is the most surprising thing in, or about your fridge?
The terrible mess that's in there! You're likely to find things gone bad in teeny-tiny shrink-wrapped containers that have been forgotten in the back. Also surprising: how bad it smells when there's a slice of Appenzeller cheese in there. Even under a glass dome, the smell just grabs you!
Any cooking disaster you'd be willing to share?
I don't cook as much as I used to, except for a few staple dishes that are foolproof like sole meunière***, country-style omelettes, pasta carbonara… usually dishes that only require the use of a pan. So no memory of a recent cooking disaster.
But I do remember a failed black forest cake that my pastry teacher at the Strasbourg culinary school sent flying across the classroom. The cake remained stuck on the blackboard for a few seconds. Also a wedding cake in pure Pisa style, with the same teacher. When I presented it to the jury, I was leaning slightly to the side to try and balance things out.
What's the tool you use the most in your kitchen? And the one daget you use the least?
The one I use the most is the skillet. And the one I use the least? Anything motor-powered. I hate doing dishes. I like things that are super easy to clean.
Any recipe you could suggest to our readers for when there's hardly anything left in the fridge?
A soft omelette. [Note: he used the term omelette baveuse, or drooling omelette, i.e. one that's undercooked in the center.] You can incorporate anything that's runny, soft, or flabby in there. The trick is to offset the softness of the omelette with small fried potatoes for bite. And to serve it with a green salad, for added crunch and a clear conscience.
* Aveyron is a French département known for its gastronomic specialities, its Laguiole knives, and its rich cultural heritage. You can learn more on the département's official website.
** Rue Daguerre is a lively market street in Paris' 14th arrondissement, between Montparnasse and Denfert-Rochereau.
*** Alexandre mentions sole meunière as one of his foolproof classics. Sole meunière was actually the very first dish that Julia Child ate on her first trip to France with her husband Paul. In her memoir, My Life in France, she writes the following about this experience: "It arrived whole: a large, flat Dover sole that was perfectly browned in a sputtering butter sauce with a sprinkling of chopped parsley on top. The waiter carefully placed the platter in front of us, stepped back, and said: 'Bon appétit!' I closed my eyes and inhaled the rising perfume. Then I lifted a forkful of fish to my mouth, took a bite, and chewed slowly. The flesh of the sole was delicate, with a light but distinct taste of the ocean that blended marvellously with the browned butter. I chewed slowly and swallowed. It was a morsel of perfection."
Adresses :
Enzo Pizza, 72 rue Daguerre, 75014 Paris
Les Papilles, 30 rue Gay Lussac, 75005 Paris
Boucherie Hugo Desnoyer, 45 rue Boulard, 75014 Paris