For this new installment of our Draw Me A Fridge series (read about it here), Alexia spoke with Luisa Weiss.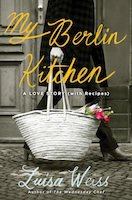 Luisa Weiss blogs at The Wednesday Chef and is the author of the best-selling food memoir My Berlin Kitchen, which was published last September by Viking. She's half American, half Italian and was born in Berlin. She moved back to her birth city three years ago, after spending a decade in New York. She now lives in Berlin with her husband Max and their 10-month-old son Hugo.

What are your fridge/freezer/pantry staples?

Fridge: Dijon mustard, a wedge of Parmesan, ketchup, at least two jars of jam at any given time, maple syrup, yogurt (whole milk for my son, lowfat for me), brown sugar (to stay moist!), unsalted butter, a tube of tomato paste, eggs (dinner's always possible with eggs in the house), Sicilian colatura [a salted anchovy sauce] leftover from recipe testing my book, a jar of Better Than Bouillon stock base and a box of baking soda (for odor control).
Freezer: Ages ago, I read that you should keep spices in the freezer; ever since then, my freezer has been so cluttered with all those little pots and jars that it drives my husband crazy. There's also always a box of frozen whole-leaf spinach, a bag of frozen peas and several Parmesan rinds wrapped in tinfoil in there.
Pantry: Pasta, lots of different rice varieties (I'm obsessed with my rice cooker), grains, flours, baking ingredients, canned fish, dry beans, dried fruit, nuts, lots of bottles of vinegar, coconut milk, soy sauce and canned tomatoes.

Do you do the grocery shopping for your house yourself? How often? Do you usually buy from the farmers' market, shops?

I go grocery shopping almost every single day. I go to the farmer's market for fruit, vegetables and farm eggs once or twice a week, but the rest of the time, I head to the stores in my neighborhood. It gives me an excuse to go outside with Hugo and since we live on the 4th floor without an elevator, I can't do bulk shopping anyway. I get what I need that day and then I huff and puff my way up the stairs with the baby and the shopping bag. I go to Aldi for dried nuts and fruit, to the organic bakery for bread, and the Turkish grocer for fresh herbs and olives.

What is the most surprising thing that you keep in your fridge at home – or the most surprising thing about your fridge?

I think I'd have to say the size. It's a petite fridge, which I can actually live with, especially since I do shop so often, but the shoebox measurements of the fridge are a constant challenge. No big-batch cooking! No frozen pie crusts, either.

Any cooking disaster you would like to share?

Just last week, I had one on my hands when the lemon tart I was making for my mother's birthday turned out to be a total bust. The tart dough was oily and cracked in the oven, the lemon filling first curdled (!) and then spilled out through the cracks in the tart dough, which at this point was buckling up in the heat of the oven. The whole thing was so awful and it was happening while I had a million other things going on the stove — and it was Sunday, which meant that I had no alternatives (stores are closed on Sundays in Germany). I sifted confectioners sugar on top and served it anyway.

What's the most helpful gadget that you use in your kitchen ? And the one you use the least?

Is a can opener considered a gadget? If so, I'd say that's the most useful. And these days, my immersion blender is getting a ton of use as I make Hugo's meals. The least useful is my cherry pitter. Total waste of space.

Any recipe you could suggest to our readers for when there's hardly anything left in the fridge?

If you've got garlic, olive oil and chiles, you can always make spaghetti aglio e olio: fry the garlic and chile in olive oil while you cook the pasta — then put the cooked pasta and some of the starchy cooking water in the pan with the garlic, toss and serve.
If you've got eggs, canned tomatoes and some leftover hard cheese, you can make a chunky tomato sauce (add that limp carrot that's floating around the fridge) with onions and garlic, then put it in a baking dish and make some wells in the sauce. Crack eggs into the wells, cover with the grated hard cheese and bake until set, about 15 minutes.