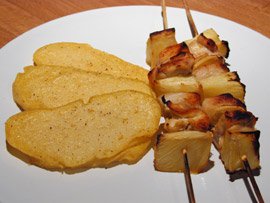 [Ginger Pineapple Chicken Skewers]
This was the main dish for our dinner party on Saturday. I got the inspiration from a recipe in the excellent cookbook "Mes petits plats 100% naturels" by Catherine Mandigon and Patricia Riveccio, which I recommend wholeheartedly : the recipes are amazingly unusual and tempting, and everything I've cooked from it so far has been a success. The original recipe calls for pork, but I used chicken breasts instead, and made a few other modifications. Here's my version.
Ginger Pineapple Chicken Skewers
– 6 chicken breasts
– one fresh pineapple
– 80 g fresh ginger
For the marinade :
– the juice of an orange
– 3 tsp soy sauce
– 3 tsp sesame oil
– 3 tsp vegetable oil
– 3 tsp sushi vinegar
(Serves 6.)
In a medium bowl, whisk together the marinade ingredients. Cut the chicken in pieces, about 8 per breast. Put the chicken in the marinade, stir to coat, cover with film and put in the fridge for a few hours, ideally overnight. If you're using wooden skewers, soak them in hot water for an hour (to avoid splinters and to keep the meat from sticking to them).
Peel the ginger and cut it into slices, not too thin, or they will break when you pierce them with the skewers. A thickness of a millimeter or two works well. Peel the pineapple, slice it and cut it in chunks. Add the pineapple juice that you have gotten in the process to the marinade, along with a few chopped pieces of the remaining pineapple meat.
Assemble the skewers, reserving the marinade. This is the sequence I instinctively used on each : pineapple, chicken, ginger, chicken, pineapple, chicken, ginger, chicken, pineapple. This looked pretty, and it used up all my ingredients in a freakishly precise way.
Preheat the oven to 200°C (400°C). Spread foil on a cookie sheet with a rim, oil it, and arrange the skewers on it. Put the cookie sheet in to bake for about 30 minutes, or until the chicken pieces are thoroughly cooked, turning the skewers and basting them with the marinade from time to time. Switch your oven to the grill mode for another 10 minutes, until the meat and pineapple get golden, with a few aesthetically charred corners.
Each guest happily receives two skewers, along with grilled polenta slices (recipe coming up next!). This was really really good. The sweet and savory flavors work very well together, the chicken is infused with complex aromas, and the texture of the pineapple chunks balances that of the chicken perfectly.
Completely Unrelated Side Note : today is my darling sister's birthday, so let me just take a moment and say this : Joyeux Anniversaire Céline!