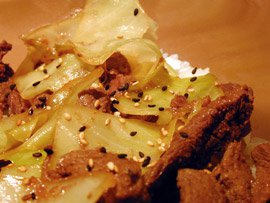 As much as I love to cook, it is sometimes very nice to have your boyfriend say, on a lazy Sunday afternoon : "you know, I think I'd like to make dinner tonight". Though usually more of a whip-it-up-by-instinct kind of cook, on this occasion he takes out the Japanese cookbook he bought in London, picks a recipe, makes a list, goes shopping, comes back and starts working.
Very much aware of my slight tendency to meddle, I steer clear from the kitchen as he cooks, comfortably cross-legged on the couch with my laptop, but oh-so-happy to offer advice when sollicited.
We invite our neighbor-friends over, and Maxence graces us with this perfect dish : beef strips in a ginger sake and soy marinade, stir-fried with cabbage, served on a bed of sticky rice. Everybody loves it, the meat is moist and infused with flavor, and the sauce is deliciously tasty over the rice and cabbage.
Maxence glows, and reflects that there is indeed something to be said for following recipes, every once in a while…
(My darling being my darling, he didn't follow the recipe exactly as written. The recipe called for pork, and he used beef instead – mainly because the only butcher's open was halal, and so of course sells everything but – and the Chinese cabbage and green ginger had to be replaced with the more readily available green cabbage and regular ginger.)
Sauteed Ginger Beef and Cabbage
(Serves 4.)
– 1.5 tsp sugar
– 2 tbsp sake
– 1/3 C Japanese soy sauce
– 1 tsp grated fresh ginger
– 550 g beef rump steak
– 8 leaves of green cabbage
– vegetable oil
– 3 tsp fresh ginger juice
Combine sugar, sake, sauce and grated ginger in a medium bowl. Stir until the sugar dissolves.
Cut the beef into thin strips. Add it to the marinade, let stand for 10 minutes. (But no longer, otherwise the meat will get tough.) Drain over a small bowl, and reserve the marinade.
Cut the cabbage leaves into 4 cm (one inch) squares, removing the thick ribs.
Heat some oil in a large skillet or wok, add the meat and stir-fry for three minutes. Add the cabbage, the reserved marinade and the ginger juice, and stir-fry a little longer until everything is heated through.
Serve in bowls over steamed rice and eat with chopsticks.
Adapted from "Cooking Class Japanese", an Australian Women's Weekly Cookbook.