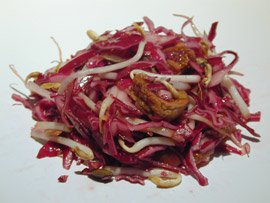 [Red Cabbage and Dried Figs Salad]
If you look for recipes to use up a head of red cabbage before it applies for permanent residence in your vegetable drawer, you will find that the general agreement is "red cabbage shall be sublimated by fruit" : popular uses include braising it with apples or chestnuts, cooking it with pears, or pairing it with apricots or raisins in a salad.
Although the Cook's Thesaurus dismisses it as tasting just like green cabbage and presenting the clear and present danger of bleeding onto the other ingredients, I still consider red cabbage my friend – like anything purple and pretty, really – and we'll just agree to disagree on the taste thing, as I think it is distinctive and unlike that of green cabbage.
This fresh salad, in keeping with the fruit pairing idea, stars the aforementioned head of red cabbage (the volume of shredded cabbage a smallish head produces never ceases to astound me) and enhances its taste with little strips of dried figs for sweetness, toasted pumpkin seeds for nuttiness, soy sprouts for color contrast and crunch, and a lemon dressing for tang.
Salade de Chou Rouge aux Figues Séchées
– a small head of red cabbage
– 1 C soy sprouts
– 6 dried figs
– the zest of a lemon
– a large handful of pumpkin seeds, toasted
Dressing :
– the juice of a lemon
– 1 Tbsp olive oil
– 1 Tbsp red wine vinegar
– salt, pepper
(Serves 6.)
Wash and quarter the cabbage. Cut out the tough core, and slice the leaves in thin strips – a food processor would come in handy. Rinse and drain the soy sprouts, chop the zest finely and slice the figs.
In a salad bowl, whisk together the dressing ingredients. Add the cabbage, soy sprouts, pumkin seeds, lemon zest and figs, and toss to coat. Cover and reserve in the fridge for at least a couple of hours, if possible, before serving. Can be made up to a day ahead.