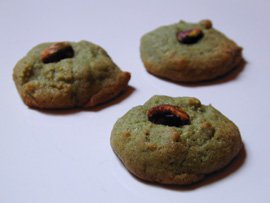 Today is the 10th edition of Is My Blog Burning?, the collaborative blogging event! It is hosted this time around by Fabulous Baker Jennifer, from The Domestic Goddess, and the theme is Cookie Swap.
A cookie swap, if you'not familiar with the concept, is a little party thrown between friends and/or neighbors before the holidays, where each guest bakes large quantities of one type of cookie to be swapped with the others, so that each attendant leaves with an assortment of cookies. From what I understand, it is originally a tradition in Northern Europe countries (where they know a thing or two about holidays and cookies), and was then imported and widely adopted in North-America. I've never heard of such a thing being hosted in France, but baking holiday cookies isn't that big in France — we'd rather just eat chocolate and glazed chestnuts.
So. Cookies. What kind could I make? I love anything pistachio, from pistachios in the shell to pistachio macarons and pots de crèmes à la pistache, not forgetting pistachio ice-cream. I had once wondered how pistachio things got their pistachio flavor — it seemed unlikely that it was from grinding shelled pistachios — and a brief research led me to pistachio paste. I looked for it at G.Detou, my trusted source for all things baking and hard-to-find. They did sell pistachio paste, but in cans of one kilo that cost 25 €, and I found it somewhat hard to justify the expense, as tempting as it was.
So I reluctantly filed the idea in the back of my mind, until I started working on the Bar à Veloutés project, for which we decided to make a velouté pistache. And there was my justification! I promptly purchased a can of pistachio paste, and made the pistachio cream (simply using my crème brûlée recipe and adding two rounded tablespoons of pistachio paste per 4 yolks).
This happily left me with some of the paste leftover, which I decided to use to make a batch of pistachio cookies for our virtual cookie swap. I started with a chocolate chip cookie recipe, substituted pistachio paste for one third of the butter, and skipped the chocolate chips. I used half whole-wheat flour and half all-purpose, because I like the depth of taste that it brings. I also used light brown unrefined cane sugar : I think it works particularly well in baked goods, because it keeps a crystallized texture that's really lovely to bite into. I bought this one from the organic store, it is from Paraguay and has the Max Havelaar fair trade label, which I support whenever I can.
Those cookies filled the apartment with a wonderful smell (I vowed not to open the windows for a week), and I love how they turned out : crispy on the edges, moist and tender inside with the crunch of sugar, and that fabulous (but not too overpowering) pistachio flavor underlined by a hint of salt. I served them for dessert when Marie-Laure and Laurence came for dinner, to accompany a simple no-sugar-added apple compote. I gave my dear friends a few cookies to share with their respective boyfriends and some pistachio paste so they could conduct their own pistachio experiments. Possible variations include half-dipping them in chocolate, or adding in chocolate chips, pistachio chunks or dried cranberries…
Pistachio Cookies
– 110 g (1/2 C) butter
– 55 g (1/4 C) pistachio paste
– 230 g (1 C) light brown sugar, preferably unrefined
– 1 egg
– 2 tsp vanilla extract
– 230 g (2 C) flour (I use half whole wheat, half all-purpose)
– 1 tsp baking powder
– 1/2 tsp salt
– 50 shelled pistachios
(Makes 50.)
Preheat the oven to 180°C (360°F), and cover a cookie sheet with parchment paper.
In a medium mixing bowl, combine the flour, baking powder and salt. Stir to mix. In a food processor, cream together the butter, pistachio paste and sugar until well blended. Add in the egg and vanilla, process until smooth. Add in half the flour mixture, and mix again. Add in the second half of the flour mixture, and mix until thoroughly combined.
Work with two spoons to form balls of dough (about a tablespoonful each), and deposit them on the cookie sheet, spacing them so they have room to spread a little. Top each ball with a pistachio. You will probably have to work in two or three batches.
Put into the oven to bake for about 12 minutes, or until the edges just start to get slightly golden. Don't overcook if you want them to be tender inside rather than crispy. Turn them out on a cooling rack. They will still be on the soft side, but will harden as they cool.