Travel season is upon us, and I want to make sure you see and taste the best France has to offer! When it comes to Paris I've got you covered, but there are many other cities with exciting and delicious things for you to experience. So I've asked a team of French bloggers from different cities to share their favorite spots, and I am offering them to you in this new series.
In Lille, Izabela recommends…

To walk us through Lille, I'm happy to introduce Izabela Jeanneau, author of the blog Lille Confidential. She has dilligently tested all of her recommendations, and lives by the motto "Only the best!" It's the only trilingual (!) blog in the region, available in French, English, and Dutch. Though Izabela is Parisian by birth, she considers herself an adopted Lilloise since moving there in 2009 by way of Singapour, Abu Dhabi, Jakarta and Luanda. Izabela prides herself on her unique perspective on Lille as a cultural and food capital between Paris, London, and Brussels.
In addition to her blog, I recommend you follow Izabela on Twitter and Instagram. (The photos in this post are hers.)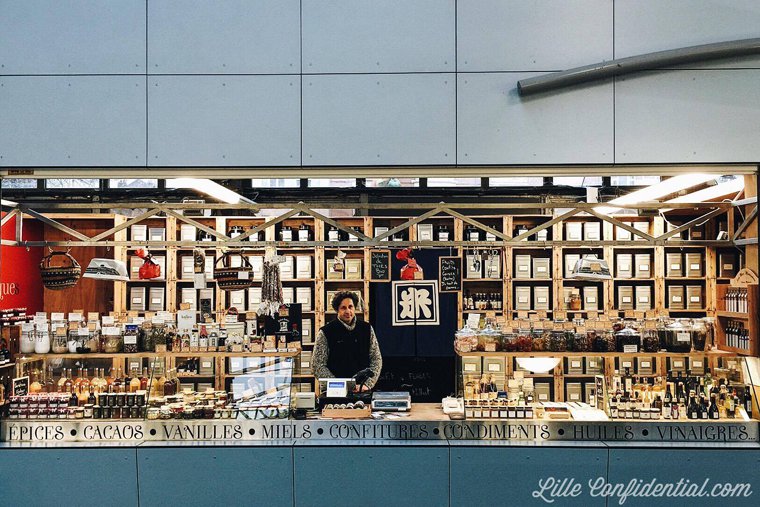 A gourmet shop in the Halles du Marché de Wazemmes run by the passionate Jean-Paul Lafitte. Here, you will find high-quality products that can sometimes be more difficult to score: oils from Alexis Munoz, Escuminac maple syrup, a wide selection of spices, including rare salt and pepper and vanilla, as well as teas, coffees, Claudio Corallo chocolate, Corsican honey from Pierre Carli, Bellotta-Bellotta charcuterie… a true gem of a store!
The Wazemmes market is one of the two most traversed markets in Lille. It is located in a working-class neighborhood that becomes very cosmopolitan and animated on market days.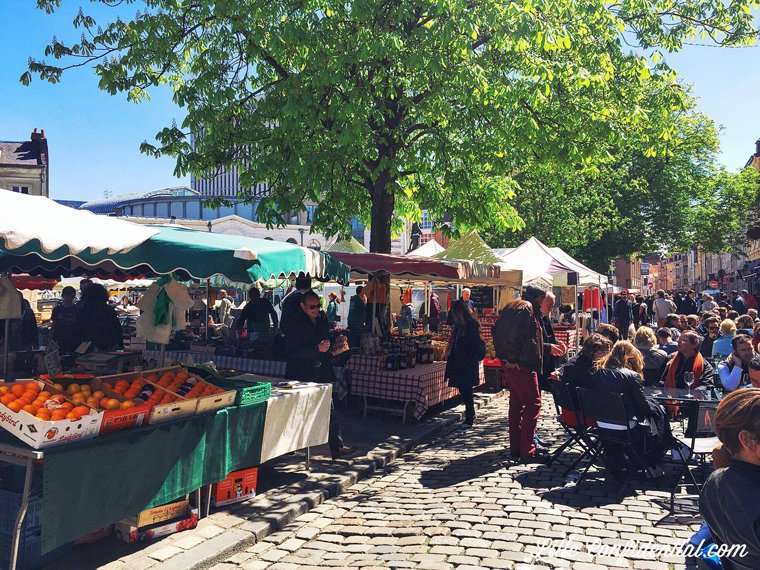 Smaller, and with a more "see-and-be-seen" vibe, but with a pleasant and charming ambiance. On Sundays, there is a very lively atmosphere, and regulars love to sit on the café terraces around the Place du Concert to have a drink and snack after shopping. A few steps away lies the famous shop Aux Merveilleux, where they sell the traditional Northern pastry of the same name, consisting entirely of meringue and whipped cream. Not to taste it would be a sin! They are also open on Sunday morning.
Where to go for sweet eats: Alex Croquet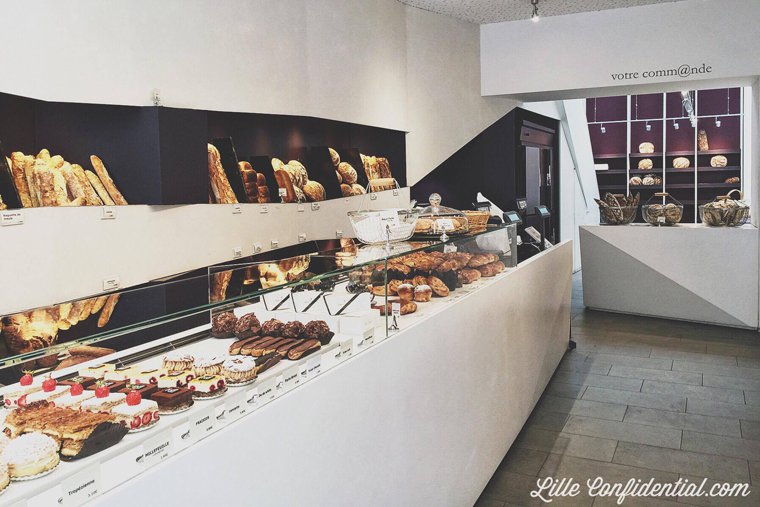 If you haven't heard of Alex Croquet, who describes himself as bread crazy, he is considered one of the best bread makers in the world, revered by some of the most famous chefs. His breads contain no additives, and sourdough as the only leavener, which Croquet nurtures himself.
Croquet extends the same care to his sweet treats, from the crisp croissants to the citrus zest brioche. On the pastry side, the star is the clementine tart, but in keeping with the seasons, right now it's a delicious tarte à la rhubarbe, with a perfect balance of sweetness and acidity.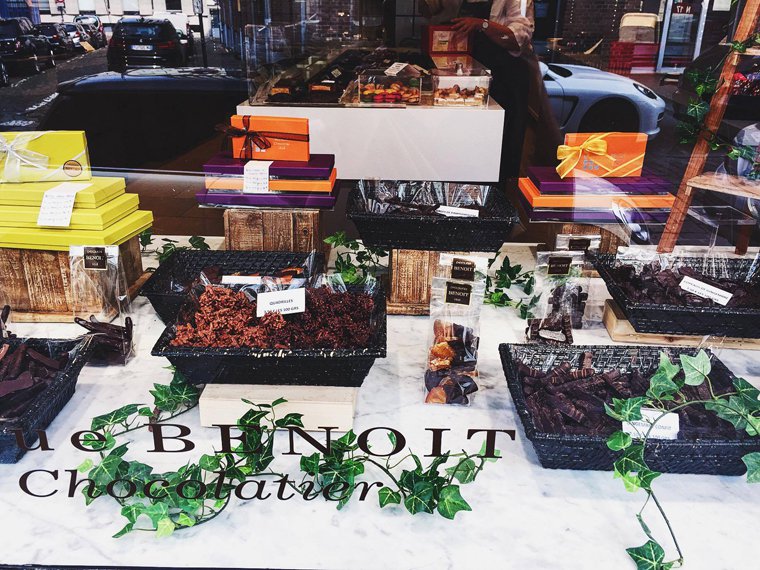 This shop holds the best artisanal chocolate in Lille. With more than 60 different varieties of filled chocolates, from praliné to ganache, as well as tea, chili pepper, lemon, and pepper, all expertly crafted. The result is a chocolate that's not too sweet; rather, it tastes of real chocolate!
Where to get tea or coffee: Méert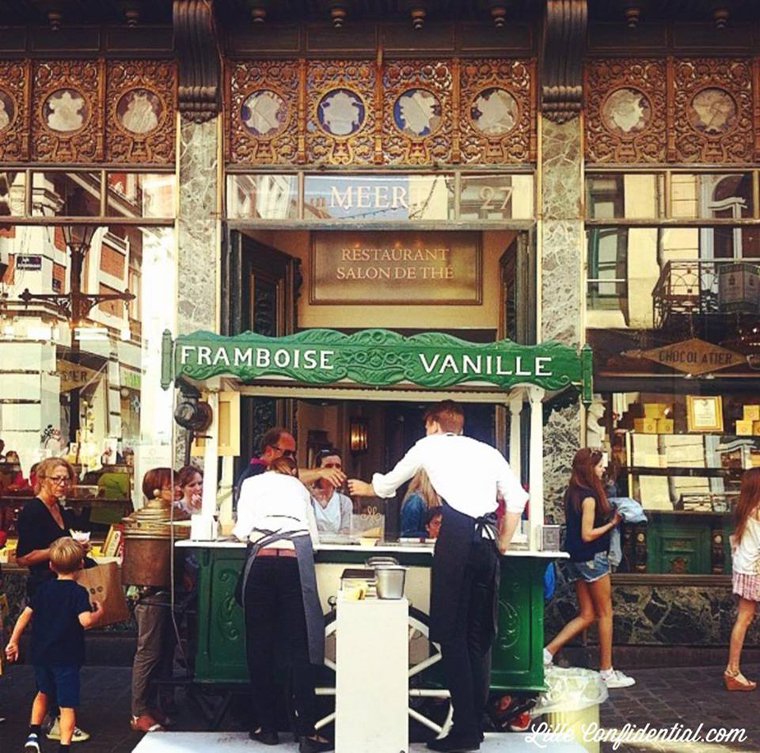 This is certainly one of the better-known food destinations of Lille, but one filled with history, and it remains the perfect tea-time spot. In this authentic Lille institution, you find yourself surrounded by superb period décor, but also the beautiful (and no less delicious!) pastries. Don't forget to leave with a souvenir box of the famous Méert waffle cookies, it is a must!
With a more modern vibe, Coffee Makers serves the best coffee in Lille. These excellent beverages (the beans are roasted on site) serve as the perfect accompaniment for their addictive homemade pastries.
A fun restaurant for dinner with friends: Jaja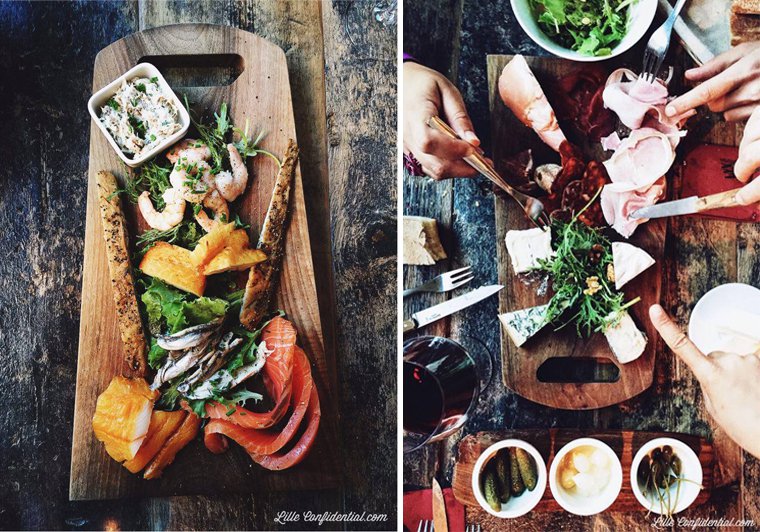 A beautiful wine bar with a sharp selection of wines by the glass and the bottle, as well as an appetizing selection of plates filled with charcuterie, smoked fish, and the scrumptious Frères Delassic cheeses. The interior is decorated in a vintage-chic style, with long tables, metal accents, unfinished wood, and patent leather. In short, the perfect combination for a relaxed evening between friends!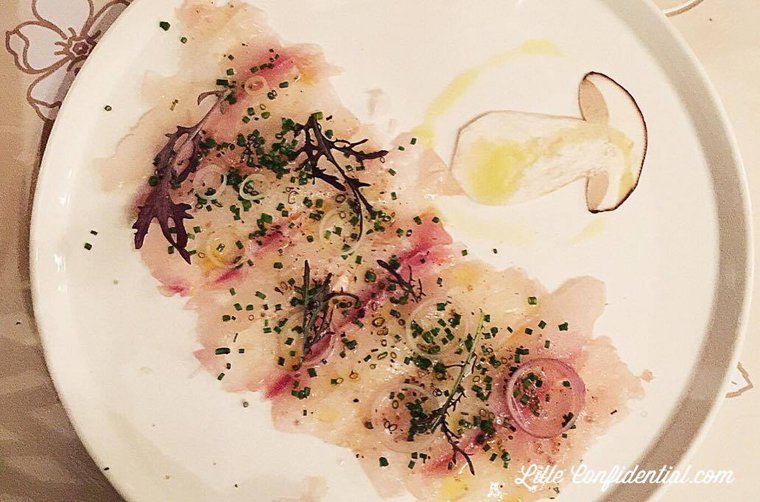 This small, quiet restaurant in the old part of the city pays homage to the classic style of a French bistro. The inviting ambiance, fresh, seasonal products, generous servings, and a penchant for uniting terre-mer (the French equivalent of surf and turf) are all part of young chef Mickaël Braure's style. Add a selection of wines from hand-picked small producers and you have the perfect encapsulation of the bistro spirit.
Where to go for an intimate dinner date: La Table du Clarance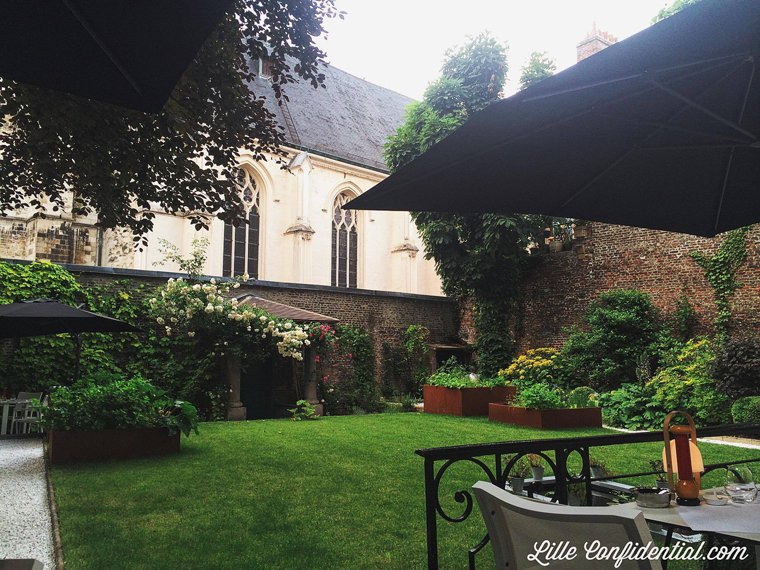 This magnificent spot, with a mix of modern chic and period décor, is located in an 18th century building that is now a boutique hotel. The restaurant, driven by Nicolas Pourcheresse, holds the only Michelin star in Lille (awarded in 2016). The inventive cuisine features superb ingredients, clever flavor pairings, and cooking methods that captivate. For more intimacy, you can dine at the single table that's set in the former library. And, on balmy days, in the charming parish garden with a view of the Saint Catherine Church. 100% romance guaranteed!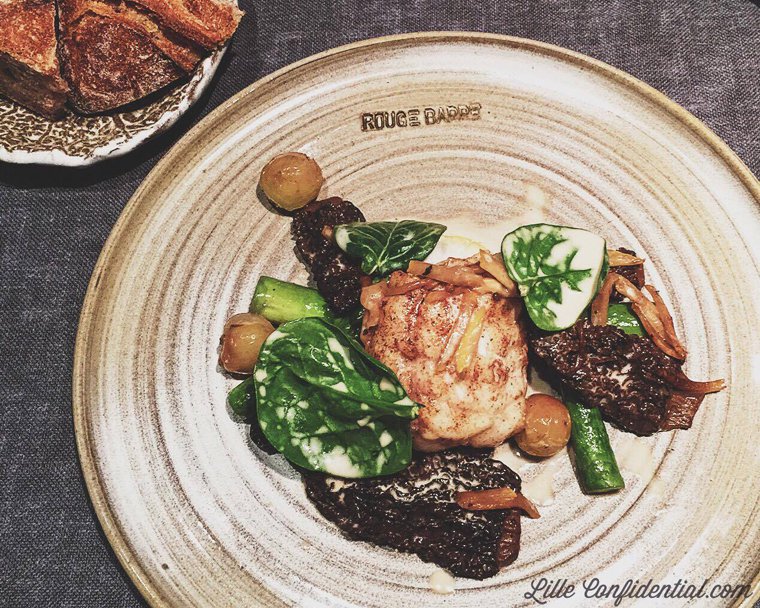 Though perhaps slightly less spectacular than my last recommendation, Le Rouge-Barre offers a cozy ambiance typical of Old Lille, with its exposed red brick walls. Steven Ramon's cuisine shines with a originality and flavor, and it's a beautiful spot for a romantic evening en terrasse (al fresco) this summer.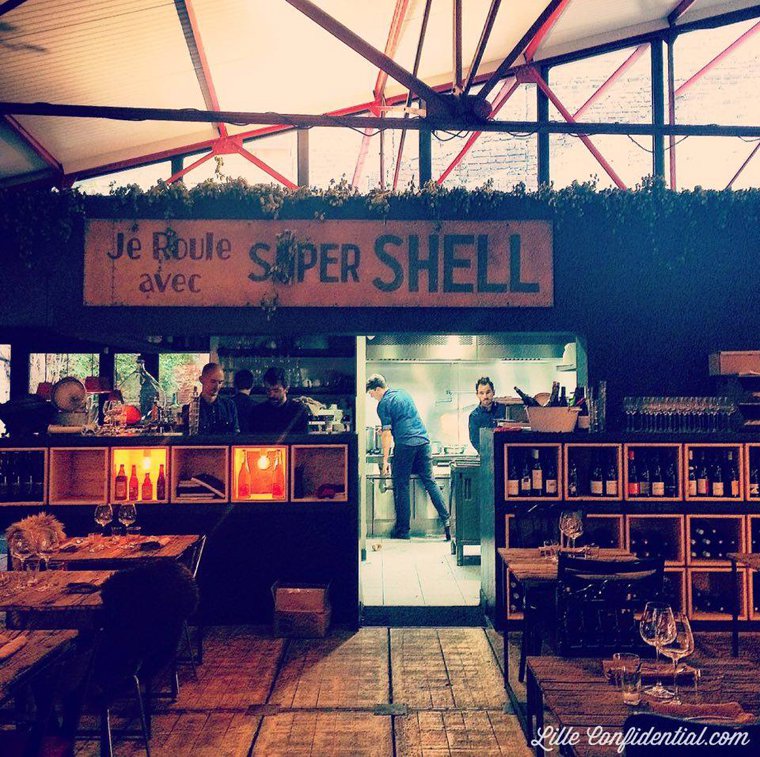 My permanent favorite is le Bloempot — I call it the restaurant of happiness. The second restaurant of charismatic chef Florent Ladeyn is the most joyful spot in Lille. The pretty and low-key dining room, all wood and exposed brick, is just as cool, authentic, and welcoming as the chef. For this offshoot of his countryside restaurant (starred restaurant Le Vertmont, located 30 minutes outside of Lille), Ladelyn has brought a little patch of nature to Lille, and he rocks Flanders cuisine like nobody else. His is a creative, intuitive, and sincere cuisine inspired by local products. There is no menu — the daily offerings are created based on the season and what vendors on each side of the border can provide. Each plate is a delicate and delicious interpretation of Flemish terroir that you can accompany with wine, or even beer for a more surprising pairing. Oh joy!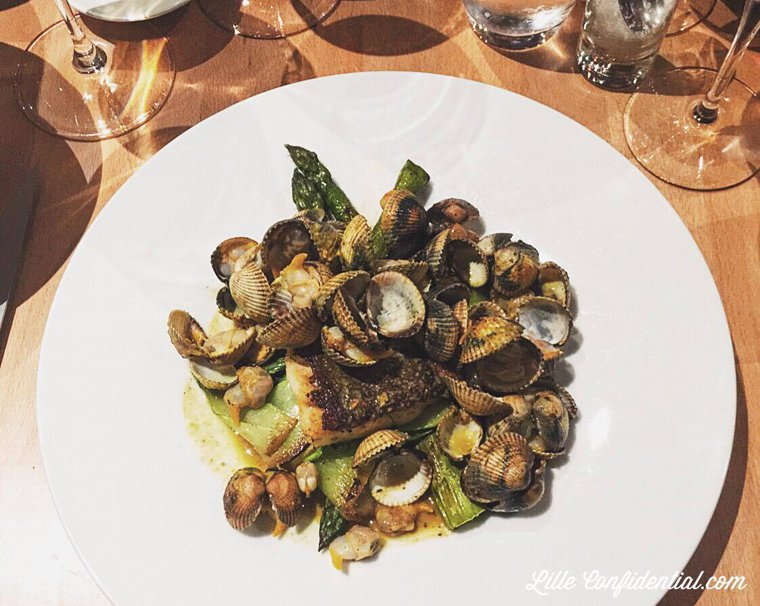 A young duo is at the helm of this small restaurant in Old Lille, the best value in Lille: Simon Pages in the kitchen and Matthieu Durand as the house sommelier. The restaurant boasts a simple, intelligent, and surprising cuisine, with a short yet wonderful menu. The wines from independent vintners beg to be tasted immediately. This gem of a restaurant is an authentic return to the roots of bistro culture, with generous servings, quality products, and gourmet dishes, all without hurting your wallet. Proof that miracles do exist.
Thank you so much for sharing, Izabela!
You'll find all these addresses mapped out below:
Do you have your own favorite spots in Lille? We want to hear about them in the comments below! And is there a particular city or area you'd like featured in this series in the future?