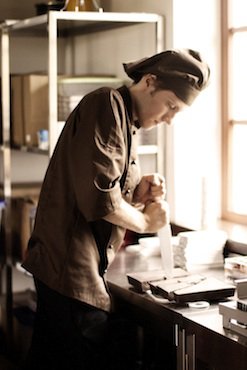 Today I bring you an interview with Domantas Užpalis, a bean-to-bar chocolate maker from Lithuania who contacted me a few months ago to tell me about his project, Chocolate Naive: he and his team roast, winnow, grind and temper their own chocolate in a manufacture based in the Lithuanian countryside.
He offered to send samples of their new collection, which includes a 43% milk chocolate, a 68% Uganda chocolate with fleur de sel, a 71% Grenada chocolate, and a 63% cinnamon-orange chocolate. I received the bars, tasted them, and was truly impressed: this was excellent chocolate, complex and refined. I was also wildly intrigued by the story behind it, and asked Domantas if he would answer a few questions for me.
It turns out this self-described chocolate lunatic is quite a character, and I hope you enjoy reading about his chocolate-making adventures as much as I did. I know I would love to fly to Lithuania and visit his dacha and chocolate factory!
And if you want to taste his chocolate too, it is distributed in select stores in Europe, and can be ordered from the Chocolate Naive website.
Can you tell us a little about yourself and your background?
My name is Domantas Užpalis — blue-eyed, medium height, big smile. Seriously, I am the founder of this weird project called Chocolate Naive. We have been manufacturing fine chocolate in the middle of nowhere for one and a half years now. We are small-scale chocolate makers, who create chocolate from scratch, and by that I mean we roast, winnow, conche and temper chocolate ourselves in the countryside, in Lithuania. I will add that, at this very moment, I live the dream!
What sequence of events inspired you to create Chocolate Naive, and what is your vision?
All my life I was involved in corporate careers — finance, marketing, or insurance. I graduated with a master's degree in Urban Development in London and 2008 was the year I came back home to Lithuania, all arrogant and self-confident. I was expecting high recognition and a full-speed career, but the international crisis turned everything upside down. And here I was — jobless, socially isolated, with no personal life, in poor health and with savings running out. When I look at that period in retrospect, I can clearly say that it was the lowest point of my life. For more than two years I literally struggled to survive.
The solution was obvious: what else if not chocolate? Shall I go from uber negative to super positive paradigm? I bought one ton of cacao beans and threw myself into chocolate very spontaneously. The beans arrived at my warehouse: a bunch of jute bags full of aromatic cacao beans. I had no idea how to process them, where to process them and what machinery I needed, but from that very moment on, we started assembling the puzzle very quickly.
First of all, we moved to the beautiful countryside near the lake. We secured a business loan and the first machinery started arriving to our rustic dacha in the middle of nowhere. Robust chocolate bars were born with the help of our local employee Kristina, a mother of seven, who is now the head of production. Some time ago her daughter Sabina joined the team, so now we can say that it is a true family business.
Twenty tons a year — that is our end goal. We have set this upper limit for the total Chocolate Naive production and we will keep that promise. The upper limit is to remember that the project started as a getaway from the corporate world, and if we exceed the limit we will run the risk of throwing ourselves back to the office (no way!).
Here is our end vision: to develop our farm and to acquire one in a cacao growing country in order to develop full vertical integration of manufacturing; to manufacture the most sophisticated chocolate and bring back the crown to the Food of Gods; to spread joy, peace of mind, and to educate people about the importance of finding their Chocolate of life.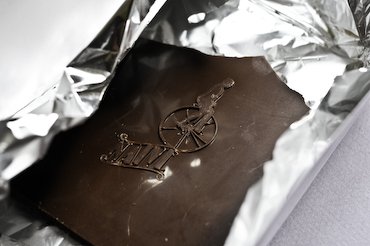 Can you describe the chocolate-making process you've adopted, what the setup, equipment, and team at the manufacture are like, what ingredients you use and how you select them, etc.?
I never thought it took so much effort and know-how to create a fine-quality chocolate bar. Two things are important: the quality of the ingredients and the execution. The ingredients used by Chocolate Naive always carry the story behind them. Direct trade means knowing your grower personally; that is very important.
Our vanilla farmer from Costa Rica or our cacao farmer from Uganda — I know them by name and I know their farming principles. I can share this important information with our eater and create transparency for the product. I always say that the fifth ingredient in our chocolates is the pure air we work in. The air is certified organic of course!
We use fluid bed roasting technology customized for our needs. Cacao bean husks are removed with the winnower we engineered ourselves. We're in the process of creating a longitudinal double-conche mixer and it will be another machine created from scratch with the help of our brilliant engineers. We use motorized granite rollers for grinding cacao with the sugar at the moment. You have to understand things like Amps, horsepower and making chocolate is a masculine process in general — the scars on my hand are the proof!
What has been your biggest challenge so far? What are you most proud of?
The biggest challenge so far is to find an understanding lady that could cope with my messy job! We do appreciate difficult times, we like to take extra steps and we adore positive stress. To make gourmet chocolate in a country with few chocolate-making traditions and to find a place under the worldwide chocolate industry sun — that's the challenge.
I remember this one time we were participating in the chocolate fair in Tubingen, Germany and an old lady approached. She was French and I was full of complexes in offering my chocolates to the French or the Italian — they are so dark chocolate educated! But she sincerely loved it and we had a long and warm conversation for more than a hour, talking about texture, varieties, Lithuania, the countryside… And then I realized, we are finally in the game.
I'm intrigued by the packaging of the chocolate bars [see picture below], which is both simple and poetic. Who designs the labels, and who writes the texts?
Every chocolate bar made by Chocolate Naive carries the story. The story about me trying to milk a cow names Marigold, traveling to Nicaragua, or meditating on the rotten footbridge while developing the new recipes. We like it simple and minimal indeed. All our labels and brand in general are the outcome of beautiful friendship between me and Karolis Kosas, the most amazing artist and person in the world. And yes, I wrote the texts. The chocolates are very autobiographic. They even have my signature on them! [Note from Clotilde: He actually hand-signs each bar!]
You mentioned that, in addition to the chocolate, you also have a rabbit/goat farm, you make ice cream, you grow herbs and berries, etc. Can you tell us about those side activities, and how they fit into your global approach?
To tell you the truth, it is all about loving the food and the people. We are true fans of the Slow Food movement and we believe that you have to know your food suppliers personally and support the small farmers in their tough daily life. On the one hand, we support our local community and redistribute profit among them by buying some of their produce and helping them to find a way to the big city foodie stomach. On the other hand, we like gardening and we love animals too! We grow herb gardens and keep fifteen goats, ferment goat cheese, collect birch sap, and more. And then people from Paris or London come to visit our little dacha to see this bizarre zoo. So this is how local becomes global, you see.
Is there anything else you'd like to say about Chocolate Naive that the above questions didn't cover?
First of all, thank you for this opportunity to answer these great questions — it is a big pleasure. I would like to encourage all people to follow their dream and to try to change the world. Maybe it is a cliché but everyone should be on a mission to try and leave a small trace in this huge universe. Quit unloved jobs, places, relationships or habits — go and find your personal Chocolate. Everything is so fragile and we have little time on this earth but you could start today, that is for sure.
Warmest wishes from the sunny countryside!
Chocolate Naive's website.
More about Domantas on Lietuva.lt.