To celebrate the 10th anniversary of C&Z, I am hosting 10 giveaways throughout the month of October. Keep checking back for chances to win wonderful prizes I've discovered and loved over the past decade!
Our first giveaway prize is an eight-bar chocolate sampler from Chocolate Naive, a bean-to-bar chocolate company run by Domantas Užpalis in the Lithuanian countryside.
I have had the opportunity to taste Domantas' incredible hand-signed chocolates* and to discuss his unique philosophy, and I am certain that you will be as enthused as I am by his work.
I am therefore delighted to be able to offer you a boxed set of eight chocolate bars from his "Back to the Origins" collection. This assortment includes one bar each of:
– Milk chocolate with salted caramel
– Milk chocolate with hazelnut cream
– Milk chocolate (Java/Papua New Guinea)
– Dark chocolate (Trinidad and Tobago)
– Dark chocolate with creamy coffee
– Dark chocolate with forest honey
– Dark chocolate with sugar crystals (my favorite!)
– Dark chocolate (Peru pure nacional, limited edition)
To participate, leave a comment below (in English or in French) telling me about your absolute favorite chocolate bar. And if you're on Facebook, please consider liking the Chocolate Naive page (and of course, the C&Z page, too!).
You have until Wednesday, October 9, midnight Paris time to enter; I will then draw one entry randomly and announce it here. Domantas has generously agreed to ship internationally, so you're welcome to play regardless of your location; please make sure you enter your email address correctly so I can contact you if you win.
Good luck, and check back this Friday for a new giveaway!
WE GOT A WINNER!
I have drawn an entry at random using random.org (see screen capture below), and I am pleased to announce the winner is Christina Oldenburg, who nominated Trader Joe's Pound Plus Dark Chocolate as her favorite. Congratulations Christina, and thank you all for entering with such tempting choices! I've added many to my to-try list.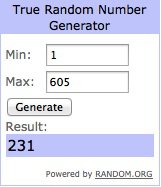 * Disclosure
Domantas has sent me samples of his chocolates for tasting, with no obligation to write about them. All opinions expressed are my own.