To celebrate the 10th anniversary of C&Z, I am hosting 10 giveaways throughout the month of October. Keep checking back for chances to win wonderful products I've discovered and loved over the past decade!
Our seventh giveaway prize is a set of three reusable shopping bags and five reusable produce bags from Flip & Tumble, a small design studio based out of Berkeley, California.
The first product they developed when they launched in 2007 is the 24-7 bag, a reusable and durable shopping bag that folds back into a neat little pouch attached inside the bag. Co-founder Eva Bauer got in touch with me back in 2008 to tell me about it, and I have been an intensive and intensely happy user since then. (See my post on reusable shopping bags.)
We have a collection* that we keep around at all times — a couple on the sideboard by the door, one in the stroller, one in my purse, one in Maxence's computer bag — and they have become such staples of our everyday lives and travels that we call them "flips" for short, as in "T'as pris un flip?" (Did you bring a flip?).
Encouraged by the success of that bag, the Flip & Tumble team came up with reusable produce bags, and I am just as enthusiastic about those*. I love that they help me avoid much of the plastic and brown paper normally involved in bringing home the fruits and vegetables we eat; they are easy to wash and lightweight enough that I don't end up paying more for my produce; and I get so many compliments from other shoppers and vendors that I hope their use will one day become more commonplace.
For this giveaway, co-founder Eva Bauer is offering three assorted 24/7 bags and a set of five produce bags.
To participate, leave a comment below (in English or in French) telling me about the environment-friendly habit you think is most important in the kitchen. And if you're on Facebook, please consider liking the Flip & Tumble page (and the C&Z page, too!).
You have until Monday, October 28, midnight Paris time to enter; I will then draw one entry randomly and announce it here. Eva has generously agreed to ship internationally, so you're welcome to play regardless of your location; please make sure you enter your email address correctly so I can contact you if you win.
Good luck! And check back on Thursday for a new giveaway.
WE GOT A WINNER!
I have drawn an entry at random using random.org (see screen capture below), and I am pleased to announce the winner is Margaret, who wrote: "There are so many little things and I'm not sure what is most important. Reusing as much as possible for bags and containers is something that is easy, but reduces a lot of waste and plastic. The other thing I try to do is not waste water using too much when washing dishes. Water is such a precious resource…"
Congratulations Margaret, and thank you all for entering!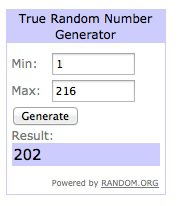 * Disclosure
The Flip & Tumble products I own were sent to me for free by the company, with no obligation to write about them. All opinions expressed are my own.