To celebrate the 10th anniversary of C&Z, I am hosting 10 giveaways throughout the month of October. Keep checking back for chances to win wonderful products I've discovered and loved over the past decade!
Our fourth giveaway prize is an Original Cinnamon Lovers Pack from Cinnamon Hill, which includes:
– one box of Ceylon cinnamon (contains five 5-inch sticks),
– one box of Saigon cinnamon (contains five 5-inch sticks),
– a beautiful honey oak cinnamon grater,
– a hand-made ceramic cup to keep the grater and a couple of sticks of cinnamon on your counter or table.
Cinnamon Hill is a British company based in Lancashire that specializes in sourcing and selling the highest-quality, freshest cinnamon from Sri Lanka and Vietnam — ordinary cinnamon usually comes from China or Indonesia. Each pack is marked with the harvest date of the cinnamon, and the cinnamon sticks are individually wrapped (in biodegradable cellophane) to preserve their vibrant flavor.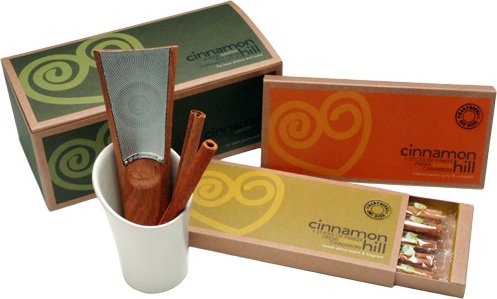 For this giveaway, Rupert Beeley of Cinnamon Hill is offering this beautiful gift pack that allows you to sample and compare both kinds of cinnamon, grated fresh on the special cinnamon grater that they designed — the grater is a unique tool, entirely made in England from sustainably cultivated wood and laser-etched stainless steel.
To participate, leave a comment below (in English or in French) telling me about your favorite use for cinnamon. And if you're on Facebook, please consider liking the Cinnamon Hill page (and the C&Z page, too!).
You have until Thursday, October 17, midnight Paris time to enter; I will then draw one entry randomly and announce it here. Rupert has generously agreed to ship internationally, so you're welcome to play regardless of your location; please make sure you enter your email address correctly so I can contact you if you win.
Good luck! And check back on Monday for a new giveaway.
WE GOT A WINNER! I have drawn an entry at random using random.org (see screen capture below), and I am pleased to announce the winner is Michelle of Boulderneigh, who said her favorite carrier for cinnamon is a really good cinnamon roll.
Congratulations Michelle, and thank you all for entering with such imaginative cinnamon uses! I'm so inspired I will compile them into a list to share with you very soon.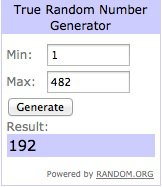 * Disclosure: Rupert has sent me samples of both kinds of cinnamon for tasting, with no obligation to write about them. All opinions expressed are my own.