To celebrate the 10th anniversary of C&Z, I am hosting 10 giveaways throughout the month of October. Keep checking back for chances to win wonderful products I've discovered and loved over the past decade!
Our sixth giveaway prize is a 12-month membership to Jules Clancy's Stonesoup Virtual Cookery School. I have told you about Jules before when her wonderful 5 Ingredients 10 Minutes cookbook came out*: she's the Australian author of the blog The Stonesoup, a talented food writer and entrepreneur who specializes in minimalist cooking.
For a while now she has been running a successful e-cooking school that gives you online access to carefully crafted programs on different themes (meal planning, stress-free entertaining, simple bread-making…) with tools, techniques, email motivators, recipes, and e-books, all designed to boost your confidence in the kitchen and strengthen your culinary skills. Jules' approach is a rare mix of the practical and the inspiring, appealing to the budding as to the seasoned cook, and I am delighted that she has agreed to offer a one-year membership for this giveaway.
To participate, leave a comment below (in English or in French) sharing with us the biggest challenge you face in your everyday cooking. And if you're on Facebook, please consider liking the Stonesoup page (and the C&Z page, too!).
You have until Thursday, October 24, midnight Paris time to enter; I will then draw one entry randomly and announce it here. Jules' school welcomes students from all around the world (note: all classes and material are in English), so you can play regardless of your location. Please make sure you enter your email address correctly so I can contact you if you win.
Good luck! And check back on Monday for a new giveaway.
WE GOT A WINNER!
I have drawn an entry at random using random.org (see screen capture below), and I am pleased to announce the winner is Ivana, who wrote: "My biggest challenge is getting fresh, good-quality fruit and vegetables for cooking throughout the week. Farmers' markets here are only open on the weekends, and I haven't managed to find a way to keep the stuff I buy during the weekend fresh all the way through Friday. And the supermarket fruit and veg is all "plastic", even when it is marked organic."
Congratulations Ivana, and thank you all for entering!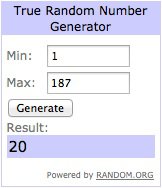 * And don't miss the incredible collection of 140 five-ingredient recipes you came up with then!