To celebrate the 10th anniversary of C&Z, I am hosting 10 giveaways throughout the month of October. Keep checking back for chances to win wonderful products I've discovered and loved over the past decade!
Our ninth giveaway prize is the game-changing brownie pan from Baker's Edge.
It is a high-quality nonstick pan with a maze-like pattern, designed to optimize the crust-to-center ratio so you will never again have to choose between a center brownie and an edge brownie.
The sidewalls also make for better heat distribution, which ensures a more even baking. This innovative pan was invented by Matthew Griffin, a passionate entrepreneur who first had this idea in the late 1990's, and launched it in 2006 to high acclaim. (Read more about Matt's story.)
I've been a happy user of the Edge Brownie Pan for years now*, and longtime readers of C&Z may remember I first featured it when I shared my recipe for pistachio pound cake back in 2006. Matt has since added more cool products to the Baker's Edge range, including a Better Muffin Pan I'm excited to test-drive very soon.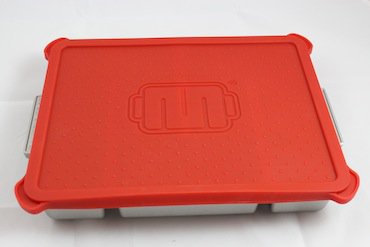 For this giveaway, Matt is offering the combo pack that includes:
– a 9″ x 12″ x 2″ Edge Brownie Pan, entirely manufactured, packaged, and warehoused in the USA,
– a nylon spatula (wooden utensils may also be used),
– a snug cover for the brownie pan (see above),
– and a clever "Edge Wedge" that turns the pan into an 8″ x 8″ baking pan (see below).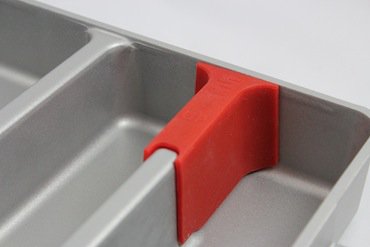 To participate, leave a comment below (in English or in French) telling me about the best brownies you ever had, and what made them special — mine would have to be the Luxury Brownies and their intense chocolate flavor. And please consider following Baker's Edge on Facebook and on Twitter!
You have until Monday, November 4, midnight Paris time to enter; I will then draw one entry randomly and announce it here. Matt has generously agreed to ship internationally, so you're welcome to play regardless of your location; please make sure you enter your email address correctly so I can contact you if you win.
Good luck, and check back on Thursday for our very last giveaway!
WE GOT A WINNER!
I have drawn an entry at random using random.org (see screen capture below), and I am pleased to announce the winner is Margaret H., who wrote, "The best brownie in my memory will always be the first one I tried, from an old fashioned burger place called Fuddruckers, on a trip from Scotland (where I grew up) to America. I was only about 6 years old, and still remember it vividly. I'm sure it was enormous, dark, chocolatey, fudgy, squidgy in the middle and quite unlike anything I had ever tasted before."
Congratulations Margaret, and thank you all for entering! It's been gratifying and fascinating to hear about all of your favorites.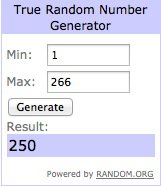 * Disclosure: Matthew Griffin sent me samples of his bakeware to try, with no obligation to write about them. All opinions expressed are my own.