Cinq-Cinquièmes à la Pistache
Le quatre-quarts ("four fourths") can be described as the French pound cake. It has earned its name because the batter is made with the same weight of eggs, butter, sugar, and flour, thus amounting to a fourth of the cake each: you weigh the eggs first, and measure the rest of the ingredients accordingly. There's baking powder, too, which throws the proportions off by a feather, but thou shalt resist the temptation to nit-pick.
It is a fluffy-crumbed, buttery cake that takes kindly to the company of a cup of tea: late afternoon is the traditional time to serve it, but it won't be out of place for breakfast — my mornings were consistently fueled by quatre-quart breton for a few of my teenage years — or dessert, to accessorize a chilled strawberry soup or perhaps a chocolate cream.
The basic quatre-quarts is an easygoing fellow that can be adapted and tweaked to your heart's content. A bit of lemon juice in the batter and a brush of lemon glaze on top is a classic, and quite pleasing, variation, but I decided to make a pistachio version this time, having recently enjoyed a similar bakery-bought cake. I took the equal proportion idea a step further, adding the same weight of pistachios as that of the other ingredients, and this is why I named it a cinq-cinquièmes.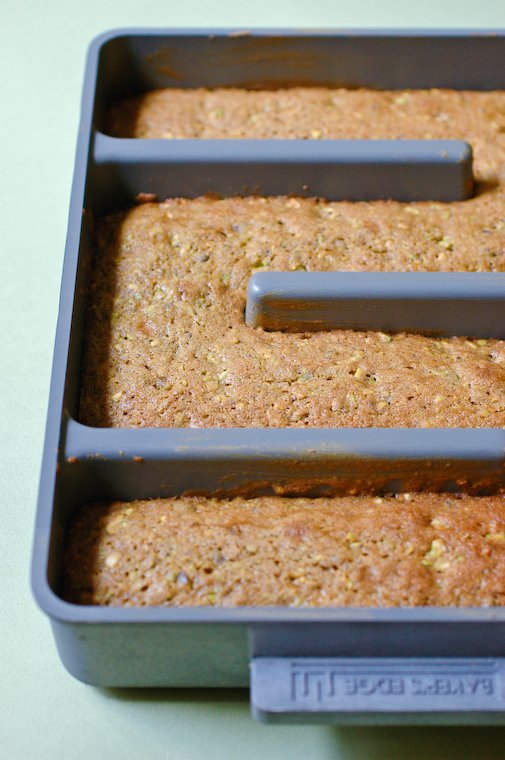 As you will notice on the picture above, I didn't bake the cake in any old pan, but rather took the opportunity to finally use my Baker's Edge pan, which its inventor sent to me a little while ago. It is a sturdy nonstick pan with a maze-like pattern, designed to optimize the crust-to-center ratio. I love the idea — I am all for optimized ratios — and I was very pleased with this first use. The shape makes for a more even heat distribution than conventional pans, so the batter bakes faster, which is great if you have an urgent need for fresh-from-the-oven cake — just remember to shorten the baking time of your recipe. The inside walls make it tricky to unmold the finished cake all in one piece (it was conceived with bars and brownies in mind) but it is a fun, quirky object that looks attractive enough to be used as a serving vessel. Perhaps not when your great-great-aunt comes to tea, but your friends who live in that lightbulb factory loft will no doubt love it.
The company behind the Baker's Edge pan is a three-person operation, founded by one Matthew Griffin. I have exchanged a few emails with him, and he is the sort of passionate, relentless entrepreneur I am happy to support — a David in an industry of Goliaths. The company has some exciting developments in the works (including having the pan sold at modern art museum gift shops, industrial design and all), and I hope that these will allow the team to quit their proverbial dayjobs. (You can read more about Matt's story here, and buy one of his pans here.)

Have you tried this? Share your pics on Instagram!
Please tag your pictures with #cnzrecipes. I'll share my favorites!
Pistachio Pound Cake Recipe
Ingredients
3 eggs (about 170 grams or 6 ounces, weighed shell-on)
The same weight as the eggs in salted butter (about 3/4 cup), at room temperature -- add a good pinch of salt if you use unsalted butter
The same weight as the eggs in sugar (about 3/4 cup plus 2 tablespoons) -- I used unrefined brown sugar
1 tablespoon pure vanilla extract
The same weight as the eggs in flour (about 1 1/3 cup)
The same weight as the eggs in unsalted pistachios (about 1 1/3 cup), toasted and chopped
1 1/2 teaspoon baking powder
Instructions
Preheat the oven to 180°C (350°F). Grease a 22-centimeter (9-inch) round cake pan and line the bottom with parchment paper (I used an ungreased Baker's Edge pan).
Combine the butter and sugar in the bowl of a food processor, and process until creamy. Add the eggs one by one, mixing well after each addition. Add the vanilla extract and mix again.
In a medium mixing-bowl, combine the flour, pistachios, and baking powder. Add the dry ingredients to the wet ingredients, and process until just combined -- the batter will be thick.
Pour the batter into the pan, level the surface with a spatula, and bake for 25 minutes (just 18 for the Baker's Edge pan), until the top of the cake springs back to the touch, and a knife inserted in the center comes out clean. Transfer to a rack to cool completely before serving.
https://cnz.to/recipes/cakes-tarts/pistachio-pound-cake-recipe/
Unless otherwise noted, all recipes are copyright Clotilde Dusoulier.