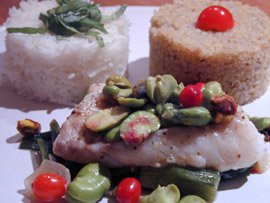 [Codfish with Fava Beans, Cranberries and Pistachios]
This is the main dish I served on Saturday night, when our friends came to dinner. The idea for this sort of came to me out of thin air : I was leafing through cookbooks but nothing was really calling my name, when all of a sudden I had visions of fish, baked, with colorful little veggies. This materialized into codfish fillets, baked on a bed of green onions and sprinkled with fava beans, whole cranberries and pistachios.
We served it with quinoa, which I cooked with onions and herbs and served cold, and long-grain rice, served warm. Both sides were plated using my metal circle, with the help of my beloved assistant plater.
I highly recommend baking fish in a foil-covered dish : it's a gentle cooking method which allows the fish to stay moist, and the circulating steam infuses it with the flavors of the other ingredients you add. Here, the mix of tastes worked really well : the green onions, fava beans and pistachios brought their gentle sweetness, while the cranberries and lime juice played it slightly sour and tangy. In terms of texture, we had the green onions for the softness, the beans and pistachios took care of the crunch, while the juicy cranberries burst on your tongue — all of them complementing the pleasantly firm codfish really well. Oh, and did I mention the gorgeous mix of colors?
It was also a rather light dish, which left plenty of room for the cheese platter that followed : all of us are huge cheese fans, so Maxence and I had carefully selected a few of our favorites at our cheese store on the rue Lepic earlier in the day. In attendance were : a Maroilles, a remarkably tasty Camembert, a Reblochon, a Chèvre Fermier, a Brebis du Larzac, of which we are particularly fond, and a Brocciu, with ample fresh baguette resources. Brocciu is a very fresh and very delicious sheep's milk cheese from Corsica, and we served it with membrillo, the quince paste we had brought back from Madrid. The pairing was a real hit. Here : don't they look happy and contented?
Cabillaud aux Fèves, Airelles et Pistaches
– 6 codfish fillets
– one bunch of green onions
– 2 C shelled fava beans
– 1 C cranberries
– 1/2 C shelled pistachios, unsalted
– the juice of half a lime
– olive oil
– salt, pepper
(Serves 6.)
Rinse the green onions, cut the stems, and chop in one-inch pieces, separating the white parts from the green. Heat some olive oil in a large skillet, add the white parts. Season with salt and pepper. Cook, covered, over medium heat, for ten minutes, stirring occasionally, until slightly softened. Add the green parts, more salt and pepper, and cook for five more minutes.
Preheat the oven to 200°C (400°F).
Transfer the cooked green onions into a greased baking dish, spreading it evenly over the bottom. Lay the fish fillets on top, and season with salt and pepper. Sprinkle the fava beans (raw), cranberries and pistachios over the fillets. Pour a trickle of olive oil and the lime juice all over.
Cover tightly with foil, and bake in the oven for twenty to thirty minutes — this depends on your oven and the thickness of your fillets. Check after twenty minutes by taking a peek under the foil : the fish is cooked when it flakes easily under a fork and is white inside, not translucent.
Serve immediately : use a wide spatula to lift each fillet, with its bed of green onions and its topping of fava beans, cranberries and pistachios. Pour on some of the juice from the bottom of the dish. Serve with rice and/or quinoa.
This can be assembled a little earlier in the day, then stored, covered, in the fridge. You can then just slip it into the oven half an hour before eating. In this case, you should let the cooked green onions cool down before you lay the fish on top (otherwise their heat will start to cook the fish).