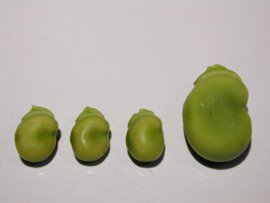 [Fresh Fava Beans]
I'd never had fresh fava beans before, so it was a pleasant surprise to discover some in my Campanier basket this week. I decided to have them for lunch the other day.
Boy, do those little guys like to play hard-to-get!
What you initially have are those large, fat, green pods, that look a lot like giant green beans. I had quite a bunch of these.
When you tear one of the pods open, you can see that the inside is lined with a cottony padding, which I thought very pretty and delicate. It's to protect the fragile little beans, you see.
The beans hang onto the inside of the pod by a sort of membrane, which is easy to detach, and leaves them with a cute hairdo. Unbelievable, the number of veggies among us with punk inclinations. The beans have the characteristic beany shape, oval with a slight depression on one side, and they're a beautiful pistachio green, with a slightly darker spot in the middle.
So I opened each pod one by one, plucking the beans inside. A little time-consuming, but as is often the case, you get more dexterous by the bean, and I was watching some show on Gourmet TV, so all was right in the world. By that time, the fava beans were still my friend.
But you see, the edible and good part is actually yet one step further, beneath the bitter skin. So fava beans have to be peeled. I peeled one with my fingers, fairly easily, and found a smaller, brighter green bean inside, which divided in two halves.
I had read a tip to make the peeling easier : bring salted water to a boil, dump the unpeeled beans in, leave them in for 30 seconds, then drain and put in a bowl of ice cold water to stop the cooking. This supposedly loosens the skin and makes them easy breezy to peel.
Easy breezy. Hah. You wish. This does loosen the skin, but there is no going around it, you are still in for tearing the skin off of each. single. bean. After a while, I developped a technique which made it slightly faster : you hold the bean with your left hand, depression to the right. With your right thumbnail and your index, you slit a tiny opening in the skin where the depression is. Then, with your left fingers, you press on the skin, and tada, the bean inside is forced out into the open. There. Who's laughing now.
And so, after easily spending a good half hour doing this, which adds to the twenty minutes it took me to empty the pods, I found myself with an impressive half cup of edible beans. As it happens I was lunching on my own, so it was fine, but what kind of yield is that?
I decided to enjoy the fruit of my labor raw, simply sprinkled with fleur de sel. I already sensed I wasn't going to put myself in this situation again before quite a while, so I might as well have the purest taste experience. And it did turn out to be absolutely delicious. The beans taste very mild, almost sweet, and the texture is very pleasant, gently crunchy, as your teeth break into each of the green little bean. A few bites of spring.
So I'm delighted to have tried them, I now know I love fresh fava beans. But as Pascale quite rightly pointed out, this is probably a vegetable to have if you can gather a few friends in the garden, sit at a table in the semi-shade under a tree, and chat away while you peel. In the meantime if you don't mind, I'll stick to frozen.