I have been eating green beans my entire life, mostly boiled or steamed, and it's only recently that I was turned on to the sheer magic of roasting those guys.
I forget what prompted me to do so in the first place; it was probably because roasting is my method of choice for low-maintenance cooked vegetables. Whether it's zucchini, broccoli, cauliflower, cabbage, carrots, or any sort of root vegetable, I fill my rimmed baking sheet even-sized chunks in a single, not too cramped layer, drizzle with oil, sprinkle with salt and spices (shichimi togarashi — the Japanese seven-spice wonder — and garam masala are my two current favorites), massage everything in with my hands, and whoosh the sheet into the cold oven.
Besides the convenience, roasting green beans transforms them in a way no other cooking technique does. The flavor concentrates and becomes sweeter, the browned bits give off toasted notes, and the teeny tails become irresistibly crisp.
The beauty of this is I can prepare the vegetables this way a couple of hours in advance, and switch on the oven just half an hour before we're due to have dinner. Other times I turn on the oven and program it to shut off after thirty minutes, before we all go out to run an errand. If we're back a bit late, so much the better: the vegetables continue to soften in the residual heat and become even more delicious.
With green beans, the process is made even simpler by the fact that there's only a bit of trimming to do — no peeling and no chopping. And because I usually deal in haricots verts, the slimmer, shorter kind of green bean that is the norm here in France, and because I get them young, freshly picked and not at all stringy, I trim them by the bunch, which saves a lot of time. You gather a little bundle of beans, aligning the stems together on the same side, and chop them all off at once with a chef's knife. Gather, chop! Gather, chop! Aaaaand, you're done.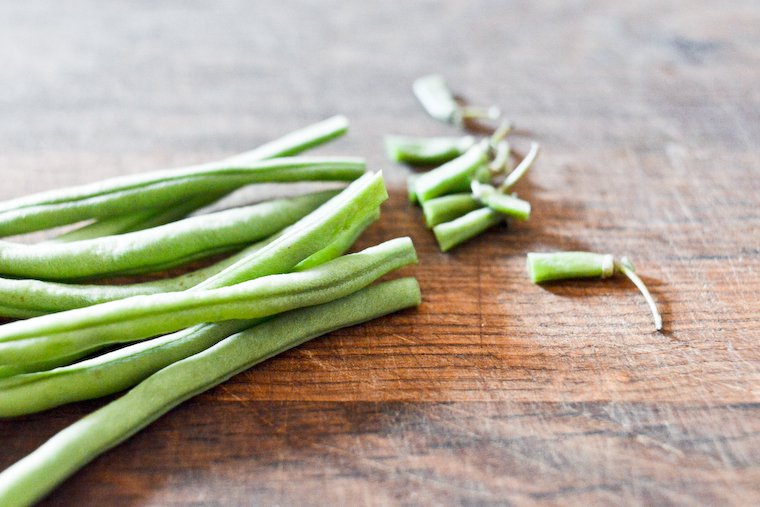 I timed myself the other day (dork much?) and went through the full batch (600 grams or 1 1/3 pounds) in four minutes, which seems pretty good to me, though when my three-year-old is around, I'll revert to the old-fashioned way in which he and I sit around the table to trim in concert and plop the beans into a communal colander. (Very Montessori, I know. We're working on his technique so he doesn't trim a full inch off the bean.)
Besides the convenience, roasting transforms green beans in a way no other cooking technique does. The flavor concentrates and becomes sweeter, the browned bits give off toasted notes, and the teeny tails become irresistibly crisp. I have occasionally over-roasted them to the point where the beans sitting in the nether regions of my oven are almost charred, and although I can't recommend you do the same, I have to tell you charred green beans are tasty. They may become a thing.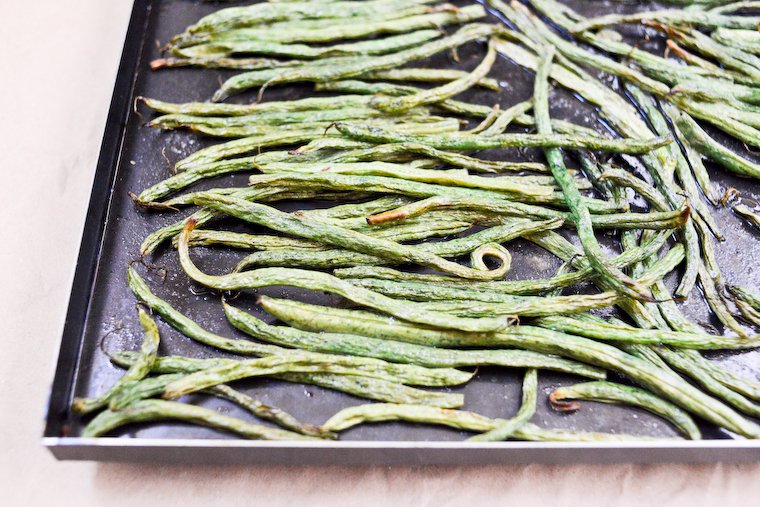 I am content to eat roasted green beans on their own — and like all of my roasted vegetable concoctions I can take in quite a bit — but the other day I was inspired to garnish them with waxy shavings of bottarga, a Mediterranean delicacy of cured, salted fish roe, typically mullet. The pairing was extraordinary, the salty, faintly bitter notes of the roe rubbing against the sweetness of the green beans in all the right ways. This would serve as an elegant appetizer for a dinner party, especially during the holidays, or you could serve it over steamed rice or fresh pasta, and call it a main dish.
I got my bottarga (poutargue in French) from a lovely Italian shop in my neighborhood called RAP Epicerie. They had several kinds; I chose the bottarga di muggine, made from grey mullet roe, but I'll try some of the others next time. Look for it at your local Italian foods shop, or order it online. It's not cheap, but it's powerfully flavorful so a little goes a long way.
I want to know!
What's your favorite green bean recipe? Have you roasted them before? And have you ever tried bottarga? What do you like to do with it?

Have you tried this? Share your pics on Instagram!
Please tag your pictures with #cnzrecipes. I'll share my favorites!
Roasted Green Beans with Shaved Bottarga Recipe
Ingredients
600 grams (1 1/3 pounds) fresh green beans, preferably the thinner kind sometimes marketed as haricots verts or French beans
2 tablespoons olive oil for cooking
1/2 teaspoon fine sea salt
30 grams (1 ounce) bottarga (salted and cured fish roe; look for it at your local Italian foods shop, or order it online)
Freshly ground black pepper
Instructions
Preheat the oven to 200°C (400°F).
Trim the stem end of the beans. If the beans are young and not stringy, you can gather a handful into a small bunch, aligning them neatly, and chop the stem-end tips in one go with a chef's knife. If the beans are older and stringy, an individual trimming is preferable as it will give you the opportunity to pull off the strings.

Place the beans on a rimmed baking sheet. Drizzle with the oil, sprinkle with the salt, and use your hands to toss and coat. Spread on the sheet in as even a layer as you can.

Insert into the oven and bake for 20 to 25 minutes, stirring and flipping halfway through, until the beans are attractively wrinkled and browned in places.

Cut the bottarga into shavings using a mandolin slicer set to paper-thin (or use a very sharp knife).

Divide the green beans among serving plates, scatter bottarga shavings on top, and give a few turns of the pepper mill before serving, warm or at room temperature.
https://cnz.to/recipes/vegetables-grains/roasted-green-beans-shaved-bottarga-recipe/
Unless otherwise noted, all recipes are copyright Clotilde Dusoulier.