Charred broccoli is fast becoming one of my go-to vegetable options, especially at lunchtime when I need something quick and low-effort.
My enthusiasm for it started as an offshoot from my beloved Roasted Cauliflower à la Mary Celeste, in which broccoli can be used with good results. But in truth, roasted broccoli isn't an exact substitute for cauliflower: the tops of the florets become a bit drier and quite a bit crunchier when submitted to high heat, so roasted broccoli seems to call for a creamier treatment.
The trick to this salad is to not be shy about roasting the broccoli.
And what creamier companions than an herbed tahini dressing and a cubed avocado tossed in? Also: what tastier, more satisfying trio?
I usually eat half of this salad warm the day I make it, and try to contain my excitement until lunch the next day, when I can finally have the other half; it's best to take it out of the fridge 30 minutes before eating.
The trick to this salad is to not be shy about roasting the broccoli: you'll get the most vibrant flavor and most interesting texture contrast from broccoli that is frankly black at the tips.

The only damper on my charred broccoli enthusiasm these days is that is it harder than one would think to find glowingly fresh broccoli at the organic stores around me. You can tell broccoli is fresh when the heads are firm, with tight florets that take some effort to separate. Yet more often than not, a quick pat on the heads stocked in the produce bin reveals soft heads with distracted florets. I did learn recently that you can revive those heads by cutting a slice off the tip of the stem and putting it in a glass of water as in a vase, and I plan to try this next time, should my craving become too strong.
Join the conversation!
Do you share my love of roasted broccoli? What's you favorite way to serve it?
Charred Broccoli Salad on Video!
My friend Katie Quinn filmed me making this salad, and you can watch the video on her YouTube channel!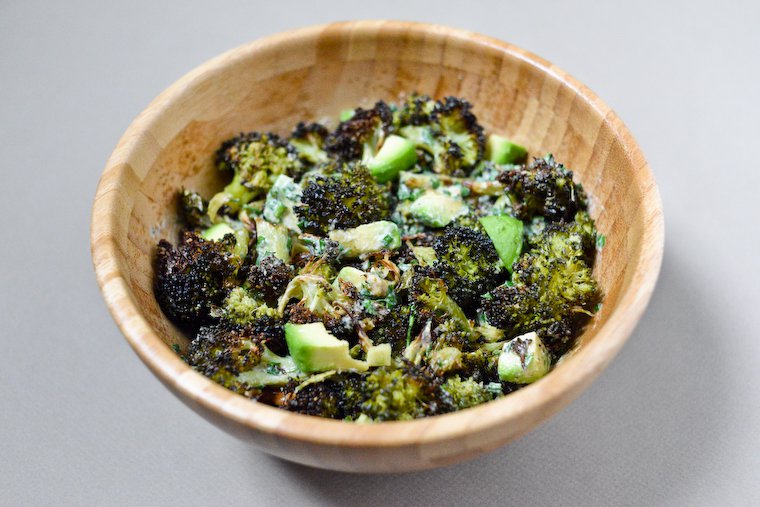 Have you tried this? Share your pics on Instagram!
Please tag your pictures with #cnzrecipes. I'll share my favorites!
Charred Broccoli and Avocado Salad Recipe
Ingredients
1 large head broccoli, about 750 grams (1 2/3 pounds)
Olive oil for cooking
2 good handfuls chopped fresh herbs: cilantro, chervil, chives, and flat-leaf parsley all good choices
1 rounded tablespoon tahini (sesame paste, available from natural food stores and Middle-Eastern markets)
1 tablespoon lemon juice
1 ripe avocado, diced
Fine sea salt
Freshly ground black pepper
Instructions
Preheat the oven to 200°C (400° F).
Cut the broccoli into even-sized florets. Peel off any tough part on the stem, cut it lengthwise into four long logs, and slice not too thinly.
Put the broccoli on a rimmed baking sheet, drizzle generously with olive oil, sprinkle with 1/4 teaspoon salt, and toss well to coat (it works best if you just use your hands). Insert into the oven and roast for 30 minutes, until charred at the edges.

While the broccoli is roasting, prepare the dressing. Put the herbs, tahini, lemon juice, and 1/4 teaspoon salt in a medium bowl.

Stir with a fork to combine, and add a little fresh water, teaspoon by teaspoon, stirring all the while until you get a creamy but not too thick dressing. Taste and adjust the seasoning.

When the broccoli is cooked, transfer to the bowl, add the avocado, and toss to combine. Taste and adjust the seasoning again.
Sprinkle with black pepper and serve. This is great when freshly made, but it can also sit at room temperature for a little while, or get packed for lunch and refrigerated.
https://cnz.to/recipes/vegetables-grains/charred-broccoli-and-avocado-salad-recipe/
Unless otherwise noted, all recipes are copyright Clotilde Dusoulier.