A few days after I published the post about my magic sauce, I realized I had all the ingredients to try and reproduce the dish that inspired it in the first place: Haan Palcu-Chang's* roasted cauliflower served cool with cilantro, toasted hazelnuts, and a dressing similar to said magic sauce, a small plate I had at the fabulous Paris raw bar Le Mary Celeste, which, if you're curious, is named after a mysterious ghost ship.
It was so toe-curlingly good that I thought it merited a post all its own, to make certain nobody missed this game-changing way of serving and eating cauliflower. Back at Mary Celeste, I'd had to break the consensus rule to order it from the day's menu because Maxence isn't a cauliflower fan, yet even he had to admit it was stellar.
The moment when you think "Uh oh, I've left the cauliflower in for too long" is, in fact, the perfect moment to take it out.
One quick note about roasted cauliflower. After quite a number of recent batches — what can I say, I've been obsessed with roasted cauliflower — I have found the trick is to push it to the point where the edges of the florets start to turn quite dark (see photo below).
The moment when you think "Uh oh, I think I've left it in for too long" is, in fact, the perfect moment to take it out. That's when the full range of flavors reveals itself, and when you get that satisfying mix of tender and crisp.
And while we're tuned in to the cauliflower advice channel, I recommend that you judge your head of cauliflower by the vitality of its outer ribs and leaves: not only is this an unmistakeable sign of freshness, but you can also chop those ribs and leaves finely to use in a stir-fry, and get an additional portion of vegetables for the exact! same! price!
I wrote "Serves 2 to 4" in the recipe because it's a fantastic picnic item and it would seem unreasonable for me to suggest you'll eat the entire batch for lunch, but you may want to taste it before you decide whether or not you want to share.
* Read a little more about the chef in this recent profile.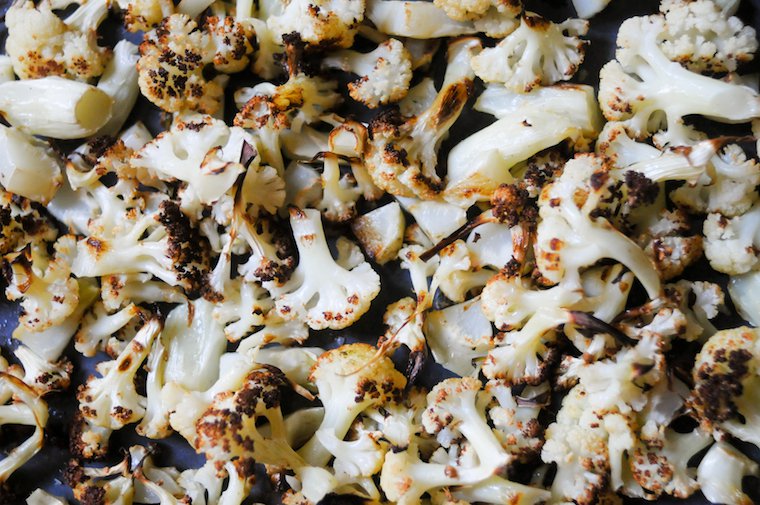 Have you tried this? Share your pics on Instagram!
Please tag your pictures with #cnzrecipes. I'll share my favorites!
Roasted Cauliflower à la Mary Celeste Recipe
Ingredients
one large head cauliflower
olive oil for cooking
1/2 teaspoon fine sea salt
2 tablespoons sesame oil
2 tablespoons freshly squeezed lime juice (lemon juice may be substituted, but lime is better)
2 tablespoons fish sauce, a.k.a. nuoc mam or nam pla in its respective Vietnamese and Thai incarnations (look for it at Asian markets)
chili sauce, to taste
one good handful hazelnuts, toasted and roughly chopped
one small bunch fresh cilantro, roughly chopped
Instructions
First, prepare the cauliflower. Preheat the oven to 200°C (400°F). Remove the outer ribs and leaves, and save them to stir-fry later. Slice large florets off the center stem of the cauliflower, and tear those into smaller florets with your fingers. Trim and discard the bottom of the stem that seems woody. Cut the rest of the stem into 1-cm (1/3-inch) slices then quarter these slices.
Arrange the florets and stem slices on a greased rimmed baking sheet. Drizzle with oil and sprinkle with salt. Insert into the oven and roast for 30 minutes, stirring halfway through, until tender and dark brown at the edges (see note in post above). Let cool to room temperature, then transfer to a serving bowl. (This could be prepared a day ahead and refrigerated.)
In a small bowl, combine the sesame oil, lime juice, fish sauce, and chili sauce. Whisk to emulsify, then drizzle over the cauliflower. Add the hazelnuts and cilantro, and toss gently to combine. Adjust the seasoning and serve.
https://cnz.to/recipes/vegetables-grains/roasted-cauliflower-a-la-mary-celeste-recipe/
Unless otherwise noted, all recipes are copyright Clotilde Dusoulier.