I recently tweeted about my recipe for muhammara, this sumptuous Middle-Eastern dip of roasted bell peppers and walnuts that I wish more cooks knew about. This prompted Pami Hoggatt, of A Crust Eaten, to remark that it looked similar to Spanish romesco sauce.
Salsa Romesco is most commonly a sauce of roasted peppers, mixed together with nuts, olive oil, and vinegar.
I was very pleased that she did, for romesco sauce had somehow flown under my radar all this time and I was delighted to make its acquaintance: a Spanish specialty from Catalonia, salsa romesco can take on various guises, textures and flavorings, but it is most commonly a sauce of roasted peppers mixed together with nuts, olive oil, and vinegar. Different recipes will add different ingredients to that basic formula, but that's the gist of it.
Pami pointed me to the recipe that she herself uses, and coincidentally, right around the same time The Kitchn ran a cute tiny video for what they appropriately call their "happy sauce", which is in fact a romesco sauce.
I happened to have a collection of tiny bell peppers in various shades of yellow, green, and black-eye green sitting in my fridge, and it didn't take long for me to enroll them into this wonderful green romesco sauce.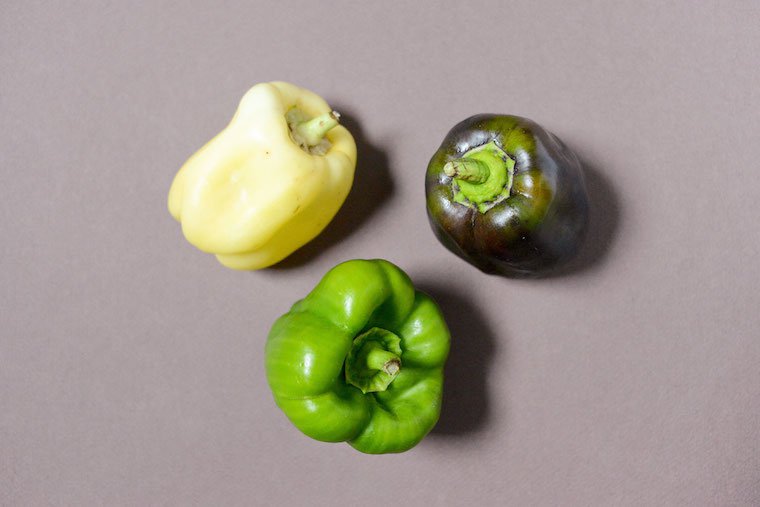 Like most people, presumably, I tend to prefer red bell peppers because they are sweeter, but I was pleased to make this sauce with green bell peppers as I think their subtle notes of bitterness form a beautiful alliance with the rounder flavors of the almonds.
And what are the possible uses for this gorgeous sauce? Well, you can use it as a dip or spread, naturally, but you can also plop a large spoonful onto a big bowl of greens and grains as TheKitchn suggests, you can serve it with fish or shellfish, and it will flatter any kind of cooked vegetable — I'm thinking broccoli, potatoes, or green beans.
Join the conversation!
Have you ever heard of, had, or made romesco sauce? And what color bell pepper do you generally go for?

Have you tried this? Share your pics on Instagram!
Please tag your pictures with #cnzrecipes. I'll share my favorites!
Green Romesco Sauce Recipe
Ingredients
2 medium green bell peppers, about 400 grams (14 ounces) total
70 grams (1/2 cup) whole almonds, preferably roasted (substitute or mix 'n match other nuts, such as hazelnuts, pine nuts, cashews, etc.)
1 tablespoon extra virgin olive oil
1 tablespoon lemon juice
1 good handful fresh cilantro or flat-leaf parsley leaves
2 cloves garlic
1 teaspoon smoked paprika, preferably hot (I've also used ground chipotle pepper to good effect; add to taste)
1/2 teaspoon fine sea salt
Instructions
Roast the bell peppers, removing stem, skin, and seeds, and let them cool completely. You can also use jarred or frozen roasted bell peppers; I don't recommend canned as I find they taste like metal.
In the bowl of a food processor or blender, combine all the ingredients. (You can also work in a regular bowl with a stick blender.) Process until completely smooth. Taste and adjust the flavor with a touch more salt, lemon juice, or paprika, as needed.
Serve immediately, or transfer to an airtight container in the fridge and keep for up to 4 days.
Notes
The flavors develop overnight, so make this ahead if you can.
https://cnz.to/recipes/dips-spreads/green-romesco-sauce-recipe/
Unless otherwise noted, all recipes are copyright Clotilde Dusoulier.