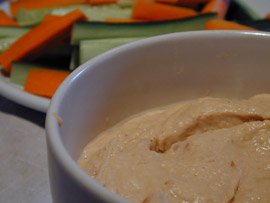 Our neighbor-friends Stéphan and Patricia have been busy repainting their living-room these past few weeks. On Sunday they were finally done, so they rearranged the furniture, knocked on our kitchen window with the Ceremonial Wooden Spoon, and invited us over for a little newly-repainted-house-warming drink.
You just don't go to a house-warming party — however improvized — empty-handed, so we decided to prepare a few nibbles to accompany the bottle of champagne we knew they'd open. This seemed like the perfect occasion to try a recipe I had noticed in Trish Deseine's latest cookbook, called "J'en veux encore!". This new book has a focus on kids : dishes they'll enjoy, recipes you can make with them, recipes they can make on their own. No particular conclusion should be jumped to here, we have no plans to start a family as of yet : this cookbook is just chock-full of great ideas and beautiful pictures — for everyone, not just parents.
The recipe I used here is a simple dip made by blending a can of white beans (drained) with lemon juice and peanut butter. It caught my attention because the flavor mix sounded great, and I loved how it used ingredients that you can easily keep on hand, to deal efficiently with dip-emergency situations. Of course, I couldn't very well just follow the recipe as written, so I made a few modifications, substitutions and additions : lime juice instead of lemon, sesame butter in addition to peanut butter, sun-dried tomatoes for color and zing, and a little chili sauce and Worcestershire sauce for spice and seasoning.
We ate the dip with little sticks of young carrots and cucumber, and it was a real hit : creamy, tasty and quite addictive. A little rummaging around the kitchen had also produced a little tin of foie gras from the Perigord, which we sliced and spread on toasts, as well as a package of mini boudins créoles, spicy blood sausages like they make in the french Carribeans, to be served warm. So we were able to admire the pristine white walls in truly excellent conditions.
And you have just been introduced to the magic concept of "apéro dînatoire" — a pre-dinner drink with so many accompanying nibbles it simply cancels out dinner!
White Bean and Nut Butter Dip
– a small can (400 g) of white beans
– 1 Tbsp peanut butter
– 1 Tbsp sesame butter (a.k.a. tahini or tahina)
– the juice of a lime
– 4 sun dried tomato halves
– 2 squirts of chili sauce
– 2 splashes of Worcestershire sauce
Drain the white beans, reserving the liquid for later. In a food processor, combine the white beans with the nut butters and the lime juice. Blend until smooth. If you find the mixture a bit too thick, add a little of the reserved bean liquid until the desired consistency is reached.
Add the tomatoes and the chili and Worcestershire sauces, mix again. Taste and adjust the seasoning to your liking. Try not to overmix, it's nice if the sundried tomatoes remain in little pieces, not completely blended into the dip. Serve with little sticks of vegetables, toasts or crackers.