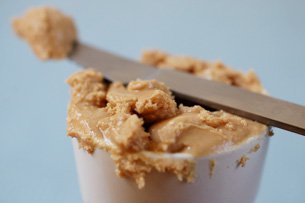 [Cashew Butter]
My jar of old-fashioned chunky peanut butter having mysteriously evaporated somewhere between the store where I bought it and the apartment where I thought I'd brought it back, I had to devise a strategy to assuage the feeling of disappointment and vexation, the kind that makes you bang your fist on the kitchen counter as you mutter a few well-selected swear words through clenched teeth, and try hard to remind yourself that this was just peanut butter after all.
And then I thought: just peanut butter? Yes, just peanuts and salt, ground together at high speed until the oil from the peanuts decides to come out and see what all the ruckus is about, and all of a sudden the mixture stops being just peanuts and salt, and becomes something much, much more interesting: something you can spread on your morning toast, something in which to dip apple slices in the afternoon, something that can be turned into a sauce for steamed veggies at dinnertime.
I had never made nut butter before, and I didn't have any peanuts on hand, but I did have cashews, unroasted and unsalted. That would do. After a short roasting to revive their flavor, I gave the nuts a little turbo ride in the mini food processor that came with my stick blender, one of the most versatile and most often used appliances in my kitchen. I had my doubts at first — the nuts seemed reluctant to go anywhere beyond the fine powder stage — but I insisted until, miracle of miracles, creaminess appeared at the center of the bowl, and quickly spread to the entire content.
It turns out that cashew butter is a fine thing, its flavor more subtle than that of peanut butter, its shade paler, and its texture a bit drier, more paste-like than oily. Not wanting to waste too many cashews in case the experiment failed, I had only made a small batch, and this was gone in no time at all. A few days later, I applied the same method to pecans, shooting for a chunky consistency this time, and was very pleased with the results too, although I got a bit overenthusiastic with the initial salting, and had to add more nuts to compensate.
And in the meantime, a very kind reader who lives in Paris and shares my passion for all things peanut and chunky was generous enough to part with one of the jars she keeps in her stash, so I now have both chunky pecan butter and chunky peanut butter in the fridge. Life is good.
Beurre de Cajou
– 200 g (2 cups) unsalted, unroasted cashews (pecans work well, too)
– Salt, to taste (I recommend fleur de sel or kosher salt, for the little specks of saltiness they provide)
Makes about a cup. The recipe can be doubled.
The nuts can optionally be roasted. Preheat the oven to 180° C (350° F). Spread the cashews on a rimmed cookie sheet, and toast in the oven for 8 minutes or until fragrant, watching them closely and stirring halfway through. Let cool for a minute.
Combine the cashews and 1/4 teaspoon salt in a food processor. If you want the nut butter to be chunky, pulse until reduced to small chunks. Remove 1/4 cup of the chunks, strain them through a medium-mesh sieve set over a bowl to keep only the chunks and not the fine powder. Set the chunks aside and return the fine powder into the food processor.
Process at high speed until powdered and then creamy, scraping the sides of the bowl every once in a while. Taste, add a little more salt if desired, and mix again to incorporate. If you've reserved chunks, fold them in by hand. Transfer into a jar, close tightly, and keep in the fridge.