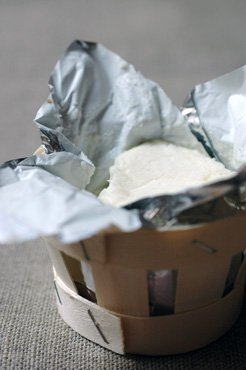 [Ewe's Milk Butter]
Every once in a while, life presents the gourmand with a scintillating novelty that tickles his curiosity with such insistence that he is left with the willpower of a charmed snake. So when I read about ewe's milk butter in ELLE a couple of weeks ago (you would do well to keep an eye on those Vie Privée/Cuisine pages at the end of the magazine, they're full of inspired ideas), it was all I could do not to run out and buy some.
But I was still in my pyjamas (I read ELLE at breakfast, there's nothing like it), so I simply added the item to the shopping list that's tacked on to the refrigerator door of my brain, waiting for an opportunity to visit the cheese shop mentioned as a source in the article. And sure enough, a few days later, I met with a friend for ice cream in that neighborhood, and after a chocolate-dipped visit to Patrice Chapon, we dropped by Nicole Barthélémy's fromagerie.
Hers is a dollhouse of a shop in which you can't fit much more than five or six human beings amidst the towering shelves of cheeses. Its posh location has earned it a following of assorted movie stars, and the prices have been adjusted accordingly, but I was willing to make an investment for the sake of research.
So I got my ewe's milk butter, dashed home to protect it (and my chocolates) from the unseasonal heat of the day, and conducted a tasting that very evening. The silver wrapper was peeled back to uncover a stark white mound (there is no carotene in either ewe's or goat's milk), soft and supple, which we spread on levain bread.
The first taste was disappointing: there was smoothness and freshness, yes, but little savor. A thicker coating on a second bite of bread revealed a subtle flavor of fresh cream, faintly acidulated, but it is the third try, with a light sprinkle of salt, that really brought it out.
It is definitely a mild butter, one that should be enjoyed on neutral-flavored bread and on its own — a bit of salt helps, but the addition of jam or honey would just stifle it. But this one is in fact made by a producer of Roquefort named Papillon, whose cheese, while good, is not the most flavorsome — the artisanal Carles Roquefort offers more complexity — and it would be interesting to compare it with a butter made from smaller batches of milk from a single herd.
So, will I buy it again? Probably not, especially at that eye-popping price (4.80 €! for 125 grams! highway robbery, I tell you!), but I will reconsider if I find a more reasonable provider. And until then, I will continue to feast on Bordier's raw, organic, hand-beaten salted butter, which still makes me swoon after all this time.
Post-scriptum: Looking through my notes, I remembered I had tasted ewe's milk butter once before, at Thierry Marx's restaurant in Cordeillan-Bages last fall, where we were offered a choice of butters from the butter cart. At the time, I'd already been more impressed by the avant-beurre (halfway between whipped cream and butter, served with a sprinkle of pepper), so much so that I'd up and forgotten about the ewe's milk butter.
Fromagerie Barthélémy / map it!
51 rue de Grenelle
75007 Paris
01 42 22 82 24