The summertime often means a glut of cucumbers, or at least it does for me and my weekly vegetable basket. If you are in the same cucumber boat and in a bit of a rut with them, I have compiled this list of cucumber recipes and ideas for you and me to draw from.
As always with these lists, I am grateful to my inspired readers on Twitter and Facebook who contributed their own favorites!
Choose smaller cucumbers, smooth and evenly colored, that feel firm throughout — when they get older, they go soft at the tips so that's a good thing to check. I find that the varieties I get from my grower or from the organic store don't have a hint of bitterness, so I always keep the peel on, but that's up to you — peeling in alternate stripes is a pretty compromise.
And if the varieties you have access to are indeed bitter, some people recommend cutting off the stem end of the cucumber and rubbing the cut surfaces together vigorously until a slimy froth comes out: wipe it away and, supposedly, all bitterness is gone.
Best Pairings for Cucumber Recipes
– Cucumber + tomato
– Cucumber + feta cheese
– Cucumber + red onion
– Cucumber + vinegar
– Cucumber + herbs (esp. mint, dill, basil, chervil, chives, cilantro)
– Cucumber + garlic
– Cucumber + sesame
– Cucumber + seaweed
– Cucumber + yogurt or cream
– Cucumber + avocado
– Cucumber + fish and shellfish (esp. crab, tuna, and anchovies)
Cucumber salads
– Bite-size cucumbers and tomatoes with red onion and feta, sprinkled with balsamic vinegar.
– With baby spinach, strawberries, and cubed feta coated with Herbes de Provence.
– Panzanella (Italian bread salad).
– Peel and dice cucumbers about 2 cm (1/2 inch), add diced tomato, avocado and slivered red onion. Serve with fresh greens and a light dressing.
– Greek salad.
– Salade niçoise (though some say that's out of the question).
– Tzaziki.
– Cucumbers and sour cream, the Polish version of tzatziki.
– Sweet and sour cucumbers with fresh dill.
– Thinly sliced with a lemony vinaigrette, sprinkled with poppy or sesame seeds.
– Thinly shaved slices of cucumber and red radish, with vinegar mixed with half a teaspoon of brown sugar and fresh red chilies.
– Toss with still-warm roasted fennel and a dressing made with mashed roasted garlic, lemon juice, olive oil and plenty of parsley.
– Ottolenghi's cucumber salad with smashed garlic and ginger, or the one with chili, sugar, rapeseed oil and poppy seeds.
– Crab and cucumber salad.
– With lime and Tajin, Mexican-style.
Asian-style cucumber salads
– Thinly sliced or match-stick-sliced cucumbers with seaweed flakes, rice vinegar, sesame oil, and toasted sesame (pictured below).
– Chopped cucumbers tossed with shredded shiso leaves, pitted and chopped umeboshi (sour plums), and a dressing made with soy sauce and juice of a citrus like yuzu.
– Malay cucumber and pineapple salad, with vinegar, sugar, and chilies.
– Use a vegetable peeler to slice the cucumber into long ribbons, then toss lightly with a simple dressing of rice vinegar and neutral-flavored oil (3 to 1 or so), salt and pepper, and a dash of red pepper or garlic to give it a little kick. Prettier than the usual half-moons, and a great side for peppery or Asian-influenced grilled meats or fish.
– Spicy thai cucumber salad.
– Oi-sobagi, or spicy stuffed cucumber kimchi.
– Raita.
– Lebanese Fattoush salad
Cucumber appetizers
– Use cucumber slices as a bread substitute for appetizer spreads.
– Cut large slices and stuff with goat cheese and basil or any other yummy food.
– Cut into sticks and serve with Anchoïade (French anchovy dip).
Cucumber pickles
– Asian pickles.
– Lacto-fermented dilly cucumbers.
– Bread and butter pickles.
– Salted cucumbers.
Cucumber sandwiches
– Add to any sandwich for crunch and freshness.
– Cucumber sandwiches on sandwich bread with cream cheese.
– Cucumber and avocado quick nori rolls.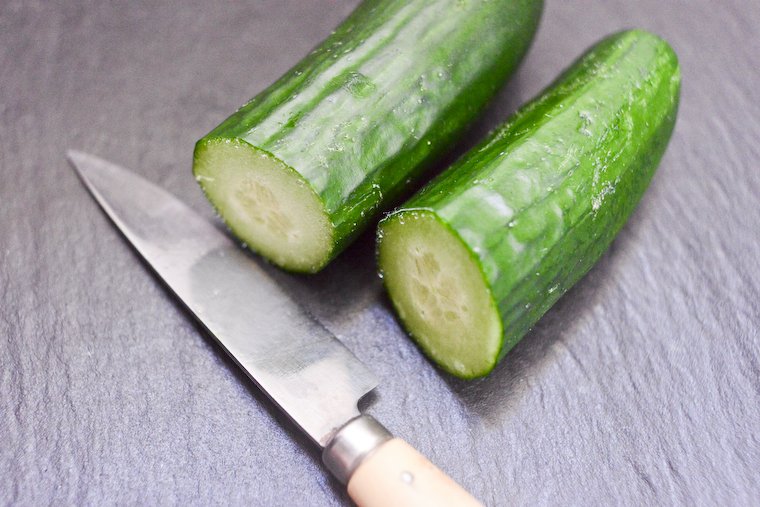 Cucumber soups
– Cold yogurt and cucumber soup with a healthy dose of garlic and dill, and maybe a bit of green onion, blended till smooth.
– Gazpacho, esp. with hot peppers.
– Chilled cucumber and avocado soup with mango salsa.
Cucumbers served warm
– Baked cucumbers.
– Add to a stir-fry or stew.
– Dredge slices in cornmeal and fry.
Cucumber drinks and frozen treats
– Add a few slices to your iced water glass or jug.
– Muddle with basil, add gin and tonic.
– Sangria with white wine, cucumbers, mint, and green grapes.
– Make popsicles with lime juice and chili.
– Cucumber sorbet.
Non-food uses for cucumbers
– Apply slices on puffy or tired eyes.
– Make cucumber facial masks.
– Use as shoe polish, WD-40 replacement, defogger, or pest control.