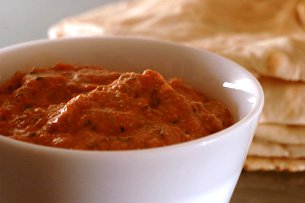 [Tomato Feta Dip]
Every once in a while I get the sudden impulse to hop on a stool and spring-clean my pantry. The urge strikes with no warning, often at the most inconvenient moment, and I get pulled into the task like those cartoon characters who slip a finger into a spinning cogwheel.
I will be looking for an item that time has pushed to the hinterlands of the cabinet, and I will encounter all sorts of forgotten jars and neglected cans along the way. I will let this distract me for a second ("Mmmm! Goose gizzards! Pear and chocolate jam!"), check a few best-by dates, and freak out. Such good ingredients! So close to their official dying day! How, oh how could I let this happen!
I will clear all three floors of the exceptionally ill-conceived cabinet we use for food storage, ask the evicted inhabitants to wait on the kitchen counter as I give their lodgings a good scrub, and reorganize them by kind and by seniority, so that the ones that need to be used pronto will stand at the front.
During my most recent campaign I couldn't save the chestnut purée or the canned ceps — their time had come, there was nothing the paramedics could do — but a large jar of organic whole peeled tomatoes did appear in extremis, and its contents were rescued into this tangy feta dip*.
I am not familiar enough with Greek cuisine (feel free to recommend a good reference book) to say if this resembles any member of the traditional mezedes family, but it was well received at the apéro, served with wedges of fresh pita. The leftovers made a fine spread for a chicken pita sandwich the next day, and when the pasta salad days return I will try it as a dressing.
* I buy my feta and pita from Pelops, a Greek deli that has locations on rue des Martyrs and rue des Abbesses, or from Heratchian on rue Lamartine, a shop that specializes in foods from the Balkans and the Near-East. Both make a fine tarama, too.
Crème de Feta à la Tomate
– 1 large jar or can (about 700 grams or 25 ounces) whole peeled tomatoes
– 40 grams (1 1/2 ounces) feta cheese
– 2 fillets dry-salted anchovies packed in salt or olive oil, rinsed and patted dry if packed in salt (substitute capers if you hate anchovies)
– One handful fresh cilantro leaves (substitute flat-leaf parsely if you hate cilantro — god, you're difficult)
– Freshly ground pepper
Crush the tomatoes open and set them in a colander to drain. Save the juices for a bloody (or virgin) mary. Transfer the tomatoes and the rest of the ingredients in the bowl of a mixer or blender and whiz until creamy. Taste, adjust the seasoning, and serve with wedges of fresh or toasted pita.
The dip can be made a day in advance (cover tightly and refrigerate). It can also be used as sandwich spread or, I suspect, pasta salad dressing.