Good cheeseburgers aren't hard to come by in Paris these days (my favorite comes from Burger and Fries, an In 'N Out copycat), but I greatly enjoy the ones we make ourselves for lunch on weekends, with homemade buns, organic ground beef from the Batignolles greenmarket, and slivers of comté cheese lounging on top.
Having gleefully discovered that I could buy portobello mushrooms at said greenmarket — although we have plenty of the brown mushrooms we call champignons de Paris, the overgrown version is rarer than a Vélib' with tight brakes — I have added portobello cheeseburgers into the rotation, and would be hard-pressed to decide which version I like best.
To make my latest batch more exciting, I made tomato burger buns, simply adding tomato purée to the dough.
All of this starts with a good bun naturally: one that's soft enough to be bitten into without a struggle, but not so soft it breaks down under the combined effect of the seeping juices and the girdle of your thumbs.
My ideal burger bun
Supermarket buns are a total turnoff for me — I incriminate the ingredients' list as much as the styrofoamy buns themselves — and since the French like to say on n'est jamais aussi bien servi que par soi-même (a Type-A aphorism that means nothing's ever done as well as when you do it yourself), I just take matters into my own hands.
After a few errant trials over the years, I found my ideal bun in a NYT article last summer, for which baker Hidefumi Kubota had shared the light brioche bun recipe he'd created for L.A. restaurant Comme Ça.
I made it as written and liked it a lot, but soon altered the recipe to incorporate some of my sourdough starter for extra flavor — here's my conversion method by the way. I do still use some commercial yeast, because enriched doughs need more leavening oomph than the starter alone can provide in a reasonable amount of time. (Trust me: I recently tried a starter-only version that turned out so dense I nearly broke a toe when I dropped one bun on my bare foot.)
Making tomato burger buns
And to make my latest batch more exciting, I made tomato burger buns. The inspiration came from a tweet by my friend Chika about a slice of tomato bread, which she wrote about in more detail a few days later.
Chika explained to me that the lady who had made that tomato loaf had simply substituted tomato purée for the milk in her recipe: a marvelous idea that could be winningly applied to these burger buns, I thought.
I used an organic, no-salt-added, slightly chunky tomato purée from Italy which I buy in jars for next to nothing at the most unglamorous supermarket ever, but if you have garden tomatoes you could certainly make your own. What you need here is simply ripe tomato flesh, mashed or chopped, but otherwise unprocessed and unseasoned.
My tomato burger buns are as light-textured as their plain counterparts, but have a much more arresting look, sunset orange with red highlights.
My tomato burger buns are as light-textured as their plain counterparts, but have a much more arresting look, sunset orange with red highlights. The tomato flavor is faint, especially when it has to measure up with the boldness of the other burger elements, but it does add zing to the bun. And anyway, the point is, that warm color changes everything, right?
So before you turn your back on summer altogether, I suggest a batch of these, so you can treat yourself to a few transitional burgers, indoor or out. And already I am wondering what other breads I shall tomato-ize. Bagels, maybe?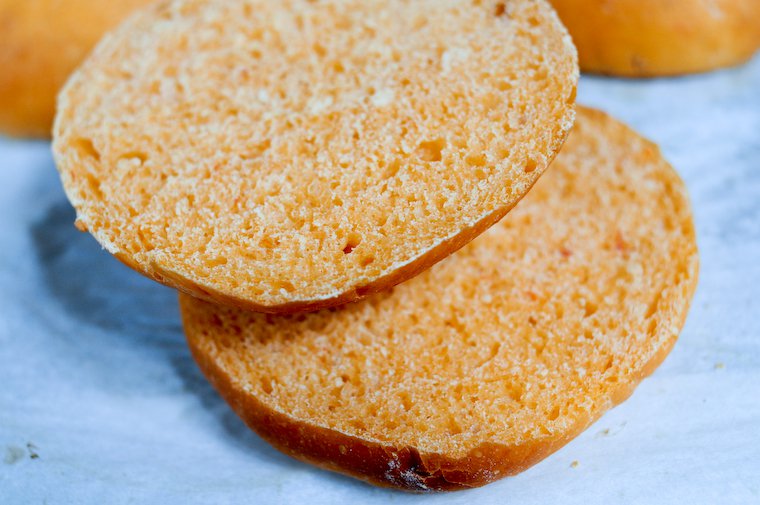 Have you tried this? Share your pics on Instagram!
Please tag your pictures with #cnzrecipes. I'll share my favorites!
Tomato Burger Buns Recipe
Ingredients
1 1/2 teaspoons instant yeast (I use the SAF brand)
50 ml (3 tablespoons + 1 teaspoon) water at 35°C (95°F) (when you dip your finger in it, it should feel neutral, neither hot nor cold)
370 grams (13 ounces) bread flour (I used the French T65 + 10 grams wheat gluten)
120 grams (4 1/4 ounces) ripe 100%-hydration starter (see note for substitution if you don't keep a starter)
30 grams (2 tablespoons + 1 teaspoon) sugar (I use a blond unrefined cane sugar)
1 1/2 teaspoons salt
1 egg
35 grams (1 1/4 ounces) unsalted butter, softened
180 grams (3/4 cup) unsalted tomato purée

For brushing:

3 tablespoons milk or 1 egg, beaten with a little water
Instructions
In a small bowl, combine the yeast and water. Let stand for 15 minutes, until foamy.
In the bowl of a stand mixer fitted with the dough hook attachment, place the flour, starter, sugar, salt, egg, butter, and tomato purée. Add the yeast mixture and stir by hand first (so the flour won't fly everywhere when you start the mixer) then knead at low speed for about 8 minutes, until the dough is smooth and elastic. It will be a soft, brioche-like dough. (You can also knead it by hand on the counter, but you'll need to use a dough scraper to help lift and slap the soft/sticky dough.)
Cover the bowl with plastic wrap and let it proof at room temperature for 1 1/2 hours, or until doubled in bulk.
Line one large or two small baking sheets with parchment paper and set aside.
Scrape the dough onto a well-floured work surface, and divide it into 8 equal pieces, about 112 grams (4 ounces) each. Shape each piece into a roll as demonstrated in this video. The dough will be fairly sticky, so handle it with quick movements and well-floured hands, but avoid adding too much extra flour or the buns won't be as light in texture. Place the rolls on the prepared baking sheet(s), leaving about 5 cm (2") of space around them.
Cover the buns loosely with a clean (non terry cloth) tea towel and let rise at room temperature for another 1 1/2 hours.
Place a cast-iron pan on the floor of the oven and preheat the oven to 180°C (360°F). Bring about 60 ml (1/4 cup) water to a boil in your tea kettle.
Brush the surface of the buns with milk or beaten egg, working gently to avoid deflating them.
Insert the baking sheet(s) in the middle of the oven, and quickly pour the boiling water into the preheated cast iron pan to create steam. Be very careful not to burn yourself: wear long sleeves and an oven mitt. Shut the oven door quickly so the steam will be trapped in the oven.
Bake the buns for 20 minutes, or until puffy and lightly golden. Halfway through the baking, rotate the baking sheet(s) front to back, and switch the baking sheets if you're using two.
Transfer to a rack to cool completely; the buns freeze perfectly in a well-sealed freezer bag.
Notes
If you don't maintain a starter, make the recipe with 2 teaspoons instant yeast, 110 ml (1/2 cup minus 2 teaspoons) water and 430 grams (15 ounces) flour.
https://cnz.to/recipes/bread-brioche/tomato-burger-buns-recipe/
Unless otherwise noted, all recipes are copyright Clotilde Dusoulier.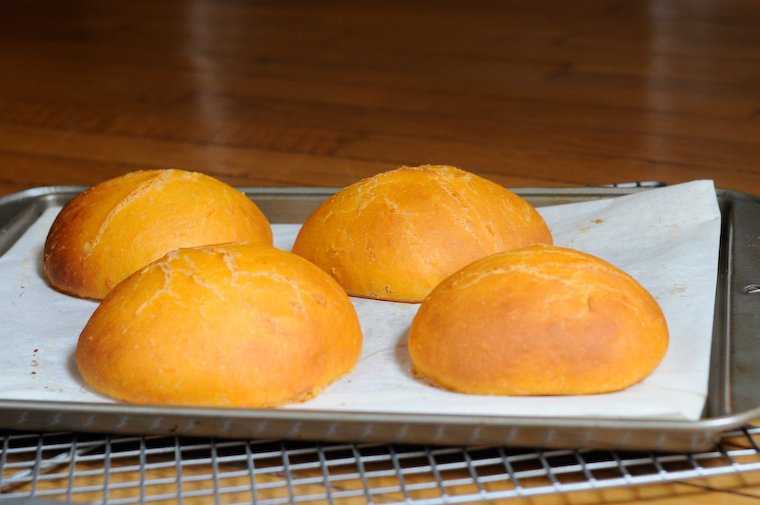 This post was first published in September 2010 and updated in January 2016.