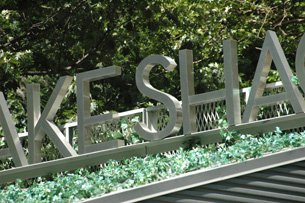 When I left for NYC armed with a highly enthusing list of suggestions, recommendations and must-eats, I was determined to make the culinary most of my stay. But in a city such as this, it can certainly be an overwhelming mission statement: where do you start, what do you choose, where do you go? As often in the trickier situations of life, forethought and discernment are key. A mental list was drawn in which I gathered my priorities, and among them, high up in the list, those food items that most distinctly say "New York City" to me.
Bagels @ Murray's
Rising early on Sunday morning (a happy effect of the jetlag), we skipped the uninteresting hotel breakfast and walked out into the sunshine to begin the day's adventures — the savvy food-traveler knows that every meal is a precious opportunity, and he can't let low blood sugar get in the way of proper fulfillment. Thankfully in this instance, breakfast was right around the corner, in the form of Murray's Bagels. The shop was small and dim, and one could sense a bustling activity going on behind the counter and out of view — the staff surely kneading, poaching and baking frantically to satisfy the bagel needs of the good people of New York.
For anyone who has yet to visit this type of bagel spot, what you do is choose the kind of bagel you want (plain, poppyseed, sesame, rye, onion, garlic, but also cinnamon, raisin, etc.). They will slice the bagel horizontally, optionally toast it (but many a New Yorker claims that this is heresy for a good bagel), spread it thickly with the spread of your choice (sometimes referred to as "schmear" and usually cream-cheese based), reassemble the bagel, cut it in two half-moons for easier handling, wrap it up in paper and place the whole thing in a brown paper bag.
Maxence ordered a poppyseed bagel with cream cheese while I, ever the indecisive, got an everything bagel (that's a bagel with all the available savory seasonings) with cream cheese. At Murray's they don't toast the bagels (oh god no), but if you're lucky and/or an early riser, your bagel will be just coming out of the oven. We sat outside on the wooden bench (those welcoming benches being one of my favorite features of New York) and munched on our bagels, still wonderfully warm and oozing with cream cheese. After eating half of mine I had to give up the fight and reflected that we could easily have shared one, but Maxence didn't seem to agree, though with his mouth full I couldn't tell for sure what he was saying.
Diner fare @ Eisenberg's
The next morning, we decided to have a real, protein-rich, American diner breakfast, and headed towards Eisenberg's Sandwich Shop on 5th Avenue, an old-fashioned luncheonette that dates back from 1929 and has stayed pretty much the same ever since. We sat at the bar (where else could you possibly want to sit?) and ordered some coffee, poached eggs with pastrami for me, poached eggs with bacon for Maxence, a bialy each and a tiny tub of cream cheese.
"And what would a bialy be?", the non-New-Yorker asks. The bialy could be described as the lesser-known brother of the bagel: it is also a chewy and round yeast roll and an Eastern-European Jewish specialty, but it is flatter, lighter in texture (it is simply baked, not poached) and instead of a hole in the center, it has a slight depression that is usually sprinkled with chopped onions (and sometimes poppyseeds) before baking. I had read about them, but this was my first actual encounter with one: ours were plain (no onion or poppyseed) and we thought them good, somewhat similar to English muffins.
My dish came with home fries, which I expected would be homemade French fries, but discovered are in fact a dish of boiled and diced potatoes, fried in a skillet with onions. Maxence went for the other choice of side, grits — something I never would have ordered for myself because I abhor porridge, but was nonetheless happy to taste. (But bleh. Horribly porridgy.) To be truthful the food was just okay and definitely greasy (my sweater smelled like home fries all day!), but the overall experience — the decor and the kind staff and the fact that an authentic NYPD officer came to sit right next to us for his daily paper and pancakes — made it worth every cent.
Bialys @ Kossar's
One more word about bialys: just a few days later, I was out on the Lower East Side and I made it a point to go to Kossar's Bialystoker Kuchen Bakery, conveniently located right next door to Doughnut Plant. Although it is more often referred to as "Kossar's", the full name of this bakery — considered by many as the best purveyor of bialys in NYC — is a reminder of the origin of the word "bialy", as introduced by immigrants from the town of Bialystok in Poland. I purchased a simple garlic bialy (browner and much more fragrant than the ones at Eisenberg's), which travelled with me in its brown bag all the way back to Paris the next day, for a delicious oh-how-good-it-feels-to-be-off-that-plane-and-home-again snack.
Pizza @ John's of Bleecker St.
I'm sure everyone will agree that I just couldn't spend a week in the city and not have me some New York pizza, thin-crusted, light on the toppings and coal-oven baked. While everyone in New York seems to have one single and absolute favorite pizzeria that he would take up arms for any day, we chose to remain safely out of the debate and simply went to the recommended pizza place that was most convenient for us, John's of Bleecker Street. It was semi-late on a Sunday evening and when we got there the place was nice and quiet, with just a handful of customers and none of the usual line out front. We sat in a booth (our preferred choice when there is no bar to sit at) and ordered a large #44: cheese, tomato sauce, anchovies, sausage, onions and peppers. It quickly made its appearance in its tin platter, already cut in six huge pieces that we vultured upon with delight and, of course, our fingers. Yum.
Burgers @ the Shake Shack
A trip to the US could not, would not, be complete without a good burger 'n fries. In my personal hall of fame, In-N-Out Burger has held the first place for a while and I still lay awake at night sometimes, wishing I could drive out to their Mountain View location off 101, be greeted by the impossibly cheerful staff, order from the menu because that's the new cool, and watch the fresh potatoes go through the hand-operated slicer, wishing I had one of those, while I wait for the thin cardboard box that snugly holds my meal.
In-N-Out Burger is sadly a West Coast thing, but I had read and heard enough good things about The Shake Shack to be confident that it would deliver. The Shake Shack is a fast-food stand that opened about a year ago in a great setting beneath the trees of Madison Square Park, serving hot-dogs, burgers and ice-cream desserts. It has been much buzzed about and seems to benefit from a great popularity, hence the incredibly long lines during the mealtime rush hours. (But as someone recently joked to me: "New Yorkers love to stand in line. It doesn't matter what it's for — they see a line, they get in it and wait with the others.") With that knowledge we tried to go at an odd hour, around 3pm on a Monday afternoon, and indeed the line was just long enough to give you time to decide what you wanted.
I ordered a Shack Burger (American cheese, tomato, lettuce and the special Shack sauce) and fries, while Maxence tried the same burger plus a Chicago Dog (all-beef dog, lettuce, tomato, peppers, pickles, onion, relish, cucumber, celery salt and mustard on a poppy seed bun). We took our platters out to a nice table in the half-shade, and dug in. Is it possible to just nibble on a burger? I think not. Something in the very nature of it brings out your inner lion. The sun was shining, the hot-dog was delicious, the crinkle-cut fries golden and crunchy, the meat in the burger extremely tasty and moist, and although In-N-Out still holds my heart for the buns (I like them a bit more toasted) and the slender fries, this definitely scratched the itch.
Murray's
500 6th Ave (Btwn 12th & 13th St)
(212) 462-2830
Eisenberg's Sandwich Shop
174 5th Ave (Btwn 22nd & 23rd St)
(212) 675-5096
Kossar's Bialys
367 Grand St (Btwn Norfolk & Essex St)
(212) 473-4810
John's of Bleecker Street
278 Bleecker St (Btwn 6th Ave & 7th Ave)
(212) 243-1680
The Shake Shack
Madison Square Park (At 23rd St & Madison Ave)
(212) 889-6600