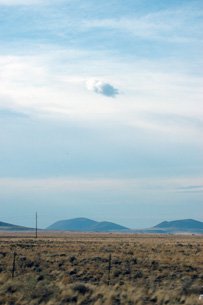 As a post-scriptum to the notes from my roadtrip across the US, I have put together a list of the restaurants we enjoyed (plus a handful of non food-related stores/services), should you find yourself in the areas we visited.
~Florida~
—Miami
Jerry's Famous Deli
Huge diner-type deli — breakfast served all day.
1450 Collins Avenue – (305) 532-8030
Puerto Sagua
Old Cuban diner in South Beach.
700 Collins Avenue – (305) 673-1115
Versailles
Cuban restaurant-cum-bakery in Little Havana.
3555 SW 8th St – (305) 444-0240
—Key Largo
The Crack'd Conch
The seafood shack of your dreams, with an alligator-shaped mailbox — if that doesn't make you want to go, I don't know what will.
105045 Overseas Highway – (305) 451-0732
~Alabama~
—Mobile
The Brick Pit
Self-titled "The best d*** smoked bar-b-que in the great state of Alabama". Everything expertly sloooooow-roasted (pulled pork, ribs, chicken), great coleslaw, superb banana pudding.
5456 Old Shell Road – (251) 343-0001
Satori Coffee House
A coffee shop and used record store in what used to be an individual house. Comfy porch, free wi-fi. (Right next door to the Brick Pit.)
5460 Old Shell Road – (251) 344-4575
~Louisiana~
—New Orleans (Log on to nomenu.com to see which restaurants have reopened post-Katrina.)
Acme Oyster House
Oyster bar — also serves the usual suspects of Louisiana cuisine (&eacuteltouffée, gumbo, jambalaya, etc).
724 Iberville St – (504) 525-1160
Bon Ton Café
Louisiana dishes — generous crawfish jambalaya, service a bit curt.
401 Magazine Street – (504) 524-3386
Maison Bourbon
Jazz club — "for the preservation of jazz".
641 Bourbon St – (504) 522-8818
—Breaux Bridge
Café des Amis
Cajun cuisine with a sophisticated touch — loved the softshell crab and the stupendous cane syrup cake.
140 E. Bridge Street – (337) 332-5273
Mulate's
Large bustling restaurant with a cosy bar area. Live Cajun music every night.
325 Mills Avenue – (337) 332-4648
Norbert Leblanc
Swamp tours on Lake Martin — incredible guy, just meeting him and listening to his delicious Cajun-French would be worth the price he charges ($20 per person).
(337) 654-1215
~Texas~
—Houston
The Goode Co. Bar-b-q
Texas-style barbecue, plenty of meat choices, their pecan pie will be the death of you. Outdoor seating on communal picnic tables.
5109 Kirby Drive (2 blocks south of Hwy. 59) – (713) 522-2530
—Austin
Güero's
Hugely popular taqueria that prides itself on the freshness of their ingredients. Very good corn tortilla chips that actually taste like corn.
1412 S. Congress Avenue – (512) 447-7688
Amy's Ice-Cream
Limited number of flavors (always a good sign), limitless combinations of crush-ins (chocolate chips, cookie dough, etc.) that they'll smash into your ice-cream. Yum.
1301 South Congress – (512) 440-7488
—El Paso
H&H Car Wash
Coffee shop attached to an old-fashioned carwash. Teeny place, open kitchen, no-nonsense (and quite spicy) Mexican food.
701 East Yandell – (915) 533-1144
—Anywhere in the south
Sonic
Drive-in burger chain — loved the jalapeño burgers and the tater tots.
Multiple locations, most of them easy to spot from the freeway.
~New Mexico~
—Alamogordo
Tacos & Salsas
Simple taqueria — loved the shredded beef tacos, chile rellenos torta, and cute salsa bar.
On N. White Sands, on your right-hand side when you drive into Alamogordo from White Sands National Monument (I couldn't find the exact coordinates).
Dollar Boots & Jeans
Everything you need to keep your inner cowboy/cowgirl happy.
2850 N. White Sands – (505) 437-4721
—Albuquerque
Frontier
Huge restaurant that serves breakfast food, burgers, and New-Mexican dishes. I recommend the Frontier Burger Special (a cheeseburger with hickory sauce and thousand-island dressing) and the buttery cinnamon roll (they just call it "sweet roll").
2400 Central SE – (505) 266-0550
—Santa Fe
Tecolote Café
Friendly breakfast place. Great burgers on homemade buns, fluffy blue corn hotcakes with roasted piñons.
1203 Cerrillos Road – (505) 988-1362
~Arizona~
—Flagstaff
Alpine Pizza
Very good choose-your-own-toppings pizzas, which can be shared with two new friends on the night of July 4th, to make up for the cancellation of the fireworks due to the recent forest fires in the area.
7 N Leroux Street – (928) 779-4109
Collin's Irish Pub
Transatlantic pub grub. I recommend the drunken dog (but not the coleslaw, too much mayo) — perfect food to watch your team win the World Cup semi-finals.
2 N Leroux Street – (520) 214-7363
—Clarkdale
Arizona Botanical Gardens
Cactus nursery. Spectacular setting, extremely kind owners, wide selection.
1601 Hwy. 89A (road to Jerome) – (928) 634-2166
—Prescott
The Prescott Brewing Company
A mix of American and Mexican food — loved the pulled pork sandwich, big enough to feed a small army.
130 W Gurley Street – (928) 771-2795
—Kingman
Mr D'z Route 66 Diner
Kitsch technicolor diner. Very good sweet potato fries.
Route 66 & 1st Street – (928) 718-0066
~California~
—Paso Robles
Joe's Place
Breakfast place. Blissfully fresh salad, good biscuits with sausage gravy (ask for it on the side so you can decide how much of the white gloop you want on yours).
608 12th Street – (805) 238-JOES
—Monterey
Monterey's Fish House
Seafood restaurant, very popular with those who wish to steer clear of the Fisherman's Wharf options. Humongous and delicious oysters, very good crab cakes, and large choice of fresh fish, particularly tasty when charcoal-grilled.
2114 Del Monte Avenue – (831) 373-4647
—Palo Alto
Miyake
Our very favorite sushi bar. The place becomes a zoo at night since it is a popular destination for large groups of students, but that's fun to watch.
140 University Ave – (650) 323-9449
—Mountain View
In-N-Out
Fast food, the fresh way. Very short menu, to which one has to add the (not so) secret menu (in French, that kind of open secret is called a secret de Polichinelle). My preference goes to the animal-style cheeseburger.
1159 N Rengstorff Ave – (800) 786-1000
Krispy Kreme Doughnuts
The original glazed can't be beat, but what I love the most is to watch the birth of the doughnuts in the mini-factory, especially when they glide through the curtain of glaze on the conveyor belt. (Make sure the "hot" sign is lit outside.)
2146 Leghorn St – (650) 254-1231
—Los Gatos
Manresa
Garden-fresh ingredients and elegant, inventive dishes, the kind you get when you put California, Spain, and France in a shaker.
320 Village Lane – (408) 354-4330
And this post marks the end of my roadtrip write-up, although you will most likely hear about it again when I attempt to recreate some of our favorite dishes — any Cajun cookbook recommendations?