When I was a wee little girl I was sent to colonies de vacances (the French equivalent of summer camp, except it can be at any season) once or twice a year during school breaks. Both my parents worked and us kids had way more vacations than they did, so partir en colo was a good way for us to breathe fresh air and make new friends instead of staying in the city. To be truthful I didn't like it that much — I was always a bit of an individualist and I hated being cattled around with a bunch of other kids. To make matters worse, spinach was often on the menu and there was a skin on the milk they served for breakfast <shudder>.
But one thing I remember very fondly was that when the colonie was somewhere in the mountains, we were usually given the opportunity to visit the local cheesemaker. While most of the other kids chose to go kayaking instead, or mountain-climbing or some such horrendous activity, I would always opt for the cheese, fascinated as I was by the huge vats of freshly squeezed milk, the gigantic curd combs, the endless rows of tommes de Savoie biding their time on wooden shelves in the cool cellar, and the overall smell and magic of the process.
I have never lost this sense of wonder, and artisanal cheesemakers remain a must-visit wherever I go. Being in the Pays Basque with Maxence, we simply could not miss visiting a farm that produced Ossau-Iraty, a traditional sheep's milk cheese with intensely aromatic and not too sharp flavors, and a smooth but slightly brittle texture. It is delightful on its own (as most pressed cheeses, it doesn't really need bread at all), but the traditional companion is black cherry jam, preferably from the nearby village of Itxassou. Cheese historians (what a marvellous métier) tell us that Ossau-Iraty can be traced back to over 2,000 years ago, and it was awarded an AOC in 1980: this defines the specific and exclusive area in which it can be produced and given the appellation (between the Ossau valley and the Iraty forest), as well as a strict set of rules to follow during the production and aging of the cheese.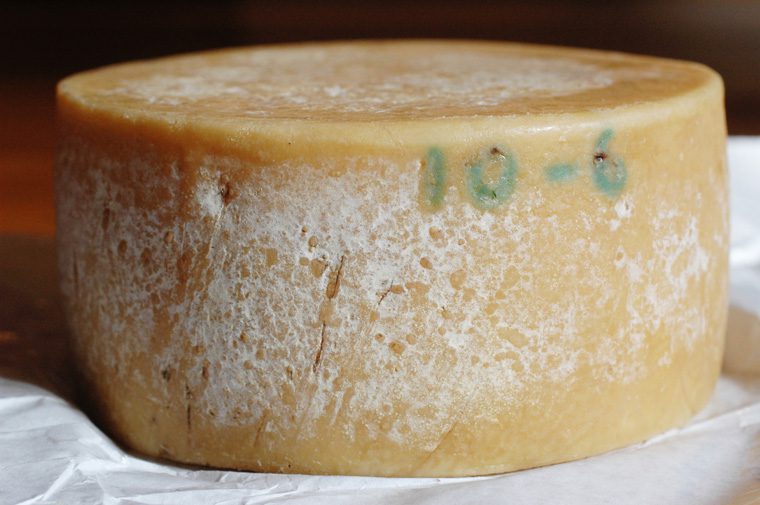 The farm that we visited (right after hitting the cool prehistoric caves of Isturitz and Oxocelhaya) was La Fromagerie Agerria in Saint-Martin d'Arberoue. The owners are a young couple who only recently started producing Ossau-Iraty in the family farm — they used to force-feed ducks and produce sheep's milk for an industrial client, but it was too much work for too little gratification. When they started out, instead of trying to distribute their cheese through stores and markets, they decided they would stick to vente directe, selling exclusively to visitors, attracted by a few well placed signs on the road and the offer of a free tour (and free tasting).
The tour, conducted by both owners in turn, was fun and very instructive: it took us from the stables to the milking room to the production room (seen through a glass window for obvious hygiene reasons) and finally the aging cellar, while we were told about the traceability of the sheep's diet, their reproduction cycles, the actual cheesemaking process, and the daily care with which the precious rounds of cheese are washed with whey, flipped to ensure even aging, and sung lullabies to, for at least three to four months.
As promised, the tour ended with a little tasting, and we swiftly bought a whole round to take home with us (the number that's written on it is the date of production — June 10th in our case). Yes, I am well aware that this is two kilos of cheese, but since we were travelling it would really keep much better whole, you see?
And if you are in the area, I highly recommend eating at a fabulous restaurant called Manechenea: a great hare terrine, locally raised trout with green peppercorns, roasted palombe (woodpigeon I am told) with excellent fries, and a picture-perfect gâteau basque (see pictures on the moblog). And if after that you need to lie down (I won't blame you), book a room at the great chambre d'hôte (a B&B if you will) nearby, the Maison Jauregia — a beautiful house from the 16th century with a monumental oakwood staircase, large welcoming rooms (the same can be said about the bathtubs), and extremely kind owners.
Fromagerie Agerria
64640 St-Martin d'Arberoue
05 59 29 45 39
ferme.agerria@wanadoo.fr
Manechenea
Quartier Urdos
64430 Saint Etienne de Baïgorry
05 59 37 41 68
Maison Jauregia
Quartier Urdos
64430 Saint Etienne de Baïgorry
05 59 37 49 72