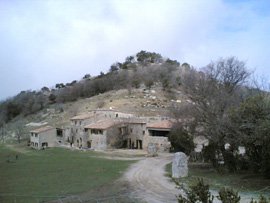 GO:: Granted, reaching today's featured restaurant requires a little more effort than the usual metro ride. This ferme-auberge*, owned and operated by Gianni from Sardinia, is located atop the Luberon mountain range and can be reached after a breathtaking — both literally and metaphorically — two-hour walk up curvy dust paths. Nothing superhuman though, and this guarantees rosy cheeks when you reach the top, not to mention a lion's appetite and a euphoric feeling of entitlement and pride. (Cheaters and those who don't feel up to the exploit can get there by car — much less picturesque of course.)
In one of the farm's stone buildings is the restaurant room, an impressively large affair with low ceilings and two huge communal tables going all the way across. Other guests are already crowding it, little children running around among the staff (some local, some Sardinian) while they work to set things up for the feast to come.
DRINK:: Pitchers of homemade sangria (a red wine and fruit cocktail) are set out before the meal. You can take your glass to the wooden tables outside and enjoy the view, or take the kids out to look at the brown goats grazing on the little hill in the back. During the meal, a seemingly endless procession of jugs will follow, plenty of red wine and moutain spring water to quench your thirst.
EAT:: The fixed menu is different every day, and the food is passed around in platters among the guests, family-style. For starters we enjoyed a lentil salad, a delicious game terrine and slices of homemade boudin noir (blood sausage), served with fresh country bread.
The main dish followed: racks of lamb à la broche (fire-roasted) brought into the room in clouds of steam and smoke, to be expertly cut and sliced by Gianni and his team. This was served with a dish of stewed potatoes and turnips — a great complement to the flavorful meat, which was rosy and tender in places, wonderfully crispy and smoky in others.
The cheese course followed: a plentiful selection of goat cheese, courtesy of the aforementioned four-legged brunettes, served with farm-produced lavender honey in tiny wooden tumblers with matching spoons. The selection demonstrated, counter-clockwise, all the possible stages of ripeness. From fresh and creamy, to ripe and melty and developping a surprising walnut flavor, down to so aged and dry they were reduced to the size of coins, making your eyes water, the inside of your mouth pucker up in protest, and your mind go "wow!" — certainly not pleasing to everyone's standards, but I'll take this over forgettable cheese any day.
Then came dessert — why yes, did you think we'd skip dessert? after all that walking? — in the form of square pieces of chocolate cake, one of the best I've recently been given to enjoy: dark and moist, not too dense, heavily chocolaty and not too sweet, with a soft velvety glazing.
PAY:: 30€, all included.
REMEMBER:: The warm and welcoming service. The hearty, satisfying food. The boisterous, joyful, carefree atmosphere. The acute feeling of there being nowhere else in the world I'd rather be, sharing this memorable Easter Sunday lunch with the twenty members of my family I spent the week-end with. And of course, Gianni's incredible guimbarde (Jew's harp in English) concerto at the end of the meal.
FORGET:: I would be hard-pressed to find anything lacking in this experience. Maybe the fact that ten of us decided to go back to the house on foot, guided by my cousin, while the kids and those who were too tired took the cars: we promptly chose the wrong path and got irretrievably lost in the middle of the steep foresty mountainside, battling our way through the underbrush, crouching beneath the low branches and sliding on loose rocks, forever thinking we had recovered a general sense of our position ("Là! Un chemin!") and forever realizing that no, this was in fact not an actual path, just a vague clearing.
But even that may have been the best part of the day: we were all in an excellent mood and reasonably good shape, it was still broad daylight and we had cellphones anyway, should we decide to break down, abandon all pride and call for help. And such a re-enactment of The Blair Witch Project is exactly the kind of fun this Parisian girl hopes for in a week-end getaway to the countryside — minus the witch of course.
* A ferme-auberge ("farm-inn") is a farm that also functions as a — usually un-fancy — hotel and restaurant, serving mostly products that they grow or produce on the farm.
LE CASTELAS
84400 Sivergues
lecastellas1@gmail.com
+33 (0)4 90 74 30 81