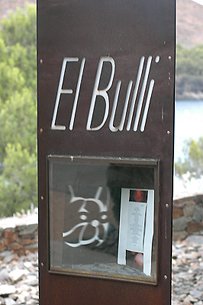 I remember reading about El Bulli four or five years ago in the French newspaper Le Monde. I remember the yearning, and I remember the pang that followed closely: considering the small number of guests that the restaurant could accommodate each season, the dream seemed out of reach. But a few years later, I learned from a well-informed friend that getting a reservation was a bit like playing the lottery: the odds were low, but it didn't cost much to try (see below).
And so I played, I won, and this is how Maxence and I found ourselves flying to Barcelona last weekend with three of our friends. My state of mind was a mix of excitement and circumspection: few restaurants have gotten as much press as this one, and I knew that the actual experience could fall short of my expectations. Fortunately, there was no need to brace myself for disappointment. The evening that we spent at El Bulli was every bit as extraordinary, surreal, and more important, joyful, as I'd hoped it to be.
We arrived at the restaurant in early evening, after a short curvy ride up and down the mountain road that leads to Cala Montjoi, and offers a striking view out to sea. A tiny parking lot, a small (and a bit scruffy) beach, a handsome tiled-roof house — we walked up the stairs and were greeted by the staff, who gave us a short tour of the kitchen and led us to our table by the window, nicely isolated from the rest of the room: the arrival of each dish offers a bit of a dramatic thrill, so we were happy not to get any spoilers from the other tables.
The tasting menu, which changes slightly every day, unfolds in three acts and thirty-five dishes: small snacks that you eat with your fingers, larger-sized tapas to be eaten with a fork and spoon (no knife, ever), and desserts. It is a fast-paced dining rollercoaster, with explosive flavors and textural surprises that await you at every turn — it is thus a good idea to take a break on the terrace every now and then. Each dish, or group of dishes, is brought to the table by a small squadron of waiters dressed in black, and while you are busy taking pictures of the new UFO that has just landed, the head waiter explains what it is (in our case, in excellent French), and how to eat it: start with this end or that, gobble it up in just one bite, or hurry before it melts.
There were recurring themes within the meal — seaweed, seeds, Parmesan, Thai flavors, clementine, peach, the cotton candy texture, and Adrià's famous esferificación technique, in which liquids are trapped in a thin alginate casing that bursts open on your tongue. Not everything was successful, and not everything sent shivers of pure pleasure down your spine: some of the flavors were quite strong, and it took stamina to take them all in with fresh taste buds. But every single item managed to amaze and entertain, making the whole experience quite dazzling, both on an intellectual and sensory level.
And now, for your entertainment, let me offer a photographic account of the menu we were served (those with asterisks are the ones I enjoyed the most):
Snacks
Cucumber gin tonic* with candied citrus peel, prepared tableside with a jug of liquid nitrogen
Esferificación olives* (olive oil trapped in a soft casing to look like an olive)
Olive oil spiral*, which you loop around your index finger and drop in your mouth, where it dissolves into thin filaments
Mango leaf with tagete flower (a type of marigold)
"Animals": seaweed-flavored rice crackers with a fragile, moussy texture that reminded me of Monster Munches
Hibiscus, blackcurrant, and eucalyptus candy with a paper-thin sugar "cape"*
Sea lettuce and white sesame waffles
Freeze-dried banana crunches flavored with sesame and nutmeg*
Walnut polvorones ("polvorones" are traditional Spanish cookies — these were savory, and had a buttery texture that turned to dust in your mouth)
Mandarine essence: a silky soup of mandarin with a hint of mango
Caramel filled with squash seed oil*
Popcorn cloud*
Melon and passionfruit caviar
Pine nut tart in a meringue shell
Thai brioche filled with a lemongrass and basil ice-cream
Crab fritter topped with an anemone*
Liquid ham croquette topped with breadcrumbs*
Tapas
Parmesan wontons in a chicken broth, plopped into a bowl of basil foam
Parmesan "air" (more like snow, really) in a styrofoam box, on which you sprinkled a freeze-dried berry muesli (this was our least favorite dish: there was too much of the Parmesan air, the texture wasn't particularly enjoyable, and the muesli seemed completely out of place)
A fillet of anchovy, surrounded with dots of variously and intensely flavored sauces and grape-like bubbles, and a crisp cardamom brioche on the side
Tomato soup with virtual ham* — thin slivers of tomato-flavored jelly, and croutons topped with ham-flavored jelly and basil seeds
Mussel spheres in a potato and bacon soup, with dots of double cream, and cubes of apple jelly
Bread soup with egg yolk spheres and laurencia seaweed
"The seeds": tiny lumps and piles of various vegetable and herb seeds
Curry-flavored zucchini seed risotto with capsules of peanut oil*
Ackees (a Jamaican fruit) and cucumber hearts in a veal and basil broth
"The sea": a discovery trail of twelve different types of seaweed, some mild, some extremely bold in flavor
Crab Marrakech: lumps of crab meat in a mandarin flower broth, with bulgur on the side
Boneless chicken feet wrapped in sea lettuce with sesame sauce and froth*
Cheese and dessert
Creamy sheep's milk cheese topped with a sheep's milk cheese "wool", with a wedge of raspberry jelly on the side
Liquid peach: a frozen casing of peach liqueur, and a spoonful of thin peach purée
Raspberry sorbet, verbena mousse, and chocolate* (notice how the plating makes it look like a snail)
Peach soup
Mango sorbet sandwiches
Chocolate bites filled with mandarin sorbet*
We gave carte blanche to the sommelier, who selected five different wines for us — let us take a moment to consider how challenging it is to come up with pairings for such a wacky menu. In order of appearance, we tasted a Cava (Brut Nature Gran Reserva 2002 / Cava Augusti Torello), a white wine from Penedès (Xarel.lo Pairal 2003 / Can Ràfols dels Caus), a white Rioja (Allende 2004 / Finca Allende), a red Burgundy (Volnay Les Roncerets 1998 / Nicolas-Rossignol), and a sweet wine from Montilla-Moriles (PX Reserva 1998 / Alvear).
It took us six hours to go through the entire meal — from 8pm to 2am — but we were in such a state of elation that it was hard to tell if it had been two minutes or two days since we had first sat down. I would like to stress here how pleased we were with the service: the ballet of dishes coming and going was perfectly choreographed, and the waitstaff was exceptionally warm and attentive, making us feel as if we were the only guests in the restaurant.
So, do I think that El Bulli is the best restaurant in the world? First of all, I'm sure I'm not the only one to whom the idea of one single "best restaurant in the world" seems ludicrous: depending on my mood, my appetite, and who I'm with, the best restaurant in the world can be the pizza place down the street or a farm-inn on top of a hill, just as much as any three-star on the planet. But dining at El Bulli is certainly a one-of-a-kind experience, and I wish it upon anyone who's passionate about food, who has broad tastes, who is tickled by the discovery of new flavors, and who is happy to be whisked away on a flying carpet driven by a mad scientist, even if the ride leaves him a bit dizzy.
How much does dinner cost? The tasting menu is 165€. Add wine, water, and coffee, and you're looking at roughly 220€ per guest — a reasonable price compared to other three-star restaurants.
How does one get a reservation at El Bulli? The restaurant is open from May until September, and starts taking reservations in mid-October for the next season. Around October 15th, send a reservation request by email (the email address can be found here), with the number of people in your party. You can indicate the day(s) on which you wish to come, but your best bet is to let them pick a date for you, and arrange the trip around it. A few weeks later you will get a response — the negative ones get sent earlier than the positive ones, so having to wait is a good sign. (How they award the reservations is a bit of a mystery, but I am told that it is mostly on a first come first served basis.) Once you're in, you can jump up and down with glee, mark your calendar, and organize the flight and accomodation — just don't forget to confirm your reservation a week before the set date.
Practicalities. El Bulli is just a few miles outside of Roses in the northeast of Spain, about an hour and a half by car from Barcelona. It is a beach resort (and a rather ugly one if you ask me) that has lots of hotels, but gets booked up quite fast in the summer, so plan early. (We are terrible planners, so we ended up staying at the Sant Marc hotel, which I do not recommend. Insert shudder here.) Once in Roses, you can either take a cab to the restaurant, or drive yourself up the mountain road if you feel up to the ride back down, and if someone is willing to be the designated driver.