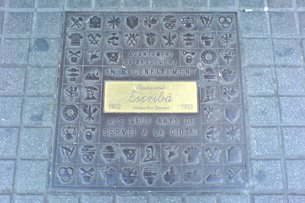 Our dinner at El Bulli last week was bookended by a few days in Barcelona. This was our first time in the city, and we had a splendid time strolling around, admiring the architecture, dodging pickpockets, and wondering where to eat next.
Our diet over those few days was mostly composed of tapas and pintxos, eaten at casual restaurants. If you are unfamiliar with pintxos (pin-tchos), they are the little morsels of food, plopped on a slice of bread and secured with a toothpick, that you find lined up on the counter at tapas bars. It is originally a Basque concept, but it has spread across other parts of Spain in recent years: you ask for a plate (usually one per party), help yourself to some pintxos, wash them down with a drink, and pay at the end, based on the number of toothpicks you have left on your plate. It is a system based on trust — I wonder how many people walk away with half a dozen toothpicks in the back pocket of their jeans — but it seems to work. As for tapas, they are usually ordered from a menu (or, if there is no menu, with much gesturing and mangling of Catalan and Castillan words), and they are served on small plates that you share with your dining companions. Raçiones are similar to tapas, only they come in larger portions.
One thing you should know if you ever want to visit Barcelona is that you should avoid August if you can: the city is teeming with tourists then (80% of them French), most Barcelonians have understandably fled, and some of the dining destinations that locals favor are closed. Of course, in our case, this time of year wasn't a personal choice, since the El Bulli reservation was the pivot of our trip; I certainly don't mean to spit in the proverbial soup, I just thought I would pass on this little piece of advice.
One other thing I strongly recommend is to check the detail of your bill, always: in all restaurants but one, we were charged for more than what we had ordered and eaten. Perhaps this only happens to foreigners, and perhaps this is their way of making up for the disappearing toothpicks, but it was a bit annoying. They never made any difficulty in correcting the mistakes however, so there was no harm done, and we simply got used to the custom.
Without further ado, let me recommend the places we enjoyed the most:
~ La Boqueria
Barcelona's world-famous food market. Fruits and vegetables, hams and sausages (which they can vacuum-seal for you), cheese and eggs (as you can see, the lighting played stroboscopic tricks on my camera phone), and an impressive display of seafood (including razorshells [navajas] and barnacles [percebe]). Many stalls sell fresh fruit juices but I was unimpressed by them — I much preferred the little containers of candy-sweet mango, or the pitahaya (a Vietnamese fruit, said the sign) on the half-shell.
There are several tapas bars inside the market, where you can snatch a few barstools if you're early, or patient. We ate twice at one that is called Bar Boqueria: razorshells, sardines, baby squid (chipirones), and squid (calamares), all of them perfectly cooked — a la plancha, with much olive oil and garlic — and very cheap.
The market is off La Rambla, close to the Liceu metro station, on your left-hand side when the shore is in your back.
~ Taller de Tapas
A popular tapas bar that has several locations in the city. We loved their patatas bravas (potato wedges served with a garlic mayo and a hot pepper sauce), fried baby squid, and cod croquettes (bacalao croquetas, similar to accras de morue from the French Caribbeans). The desserts weren't as good, except for the crema catalana, the Catalan version of crème brûlée.
Argenteria, 51 – 08003 Barcelona
+34 93 268 85 59
~ QUQU
In the Gracia neighborhood, a convenient stop before or after checking out two of Gaudí's most famous buildings — La Pedrera and Casa Batlló. QUQU is a modern and quite spacious tapas bar, with a large terrace. Despite the trendy look, the food was delicious: they served the tastiest pan con tomate we've had in the city, excellent croquetas and ham flautas, and a very good escalivada (grilled bell peppers, onions, and eggplant) topped with goat cheese.
Paseo de Gracia, 24 – 08007 Barcelona
+34 93 317 45 12
~ Sagardi
A pintxos bar in the Santa Maria del Mar neighborhood. They have another location called Irati, with an identical and equally tasty selection of pintxos, topped with cheese, ham, botifarra (blood sausage), and various preparations of meat, fish, and vegetables. (The restaurants in the back of both are good, but overpriced — stick to the pintxos.)
Sagardi: Argenteria, 62 – 08003 Barcelona
+34 93 319 99 93
Irati: Cardenal Casañas, 17 – 08002 Barcelona
+34 93 302 30 84
~ La Vinya del Senyor
A wine bar with a good selection of Spanish wines, which you can enjoy with a few nibbles (we tried the assortment of cheese, which was good, but the bread that came with it was frankly stale). Perfect little terrace facing the church.
Plaça Santa Maria, 5 – 08003 Barcelona
+34 93 310 33 79
~ Gelaaati!
Not very Spanish, I know, but a little tub of Italian-style ice-cream is quite welcome after an afternoon of walking. There are gelaterias all over the city, of varying quality of course, and we loved this one: the flavors tasted natural, the ice-cream wasn't overly sweet, and the texture was just right. (I especially enjoyed the hazelnut, the fig, and the white chocolate.)
Calle Llibreteria, 7 – 08002 Barcelona
+34 93 310 50 45
~ Juicy Jones
A funky juice bar (and vegan restaurant, but we didn't dine there) that serves a wide selection of freshly squeezed fruit juice cocktails.
Cardenal Casañas, 7 – 08002 Barcelona
+34 93 302 43 30