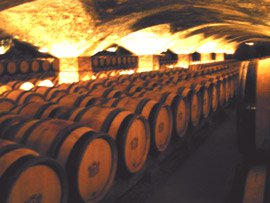 [A Week-End in Burgundy]
June this year was The Month Of Weddings for us : we were invited to three of them, three week-ends in a row, three differents couples (we checked).
The first of them, two weeks ago, was held in the bride's beautiful family house in Bourgogne, South-East of Paris. This was the perfect occasion for us to take a mini-tour around this region, famous for its gastronomy and wines.
We rented a car to get to the wedding, and stopped for lunch in Chablis. We went for regional specialties of course : Oeufs en meurette (poached eggs in a red wine sauce), Escargots à la Bourguignonne (Bourgogne snails with garlic herb butter), and Truite rose, sauce beurre blanc au Chablis (Pink trout with Chablis butter sauce).
The wedding was celebrated that afternoon at the majestic abbey of Pontigny, and all the guests then headed to the house for the reception. Dinner was served in the large, stone-walled barn, which our friends had entirely renovated and decorated for the occasion : an extremely pleasant setting for the dinner and party, which went very well, all happy conversations, humorous and moving speeches, and a few tears of joy.
The dinner, for which my sister Céline had designed the pretty menus, was catered for by a local company and proved particularly delicious : fillets of red mullet, served cold on a carpaccio of spring vegetables, then roasted duck breast with a little pyramid of mashed celery root and a little bundle of green beans. Cheese was served buffet-style, and the selection offered mostly local cheeses, including a Soumaintrain, a delicious cow milk cheese I had never heard of, and an authentic raw-milk Epoisses, an incredibly hard to find rarity, produced in two farms only. Dessert was a plow-shaped tiered cake, an impressive construction of caramel-coated cream-filled puffs, sugar flowers and nougatine.
The next day, we took a little road-trip further down into the heart of Bourgogne. We stopped in Beaune for lunch and enjoyed a Boeuf Bourguignon (a beef stew in a red wine sauce) — not that we were that hungry, to be honest, but can you really drive through Bourgogne without eating Boeuf Bourguignon? I think not.
In Beaune, my built-in radar for sweet regional specialties (a very sharp sixth sense I believe) went on full blast : at the renowned Mulot & Petitjean store, we got a loaf of Pain d'épices aux amandes, the French spice cake with almonds, and a box of Mignonnettes à l'abricot, round little spice cakes (also called "Nonnettes" — little nuns — in other parts of France) filled with apricot jam. The pain d'épice turned out to be a bit drier than I usually prefer, but was still great for breakfast with a cup of tea, and the mignonnettes were melt-in-your-mouth good. In a nearby confiserie, we also bought a little bag of Cassissines (blackcurrant fruit paste filled with blackcurrent liqueur) and some Nuages de Bourgogne, cloud-shaped meringues with blackcurrants — cassis being, as you probably guessed, a widespread and much-liked berry in the area.
We then drove on down to Meursault and stopped at the castle, which boasts 60 hectares of vineyards, and produces quite a variety of wines, mostly whites. The cool thing at the Château de Meursault is that they let you take a self-guided tour around the superb wine cellars beneath the castle, some parts of which date back to the 14th century. We happened to be the only lucky visitors, and we really loved exploring the quiet and dark rooms, with low, vaulted ceilings, racks of bottles (some quite old and covered with a thick layer of dust) and huge wooden barrels.
At the end of the visit, a wine expert made us taste a selection of the wines produced and bottled on the property. He was particularly knowledgeable and happily answered our questions, sharing with us many a fascinating fact about the production techniques, designations and characteristics of Bourgogne wines. We bought a magnum bottle of Meursault Premier Cru (2000) as a present for a friend, and a dozen bottles for us : a case of a simple Bourgogne Pinot Noir (2001), to be drunk in the year to come, and a mix-n-match case of Premiers Crus to be aged for a few years in the privacy of our own cellar — a Meursault (2000), a Pommard Clos des Epenots (2000), and a Beaune Cent-Vignes (1999), which I particularly enjoyed for its acidulated strawberry jam flavor. And our wine expert threw in an bottle as a gesture of appreciation — "threw in" is a manner of speaking, naturally.
We then went on — me noticeably giddy, Maxence still perfectly composed — to drive up along the famous Route des Grands Crus : Pommard, Volnay, Nuits-Saint-Georges, Aloxe-Corton, Marsannay, and finally Dijon. We took a walk around the beautiful historic city center of Dijon, did not buy any mustard because all the stores were closed, then headed back to Paris as the sun was going down, thus avoiding the Sunday evening traffic jams to get into Paris.
As luck would have it, a client appointment will take me back to Nuits-Saint-George next week, and I'm hopeful that this will get me and my food enthusiast coworker another interesting lunch!