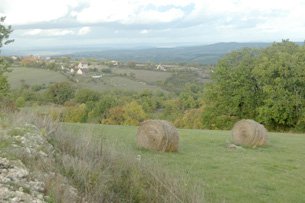 If there's one thing that should be said about the South-West of France, it's that you shouldn't go if you're on a diet. Wonderful specialties and artisanal products abound, begging you to take a bite — or two or three just to make sure. As we drove and walked around, taking in the spectacular landscapes, enjoying the sunshine and the quiet, the lack of crowds and the friendly service (the reward for travelling off-season), I kept my eyes peeled (an expression that always makes me shudder but I use it anyway) for interesting food vendors and promising restaurants.
Both are aplenty, and when it comes to restaurants, we mostly went for the unpretentious, family-owned ones, those that serve local fare to local guests. One thing that really struck us was how generous — not to say gargantuan — the portions were. A regular menu would often include three or four courses in addition to the obligatory cheese and dessert. And we're not talking about dainty little tasting-menu courses either. But however tempting this display of food was, appetite is the food traveller's most precious resource, and after the first few meals we soon learned to treat it with the respect it deserves.
Our trip started by a train ride from Paris to Brive-la-Gaillarde in the Périgord, where we rented a car. We find this much more comfortable than driving all the way down — well, unless you are sharing your train car with an entire colonie de vacances (kids going to a holiday camp), shrieking with joy at the thought of the upcoming fun and arguing at the top of their voices over who gets the last piece of candy that their parents packed in their lunch boxes. Thank god for iPods. Anyway.
Our first destination was the village of Gourdon, where Maxence's grandparents live. We stayed there for two days, enjoying their company, driving leisurely around the lushly green surrounding roads (happening upon the delightful medieval village of Martel in particular, more pictures on the moblog) and being treated to two excellent lunches, mostly featuring local duck and goose specialties — foie gras, confits, gésiers, magrets (Bird flu? What bird flu?). One was at the Hostellerie de la Paix in Payrac, and the other at our very favorite restaurant in the area, the Musée Henri Giron, where the owners are kindness incarnate and serve a delicious (though truly marathonian) daily menu. Their restaurant, which they only operate during the week-end, also acts as a museum for Henri Giron's work, a painter and friend of theirs.
We then drove on west to St-Emilion, another medieval village close to Bordeaux and around which the renowned St-Emilion wine is produced. There we bought canelés (may I insist on the spelling, with supporting pictures?) and the local specialty of Macarons de St-Emilion, from a shop called Lemoine.
As you may or may not know, the word macaron is used for a variety of confections in different regions of France, and the one from St-Emilion is but a far cousin to the macaron as most people know it: it is an almondy, soft and chewy little cookie, baked directly on an ungreased sheet of regular paper (giving you the satisfaction of plucking it off yourself), light as a cloud and delicious. They keep remarkably well too, and accompanied us during the rest of the trip. In St-Emilion we also enjoyed a great meal at Le Tertre, a slightly fancy restaurant located in the steepest street I have seen in quite a while (and I live in Montmartre), where they serve traditional dishes (roasted pigeon, foie gras, duck magret — one can never get enough of these) with a modern twist, and where the service was particularly good (pictures on the moblog).
The next day, we drove to Bordeaux, walked around the city center, frowned at how ubiquitous Baillardran canelé stores were (funny how efficiently this should detract me from buying any), skipped lunch, and drove on down across Les Landes. I'm sorry to say we failed to see the beauty of it (perhaps we're just not very big on pines-and-sand-pines-and-sand), and we just drove straight through to Bayonne.
When the first bilingual roadsigns appeared, along with the distant blue-grey silhouette of the Pyrenées, we knew that we had officially entered the Pays Basque.
(To be continued.)
Hostellerie de la Paix
46350 Payrac
05 65 37 95 15
Musée Henri Giron
46300 Le Vigan
05 65 41 33 78
Le Tertre
5 rue Tente
33330 St-Emilion
05 57 74 46 33
Lemoine
9 rue du Clocher
33330 St-Emilion
05 57 24 65 64