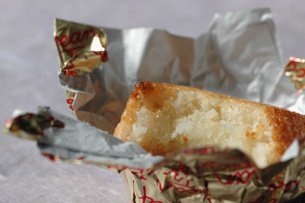 [Macaron from Amiens]
The French macaron seems to have gained international fame in the past few years, but I thought it was time to dispell a common misconception: the delicate confection, made of two rounds of shiny and smooth almond meringue sandwiched together by a creamy filling, is not the only type of French macaron one can enjoy. The one that benefits from the spotlight is the Ladurée-style macaron, sometimes referred to as the macaron parisien, and it is really the tree that hides the forest, if I may use a French expression.
Macaron confections can be traced back to the 17th century, and many French cities have made it their specialty: St-Emilion, Saint-Jean-de-Luz, Boulay, Montmorillon, Lauzerte, Nancy, Châteaulin, Massiac, Cormery, and the list goes on and on. Although there are slight differences between all these macarons, the basic idea remains the same: they are made from ground almonds, sugar, and egg whites, with the occasional addition of honey, sweet almond oil, bitter almond extract, or any secret ingredient that I wouldn't know about because it's, well, secret.
All of them have a round shape and a natural color, tan or golden. They are usually baked on a cookie sheet, which gives them a flattened disk shape, and some versions (the St-Emilion one in particular) are baked directly on sheets of ordinary (non-parchment) paper, from which the eater tears off each little macaron. Their surface can be smooth, grainey, or crackled, but in all cases they boast a crispy crust that gives way to a moist, chewy interior.
It's not until the early 20th century that Parisian pastry makers started to create lighter, shinier, colorful versions, and assembled them two by two with a little blob of flavored ganache or buttercream in the middle (Ladurée claims the credit for that). This opened up new possibilities for flavor combinations, and brought the humble confection to a more sophisticated level, earning them a prominent place on chic petit-four platters.
The most recent type of old-fashioned macaron I've been introduced to is the Macaron from Amiens in the North of France, a sweet and thoughtful gift from Aude. It is quite different from the traditional macarons I had tasted before: these macarons are baked in molds, giving them a hockey puck shape, and they are individually wrapped in golden foil. They also have a denser texture, crusty but very moist inside.
I could perhaps describe them as an almond version of the coconut macaroon, and this gives them an altogether heftier and satisfying bite than their lighter cousins. Pure delight, and just perfect with a cup of coffee after lunch.
Macarons d'Amiens
Jean Trogneux
1, rue Delambre
80000 Amiens
03 22 71 17 17
Footnote: Those of you who like to know about the polysemy of words will be happy to learn that macaron is also, by analogy of shape, the name for a round military insigna, and for Princess Leia's loopy braid hairdo.
Footnote 2 (I like footnotes): If you read French, you may be interested in this report of one of Hervé This' molecular gastronomy seminars, which discusses the different textures and aspects of macarons, and the physical or chemical phenomena that lie beneath.