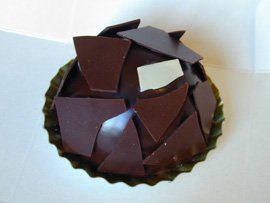 [Afternoon Snack (almost) at Pierre Hermé's]
Yesterday afternoon I had the pleasure to meet Louisa, my own personal kitchen hero, and Andrea, her charming roommate from Mexico who also works at Les Ambassadeurs. When we discussed time and place, Louisa suggested we meet at Pierre Hermé's boutique, as Andrea had yet to discover it. Needless to say, I nodded vigorously (for the sole benefit of my living-room wall, as we were speaking on the phone) and happily agreed.
Pierre Hermé doesn't have a salon de thé area in which to sit down and gape at your purchases before diving in blissfully. I'd always thought it unfortunate, but now Louisa has introduced me to the unofficial Pierre Hermé salon de thé, and for this she will forever have my gratitude. Just a block from the pastry shop is a café called "Café de la Mairie". It looks and feels like countless other cafés in Paris (a little drab and flavorless, one has to admit) but for two invaluable things: one, it has a non-smoking room upstairs — an absolute prerequisite if you want all your taste buds to be alert and atiptoe — and two, the waiters will look the other way when you open your precious boxes and use your coffee spoon to savor their content.*
And here is the selection that Andrea, Louisa and myself enjoyed, taking spoonfuls in turn and yumming in unison, discussing our tasting notes and comparing them with the descriptions from the little catalog (the perfect bedside read for guaranteed sweet dreams).
Louisa had chosen two entremets from this season's collection, which prominently features the yuzu ("yoo-zoo"), a tangy and fragrant citrus from Japan that is traditionally used in cosmetics but is making more and more appearances on the gastronomic scene these days. She got the Hermé Carré Yu ("Crème brûlée aux zestes d'orange, pommes crues et cuites à l'orange et au yuzu, pâte à sablé breton": orange zest cream, raw and cooked apples flavored with orange and yuzu, sablé breton crust, covered with a thin layer of white chocolate) and the Yu ("Biscuit dacquoise au praliné, pommes crues et cuites à l'orange et au yuzu, crème au praliné": a milk chocolate casing filled with layers of praline meringue and whipped cream, raw and cooked apples flavored with orange and yuzu, praline cream). Both of these were delicious, although I found the yuzu to be a little overpowering in the first, and a little understated in the second. We would also have wished for more textural contrast in the Yu: it was wonderfully moussy and aerial, but my palate was hoping for something cakey or crunchy to round it out. I am aware that this is a bit like standing in the middle of Heaven and shouting "Geez, I wish there was a little more light and serenity around here!" but you know what I mean.
For reasons that will be fairly obvious when you read the next few lines, I had opted for the Plénitude entremet (pictured above): "Macaron chocolat noir, éclats de chocolat noir à la fleur de sel, mousse au chocolat amer et ganache au chocolat, caramel croquant" — dark chocolate macaron, shards of dark chocolate with fleur de sel, bitter chocolate mousse, chocolate ganache, crunchy caramel. You think this description sounds heavenly? Wait till you taste the cake.
Louisa had also selected another one of Pierre Hermé's signature entremets, the famous Ispahan: "Macaron à la rose, crème de litchi et framboises fraîches" — rose macaron, lychee cream and fresh raspberries. I generally dislike anything rose-flavored (it tastes like soap to me) so I had always shied away from this one. I was nonetheless happy for the opportunity to give it a try and boy, am I glad I did! The mix of textures from the meringue, cream and berries is simply perfect and one couldn't hope for a better match of flavors: the raspberry hits you first, then you discover the lychee (oh, hi!), while the rose keeps you waiting a little, and makes its graceful appearance more as a scent than an actual taste. Genius, I tell you.
And because there is no such thing as too much Pierre Hermé goodness for one day, Maxence and I conducted another tasting session later that night, with the four super-fresh macarons I had brought back for us to share. Two of them from this season's collection, the macaron au chocolat au lait et yuzu (milk chocolate and yuzu, I found the yuzu to be a little too understated here too), and the macaron chocolat au lait praliné feuilleté (milk chocolate with crunchy praline, a little too obvious and "childish" for my taste). The two other ones were classics, the macaron ispahan (rose, lychee and raspberry, almost as delightful as the entremet version) and the macaron chocolat au lait fruit de la passion (milk chocolate and passionfruit, one of my absolute favorites).
Reflecting upon this selection now, it appears that Pierre Hermé's classics work somewhat better than his seasonal collection: this is perfectly understandable as he has had years to perfect the former, whereas the latter are recent creations. In any case I think there is tremendous merit in renewing his array of pastries so frequently and with such creativity, so I am more than happy to give the new ones a try — besides, his classics started out as inexperienced rookies too, right?
* In most cafés it would be considered terrible manners to bring in outside food. I don't think they exactly encourage it here, but it cannot have escaped the owners' attention that this brings them much more business than they would otherwise get. Still, I suggest you engage in this little ruse with elegant discretion, and (obviously) make sure the table is spotless when you leave.
Pierre Hermé
72 rue Bonaparte
75006 Paris
01 43 54 47 77
(Also at 185 rue de Vaugirard
75015 Paris
01 47 83 89 96)
Café de la Mairie
8 place St Sulpice
75006 Paris
01 43 26 67 82