When I get into the details of the chocolate craft with people who may not have given it much thought before, one thing that always disillusions them is this: the overwhelming majority of chocolate artisans don't actually make their own chocolate.
Indeed, making chocolate from scratch is an elaborate process that involves a whole set of specialized machines that roast, crush, sort, grind, blend, and conch, turning the fermented and dried cacao beans into what we think of as chocolate.
When you think about it, it is therefore unrealistic — and wouldn't make either economical or environmental sense — for every single chocolatier to acquire those machines, the workshop to install them, and the know-how to operate them, and then to source his own beans and process his own chocolate.
This is why a few companies — big ones like Barry Callebaut, smaller ones like Valrhona or La Chocolaterie de l'Opéra — have devoted themselves to this first part of the process. They're usually refered to as couverturiers: they provide couverture chocolate of varying flavor profiles, origins, cacao content, and format to chocolate artisans, who in turn melt it and use it to create their bonbons de chocolat (chocolate bites garnished with ganache or other fillings), chocolate bars, and miscellaneous chocolate confections.
I've always sensed that this wasn't something chocolatiers rushed to clarify. When you discuss this aspect of their work, some get hazy on the details, not wanting to reveal which couverturiers they work with (although they're proud to tell you where their hazelnuts and citrus come from), or get defensive, saying, "Well, you don't expect the baker to mill his own flour, do you?"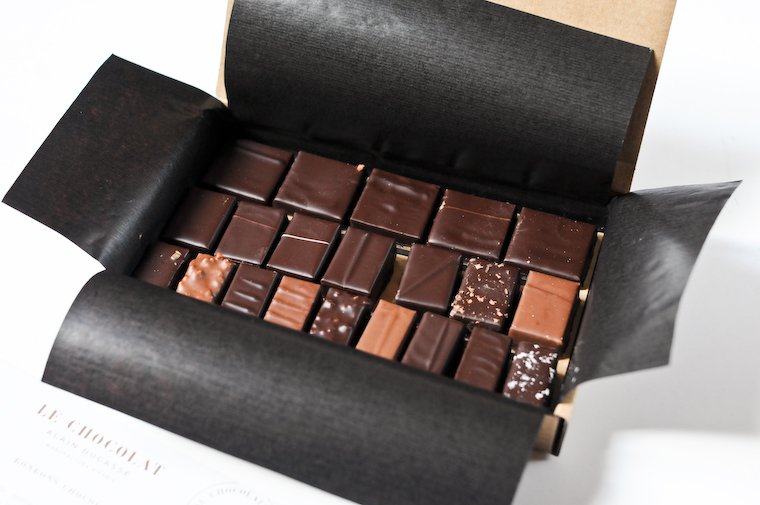 Others have a more transparent response. Some may even explain that they've worked with a couverturier to develop a custom blend that matches the balance of flavor they envision for their chocolate bites, or that they get several couverture chocolates from different providers, and blend them themselves according to their needs.
I don't have a problem with any of those levels of commitment; certainly there is plenty of merit in what goes on after the couverture chocolate is procured. What I'm uneasy about is how hard it is for the uninitiated to get a clear idea of a particular chocolatier's added value in the production of his chocolate confections, and I think a lack of transparency is detrimental to any craft.
This reflexion is prompted by the recent opening of the first bean-to-bar chocolatier in Paris, a chocolate manufacture run by Alain Ducasse and his former executive pastry chef Nicolas Berger on rue de la Roquette, near Bastille.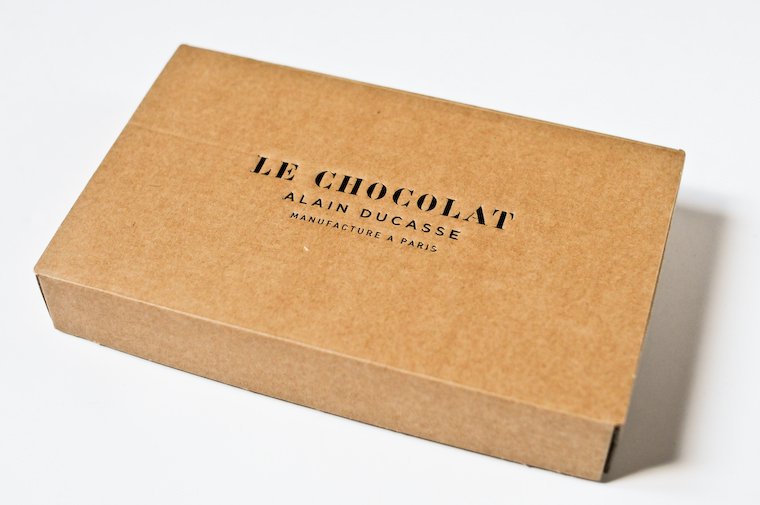 The workshop is hidden at the back of a small courtyard, in what used to be a car body shop (think how happy the neighbors must be!), and it is populated by jute bags of beans of various origins, and vintage machines for small-scale chocolate production that they've had to hunt for all around Europe and refurbished: since chocolate-making is mostly the affair of large companies nowadays, machines designed to process small volumes are no longer commercialized.
Some of the chocolate produced there is sent to Alain Ducasse's restaurants, to be used by the pastry chefs and served to the diners. But attached to the workshop is a gorgeous glass-roofed boutique, decorated with old furniture from the Banque de France, with a massive domed counter in the middle. The shop is open to the public, and from there you can buy single-origin chocolate bars, bonbons de chocolat, and various chocolate confections, all of them made from scratch and on the premises.
I've had the opportunity to chat with Nicolas Berger, a kind and passionate man who's generous with his time and knowledge, and he explained to me that his purpose is twofold. One, he strives to extract and reveal the unique identity and typicalities of each of the chocolate origins he works with, and applies custom settings to the entire chocolate-making process to achieve that.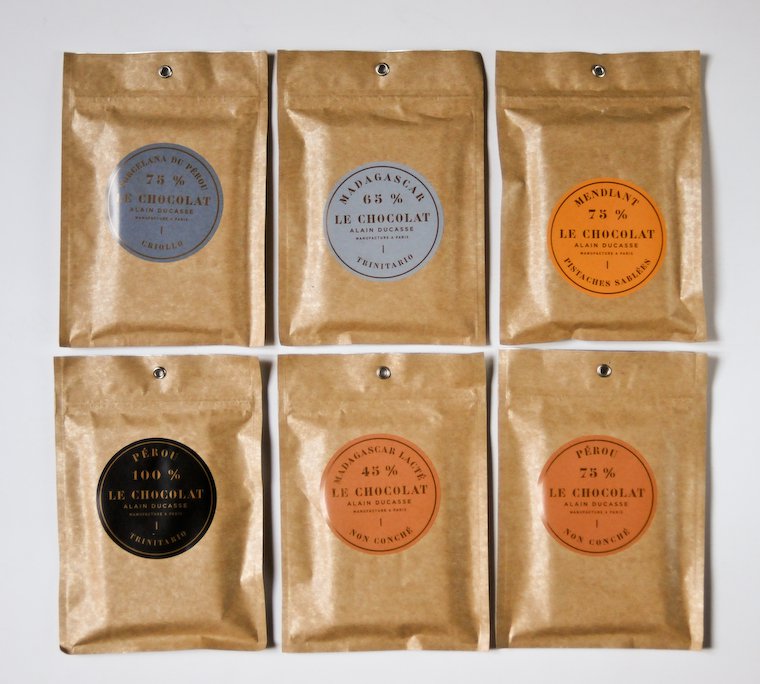 Two, he takes the from scratch idea very seriously, works hard to select the finest ingredients, and takes no shortcuts. For instance, few chocolate artisans make their own praliné anymore (a finely ground paste of caramelized nuts, most classically almonds), prefering to buy it ready-made — often from the same supplier as their couverture chocolate. He has chosen to make his own, and to make six different kinds: pistachio, coconut, peanut, almond, hazelnut, and an almond-hazelnut combo. And sure enough, his pralinés (the chocolate bites he fills with the paste, bottom row in the box pictured above) are among the most impressive of his creations — low in sugar, with a hint of salt, the filling so airy it feels like it was whipped.
Also of particular note are the unconched chocolate bars he puts out: one dark chocolate from Peru (pictured below) and one milk chocolate from Madagascar, which go through the entire process save for the last one, the conching, so as to retain a coarse, grainy texture, enhanced by the addition of cane sugar. It reminds me of the stone-ground chocolate Taza makes in Massachusetts, or the old-school chocolate I got from Soma in Toronto. I am an absolute fan of that texture in chocolate, and deliriously happy that I can now get my fix on this side of the Atlantic.
This is not cheap chocolate: the 75-gram bars are 6 to 10€ depending on the kind and origin, and the bonbons de chocolat cost between 120 and 150€ per kilo (e.g. 30€ for 27 pralinés), placing them near the upper end of the Parisian spectrum. Certainly part of the price you pay is the Ducasse name, but this is seriously well-crafted chocolate first and foremost, and it is a small luxury that is bound to make you happy if you can afford it once in a while.
What do you think? Bean-to-bar or not, does it matter? Do you feel you have a clear enough idea of just how it is your favorite chocolate artisans work, and what they work with?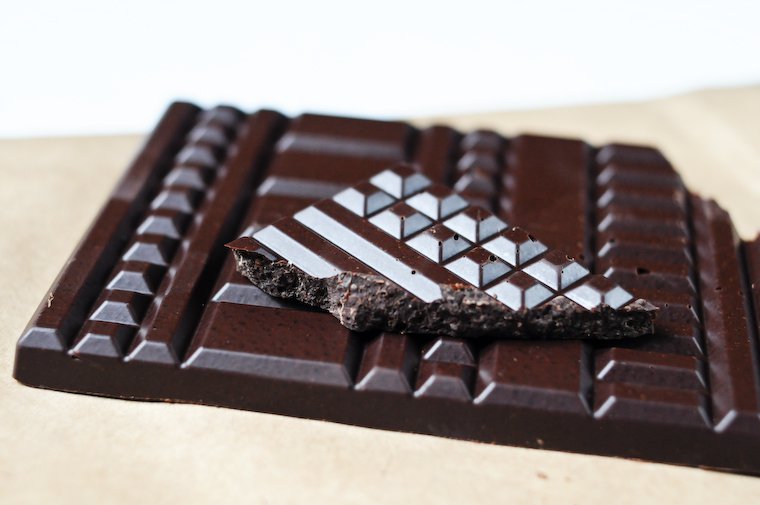 Le Chocolat Alain Ducasse Manufacture à Paris, 40 rue de la Roquette, 75011 Paris. +33 (0)1 48 05 82 86. Mon-Sat 10am-7pm.
Further chocolate reading:
– My friend David Lebovitz has also visited the manufacture, and brought back some behind-the-scenes pictures.
– How to taste chocolate.
– The chocolate appreciation society I belong to.