Jean-François Piège is a renowned French chef who's become a household name in France from being on the jury of the French edition of the Top Chef television show.
I don't watch much television, and zero reality television, but I've long admired Piège and the stellar career he's built in the gastronomic arena, working under the likes of Christian Constant and Alain Ducasse, earning Michelin stars at the Plaza Athénée and the Crillon, helping to relaunch the Thoumieux brand with a brasserie, a hotel, and a pâtisserie, and venturing out on his own in recent years to open Clover and Le Grand Restaurant, which has two Michelin stars.
He's definitely an awe-inspiring chef, but I also like to imagine his days as a boy near Valence, and the childhood cake little Jean-François liked to eat then. I happen to have the recipe, you see, because I clipped it from the French ELLE magazine years ago, and have been baking it on a regular basis ever since.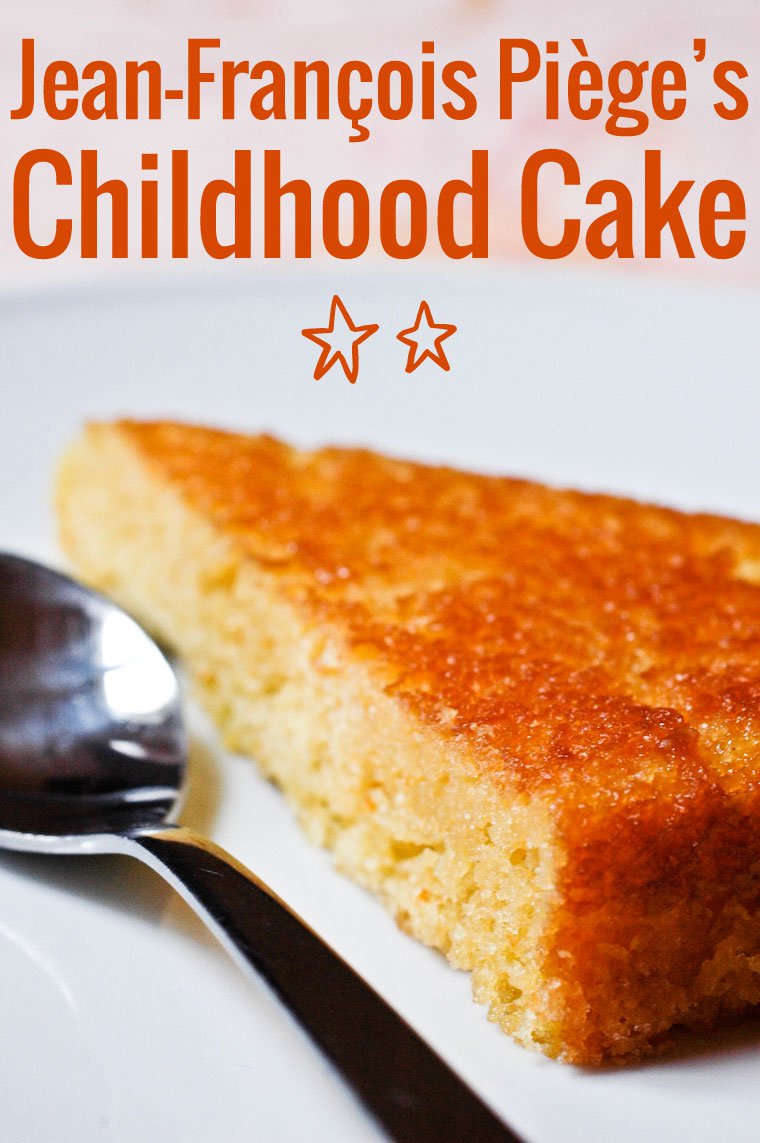 Jean-François Piège describes le gâteau de [son] enfance as a cross between a clafoutis and a pound cake. It is a warmly aromatic cake flavored with orange zest and juice, that's easy as pie. Not too sweet but nicely buttery, it has a soft, spongy crumb, and in the oven it develops a delicately caramelized crust that makes the rim area the very best part.
PS: This is my childhood cake. What's yours?

Have you tried this? Share your pics on Instagram!
Please tag your pictures with #cnzrecipes. I'll share my favorites!
Jean-François Piège's Childhood Cake Recipe
Ingredients
For the pan:

2 teaspoons butter
2 tablespoons granulated sugar

For the batter:

120 grams (1/2 cup plus 1 tablespoon) unsalted butter, softened
120 grams (1/2 cup plus 2 tablespoons) granulated sugar
2 large eggs
1 organic orange (about 200g/7oz), carefully washed
120 grams (1 cup) all-purpose flour
1 tablespoon baking powder
1/4 teaspoon salt
Instructions
Preheat the oven to 180°C (350°F).
First, prepare the pan. Butter the bottom and sides of a 22-to-25-cm (9-to-10-inch) round cake pan with the 2 teaspoons butter. Sprinkle with the 2 tablespoons sugar, then shake and tilt and swoosh the pan around to coat. It is fun.
Next up, make the batter. Cream together the butter and sugar. Crack in the eggs one by one and mix until thoroughly combined.
Grate the zest from the entire orange over the bowl. Juice the orange and add 125 ml (1/2 cup) of the juice to the batter. Mix until smooth.
In a small bowl, sift together the flour, baking powder, and salt. Fold the flour mixture into the batter and mix until just combined.
Pour into the prepared pan and bake for 20 to 30 minutes, depending on the size pan you used, until the cake is golden brown and starts to pull away from the sides of the pan.
Let cool on a rack for 10 minutes (no more, or the caramel on the crust will harden and stick to the pan), then flip onto a serving plate.
Let cool completely before serving.
https://cnz.to/recipes/cakes-tarts/piege-cake-recipe/
Unless otherwise noted, all recipes are copyright Clotilde Dusoulier.
This post was first published in January 2007 and fully updated in March 2016.