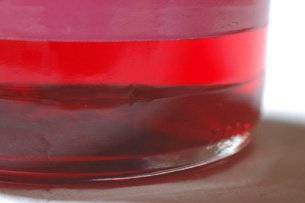 [Pierre Hermé's Rose Syrup]
I attended the two-day Omnivore Food Festival in Le Havre last week, during which a number of renowned chefs gave cooking demonstrations.
Among them was Pierre Hermé: he didn't actually pipe the ganache himself, but rather commented on his pastries as his sous-chef expertly assembled them onstage. The main focus of the presentation was the Ispahan — his signature pairing of rose, litchi and raspberry — and the wide range of variations he has weaved around it over time: macarons, entremets, tarts, chocolate, jam, ice-cream, and even a (non-edible) lucky charm.
I was very interested to learn that Pierre Hermé invented the Ispahan as he was working for Ladurée. It wasn't a popular pastry back then and he sold very few. But still, he persisted and kept making them, because he thought the flavor pairing worked well, and he felt sure the public would come around eventually. He was right of course: when he set up shop under his own name on rue Bonaparte, the Ispahan quickly became — and remains to this day — his absolute best-seller.
What I really enjoyed about Pierre Hermé's presentation was how precisely he described the recipes that were being demonstrated, making sure he shared the ingredients and the corresponding amounts. He seems to have enough confidence in his team's skills and his own resources of creativity not to hoard secrets: his latest book documents his work over the past ten years in great detail, and he has helped create a pastry course at the Parisian cooking school Grégoire Ferrandi.
Of course, having never attempted to follow one of his more intricate recipes, I can't guarantee that he doesn't leave out that one small but decisive detail. But I choose to believe him, and rather like the idea of a magician who doesn't mind sharing his tricks, because he knows that by the time you've worked hard and finally managed to imitate him, he will still be way ahead of you, having invented a dozen more sleights of hand.
During the course of his talk, Pierre Hermé discussed some of the key products that he uses, where they come from, and how he selects them by conducting comparative taste tests. One of the products he mentioned is the rose syrup that goes into the Ispahan, which comes from an Indian shop at 33 rue Notre-Dame-de-Lorette in the 9th. My ears perked up instantly: "Hey, that's right by where I live!", I thought, carefully writing down the address.
A few days later, back in Paris, I paid the shop a little visit. It is one of those completely achromatic stores that you would likely walk right by with nary a glance: with no identifiable sign out front, it is hard to know what they're selling, or if they're even open to the public.
But it had Pierre Hermé's stamp of approval, so I stepped right in and started browsing the shelves in the tiny room. The man tending the store asked if he could assist, and I explained what I was looking for. "Oh, you know Pierre Hermé?", he asked with a bright smile, as if we had a good friend in common. "Well, I wouldn't put it that way", I replied, and told him about the conference and the recommendation.
He pointed to one of two bottles of rose syrup, and said, "That is the one. Seven euros." "What about the other one?", I asked. "Seven euros too, but not as good", he said. I bought my Natco rose syrup, asked about the homemade vegetable samosas that a sign was advertising (sadly, they were all out), and happily accepted the little leaflet of Indian recipes that he offered to slip into the bag. "Don't throw it out though", he warned, "these are family recipes." I nodded solemnly. Throw out recipes? Who would do such a thing?
And so, I now have this tall bottle of rose syrup in my liquor cabinet. It is sitting hip-to-hip with my bottle of red poppy syrup — last time I checked they were playing Crazy Eights. What am I going to do with it? Well, that is a good question, thank you. I am not entirely sure: I might try to make loukoums (Turkish delights) and will be experimenting with it in my baking, making sure I am light-handed as a feather, to avoid the dreaded munching-on-a-bar-of-soap phenomenon. And I have also taken note of the label's suggestion to add a drop of it to a glass of Champagne.
Shah & Cie
33, rue N-D de Lorette (in the 9th)
01 42 85 55 16