Rose Bakery is a small bakery-cum-restaurant run by a French-British couple on rue des Martyrs, a few blocks from where we live. I love this place and find myself going as often as I possibly can, on my own or with friends.
A low semicircular wrought iron door opens onto a long and narrow room. Historically, this used to be a chartil, where produce merchants stored the wooden carts they sold their fruit and vegetable out of. The walls are painted white, with a large abstract painting covering the furthest wall. The floor is bare concrete and the tabletops are mat metal. The staff — all young foreigners — wears white aprons, the food is served in polished earthenware plates, and the combination of all this gives off a quietly chic vibe.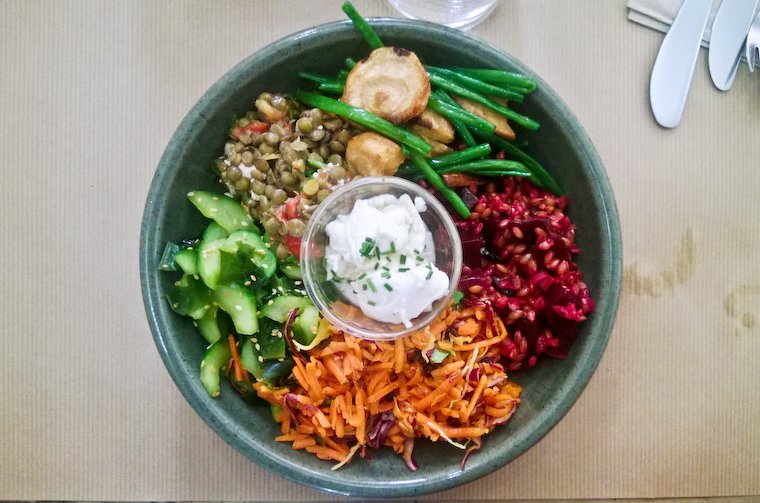 They're open in the daytime only, and at lunch serve a small rotating selection of dishes. Immediately on the right when you enter is a large takeout counter, which allows you to see what's on offer that day.
My favorite thing to order is the assiette de légumes (pictured at top), which allows you to sample the different salads they've made that day, all of them superbly flavorful. But they also make square vegetable tarts and pizzette, plus a small handful of other dishes — typically a soup, a risotto (pictured below), a dish of seared tofu, and maybe some kedgeree (a Scottish dish of rice and fish), or bangers and mash. This is served with Poujauran bread on little wooden cutting boards, a pat of butter, and bottles of filtered water.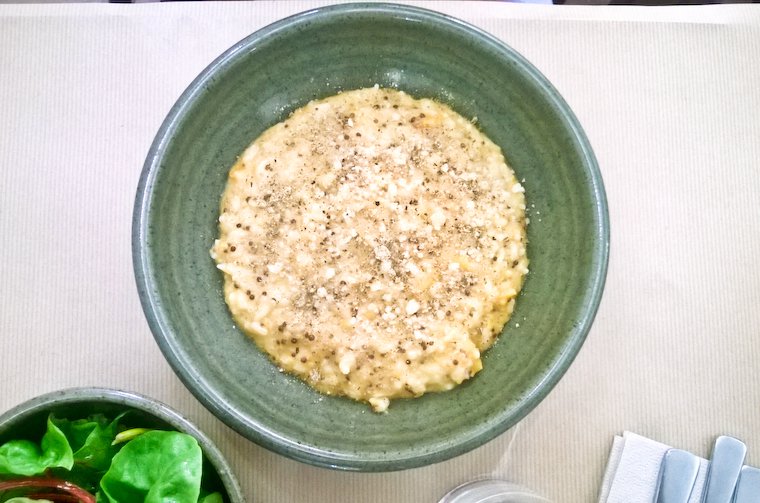 On the sweet side, they make truly excellent anglo baked goods: scones, shortbread, cookies, brownies, cheesecake, carrot cake, date cake, fruitcake, lemon cake, and a flourless orange cake I just had to try and emulate. Outside of meal hours, these can be enjoyed with a cup of tea from their selection, or a freshly squeezed juice.
They also sell an array of British products (chocolate bars, powdered bouillon, oat crackers, cereal…), British cheeses from Neal's Yard Dairy (stilton, cheddar, wigmore…), and organic vegetables.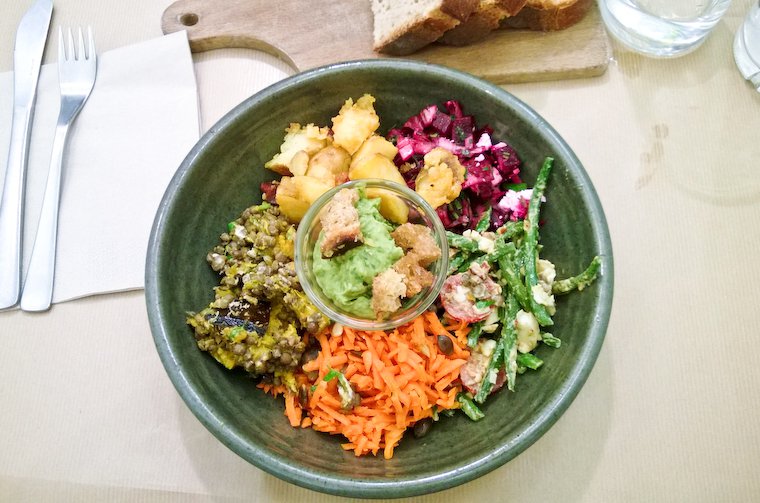 Rose Bakery
46 rue des Martyrs, 75009 Paris
M° Notre-Dame-de-Lorette
01 42 82 12 80
Rose Bakery has opened a few more locations in Paris; all offer much the same dishes and desserts as the original location on rue des Martyrs. They also have locations in London, Seoul, and Tokyo.
Rose Bakery
30 rue Debelleyme, 75003 Paris
M° Filles-du-Calvaire
01 49 96 54 01
Rose Bakery @ La Maison Rouge
10 Boulevard de la Bastille, 75012 Paris
M° Quai de la Rapée
01 46 28 21 14
Rose Bakery @ Le Bon Marché
24 rue de Sèvres, 75006 Paris
M° Sèvres-Babylone